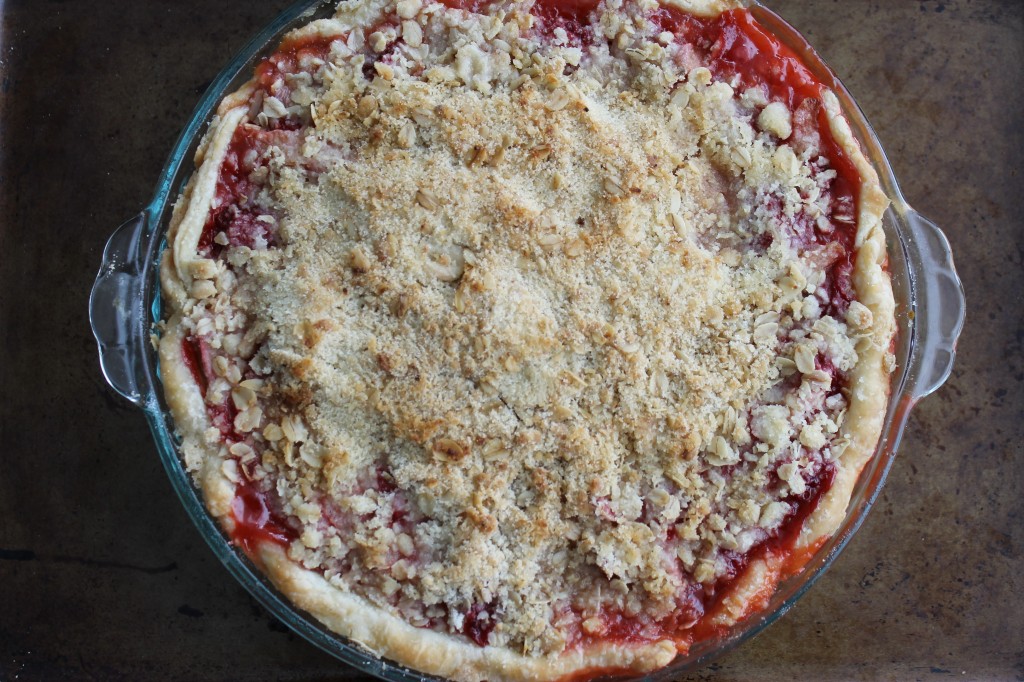 Our Gastropost Mission a couple of weeks ago was to "Raise a Red Flag" and eat something red for Canada Day. This coincided with an invitation to a barbecue at fellow Gastroposter Libby's house, and well, wouldn't you be happy if I showed up at your door with this? Here's what I had to say:
There's usually about only two or three weeks a year when the stars align and you can get bright pink, thick, tart stalks of rhubarb and bright red, sweet, juicy strawberries. Luckily these weeks usually fall around Canada Day, and one of my favourite things to do on an extra day off is bake something delicious to share with family and friends, like this Strawberry Rhubarb Crumb Pie.
Fruit pies are just an absolute labour of love and one of my favourite things to bake in the summer. I love everything about it, especially bringing home fresh, local, fruit from the farmer's market and tucking it into homemade pastry. As Danielle says, there aren't a thousand ways to make a crumb pie, but this recipe from Joy, with a Smitten crust is a great place to start.
Strawberry Rhubarb Crumb Pie
Source: Crust from Smitten Kitchen, Filling and Crumb Topping from Joy the Baker
Ingredients
Crust
1 1/4 cups flour
1/2 tbsp sugar
1/2 tsp salt
1/2 cup (1 stick) butter, cold, cubed
1/2 cup ice water
Filling
1 lb rhubarb, diced into 1/2″ thick pieces
1 lb strawberries, hulled and sliced in half
1/2 cup sugar
1/3 cup brown sugar
1/4 cup cornstarch
pinch salt
2 tbsp lemon juice
Topping
3/4 cup flour
3/4 cup rolled oats
2/3 cup sugar
pinch salt
6 tbsp butter (3/4 stick), cold, cubed
Directions
I like to begin with a nice clean kitchen when making a pie, so if you're me, clean all the clutter off the counter and take a nice deep breath, and get out a pie plate and your rolling pin. 

Let's start with the crust. Add the flour, sugar and salt to a big bowl, and whisk together. Add the butter, and use a pastry cutter to cut it in, until the butter is the size of peas and the mixture is crumbly. Start by adding 1/4 cup of cold water, and stir together with a spatula until the dough starts to come together. Add more ice water a tbsp at a time, until all the floury bits are incorporated. Knead the dough very briefly with your hands until it all comes together, then shape into a disc and wrap in plastic wrap. Stick it in the fridge to chill for about an hour.
For the filling, toss everything (fruit, sugars, salt, cornstarch and lemon juice) together and let sit while you make the crumble.
For the crumble, whisk together the flour, oats, sugar and salt in a medium bowl. Add the butter and cut in with a pastry cutter or a fork. I like to use my hands to get everything incorporated. Chill until the crust is ready to go.
Preheat the oven to 400. Roll out your dough on a well-floured counter, then gently add to your pie plate, trim the edges and crimp if you like.
Add 1/2 cup of the crumble mixture to the fruit, stir, and pour the whole thing into the pie plate. Crumble the rest of the crumble over top. Place on a baking sheet, and bake for 20 minutes, then turn the oven down to 350 and bake for another 35-45 minutes until the top is golden and bubbly. (If it gets too brown, too fast, just cover lightly with foil.)
*I'm just saying that one of Libby's friends said, and I quote, "This is the best f***ing pie I've ever had". So, you know. Make this.*