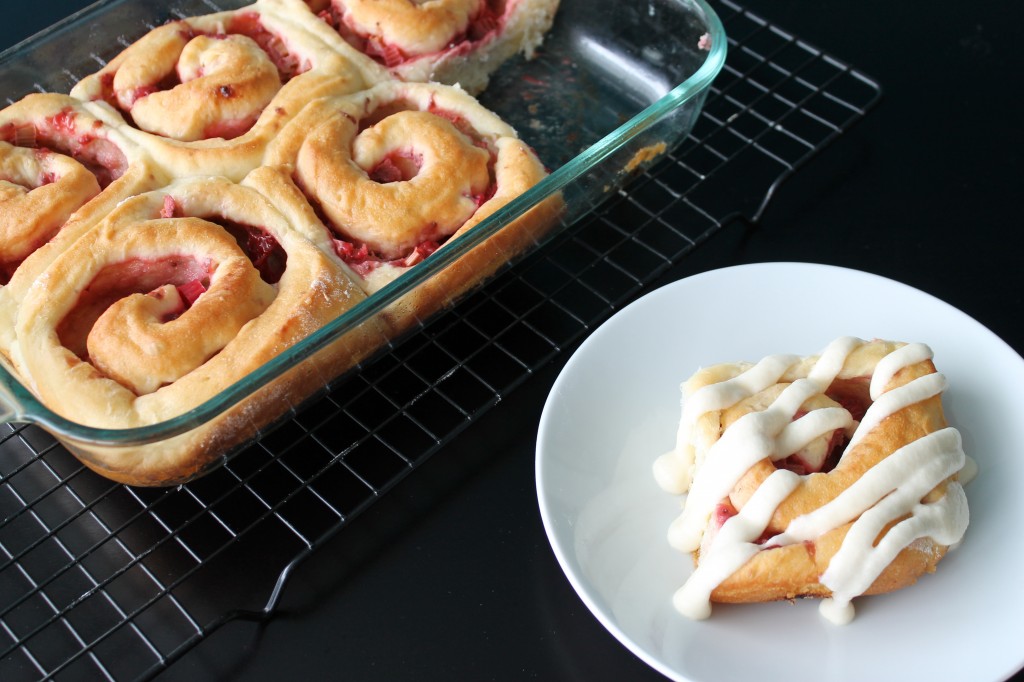 I've been waiting a whole year to make these! That's part of the fun/frustration about rhubarb season; you gotta be organized or else by the time you decide what you want to make, you won't be able to find any! This year though, I was planning my rhubarb recipes as far back as April 3rd, as I tweeted that day: "There's only one way to start this frigid -11 morning…making a rhubarb board on Pinterest".

I loved the idea of a summer version of a cinnamon roll, using strawberry jam and rhubarb instead of brown sugar, cinnamon and other fall spices. Megan knows what's up! Look at me, just tackling a yeast project on a random weekend morning! I've come a long way.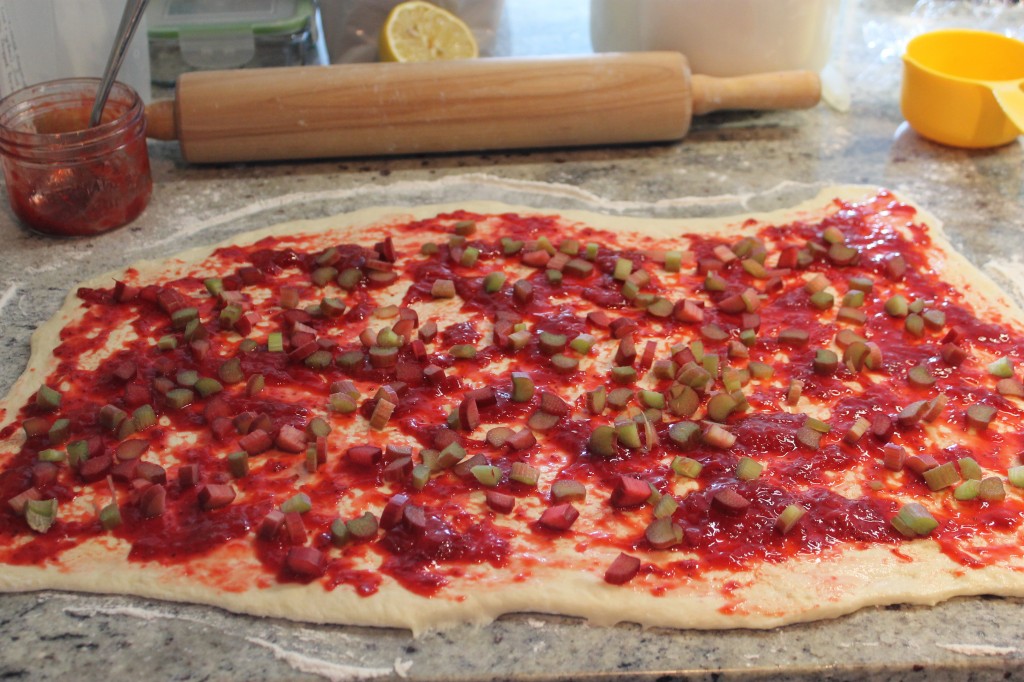 The only issue I had with these is that I didn't really roll them up tight enough. You can see some gaps in the top photo, but obviously that doesn't impact the taste whatsoever. You know when you eat a cinnamon roll and you get to that warm, doughy, gooey part in the centre? Just imagine a burst of sweet strawberries and tart rhubarb in there, with creamy vanilla buttercream glaze dripping through. Whoa. What else can we stuff in sweet rolls this summer? S'mores stuff? Peaches and blueberries? Challenge accepted!
Strawberry Rhubarb Sweet Rolls
Source: Take a Megabite
Yield: I got about 16 rolls, filling a 9″ round pan and 10″ x 6″ rectangular pan
Ingredients
For Sweet Rolls & Filling
1/4 cup warm water (110-115 degrees is ideal)
1/2 tsp sugar
1/2 tsp + 1/8 tsp active dry yeast
1/4 cup (1/2 stick) butter
1/2 cup boiling water + 1/2 cup cold water
1/4 cup sugar
1/2 tsp salt
1 egg
3 1/2 cups flour
+ softened butter, strawberry jam, chopped rhubarb (1-2 big stalks, chopped)
For Vanilla Buttercream Glaze
1/4 cup butter (1/2 stick)
1 1/4 cups icing sugar
1/4 cup cream or milk
1/4 tsp vanilla extract
Directions
In a liquid measuring cup, stir together the warm water, 1/2 tsp sugar and yeast. Let sit for 10 minutes; it'll be very foamy.

In a microwave safe bowl, melt the butter, then add the water, 1/4 cup sugar, salt and egg, and whisk together. Add the yeasty mixture and the flour, and stir well until everything is combined. Cover bowl with plastic wrap and stick it in the fridge overnight or for 8 hours.
When you're ready to go, get your pans ready first by spraying them with non-stick spray. Flour your counter well, and then pull out the dough onto the surface. It'll be quite sticky, so don't be afraid to flour your hands, the counter, and rolling pin well. Roll out the dough until it's about 1/8″ thick.
Spread some softened butter over the dough, then spread on strawberry jam until the dough is covered. Sprinkle on the chopped rhubarb. Roll up the dough *tightly* then slice (this was pretty messy for me) and place the rolls into your prepped pans. Cover with clean dish towels and let rise in a warm place for about an hour. (I used my oven trick where I heat my oven to it's lowest setting, then shut it off, and let the rolls rise in there).
Take the rolls out, and preheat the oven to 350. Bake the rolls for 25-35 minutes until lightly golden brown. Let cool totally.
For glaze, whisk together butter, icing sugar, cream and vanilla. Add more cream if needed so it's  nice and thin for drizzling over the rolls. (If it gets toooo thin, just add some more icing sugar).