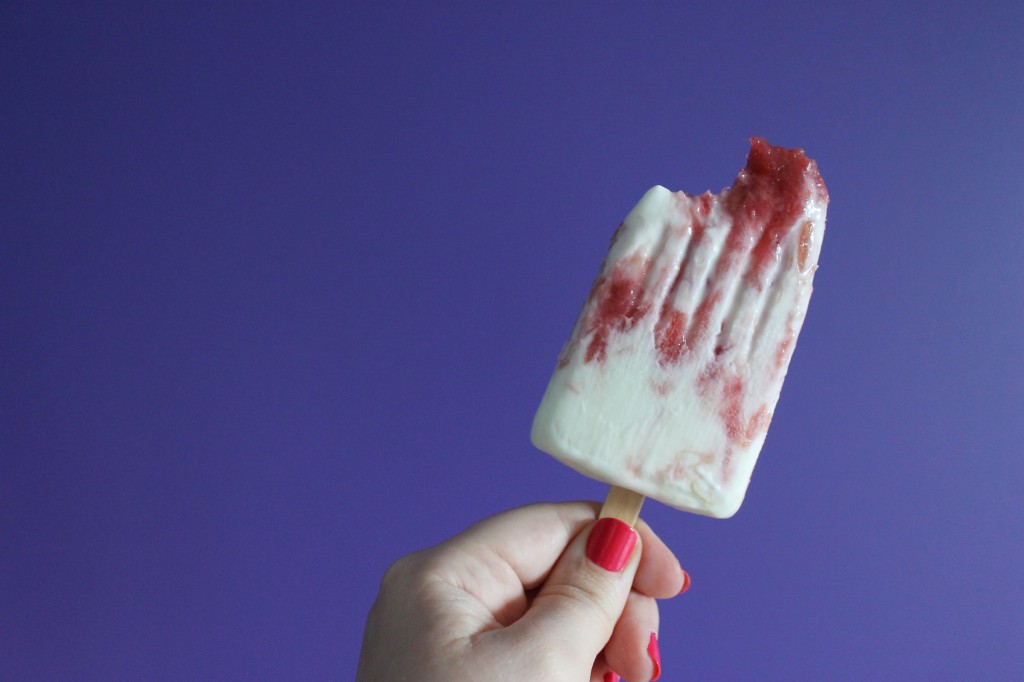 I'm making good on my promise to become a popsicle ninja this summer, and here are my second ones of the season! My friend Danielle made these last week and said they were so good, she was eating both the rhubarb part and the dreamy creamy part before she even froze them. That's the sign of a winning recipe, my friends.
This is my 5th season baking with rhubarb, as my obsession began in 2009, and this summer I was really looking for new ways to use it. I've made so many rhubarb crumb cakes, squares and loaves over the years and I just wasn't inspired to make any more, so these popsicles were calling my name (although I did make myself a Breakfast Rhubarb Granola Crisp which is now an annual tradition).  The rhubarb part of these popsicles is basically just a compote/jam, and it's nice and tart against the smooth, creamy, yogurt and cream mixture. It's not essential that your nail polish matches your popsicles; that's just an added bonus.
P.S. The rhubarb I used in the compote was hot pink and lovely, so you can see it's a little brighter than the brown compote from the cookies I made, which was from mostly green rhubarb.
Rhubarb Creamsicles
Source: Dinner with Julie
Yield: I made half of the below recipe and got 4 pops
Ingredients
Rhubarb Part
2-3 big stalks of rhubarb, chopped
1/4 cup + 2 tbsp sugar
1/4 cup water
Creamy Part
1 cup plain yogurt (I used Greek yogurt)
1 cup cream
1/4 cup sugar
Directions
For rhubarb part, add rhubarb, sugar and water to a small saucepan over medium heat. Cook until the rhubarb breaks down and thickens, like a jam or compote. Remove from heat, pour into a bowl, and place in fridge to cool.

For creamy part, whisk everything together.
Layer both mixtures in popsicle molds. I used a skewer to swirl them around a bit. Freeze for an hour, then stick in popsicle sticks, and freeze overnight.