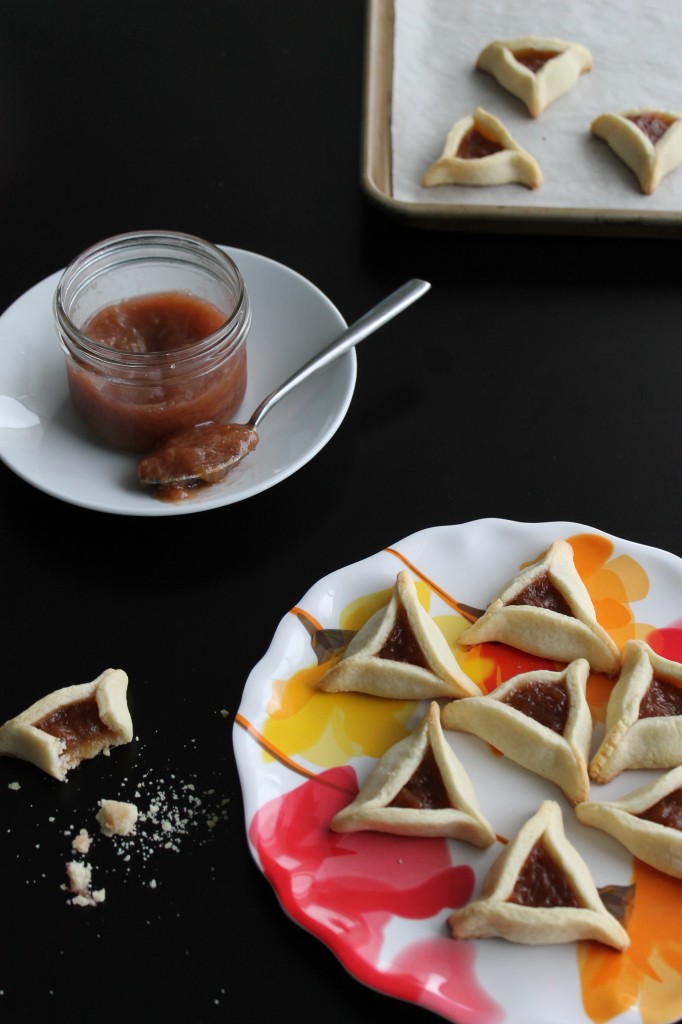 As an individual who goes rhubarb crazy every Spring, I find it so endearing when I come across someone who doesn't even know what it is. I love trying to explain the flavour, and how it looks like celery, and how it's actually a vegetable, and how it's BFFs with strawberries. This happened in my office last month, when I was trying to explain my obsession to my friend at work, which then prompted another co-worker to casually comment about how he had rhubarb growing in his backyard. I tried to keep it cool, but visions of an unlimited supply of my favourite spring fruit danced in my head!
The next week he delivered a bundle to my cube, and I squeeeeeed with delight. I knew exactly what I wanted to make, even though I couldn't pronounce it. The cookies, called hamantaschen (say it like this: hah-men-tosh-in) are in The Smitten Kitchen Cookbook, and I was super excited to make them. The dough is easily made in a food processor, really easy to roll-out, and I re-rolled the scraps countless times to no ill effect. You cut rounds out of the dough, add a little dollop of rhubarb compote in the centre, and fold up the sides and pinch together.
I brought them into work and everyone was really excited to try them, especially my cubicle neighbour who then gave me a lesson in how to pronounce hamantaschen and explained how that they're usually filled with prunes or poppy seed paste (they're a Jewish cookie her mom makes). I loved these cookies, obviously, even though I have a weird thing about thumbprint cookies, which is what these basically are, but in triangle formation.
One final note: the rhubarb my co-worker brought me from his garden was mostly green, with just a bit of pink at the ends. This resulted in a fairly unattractive brown compote, which still tastes amazing. Now that it's a bit later in the season, I've been seeing hot pink rhubarb at the farmer's market, and it makes a much cuter, reddish/pinkish compote (which you will see in the next recipe I'm posting this week!).
Rhubarb Hamantaschen
Source: The Smitten Kitchen Cookbook
Yield: I think I got about two dozen cookies
Ingredients
Rhubarb Filling
1 lb rhubarb, chopped (about 3 cups)
2/3 cup sugar
Cookie Dough
2 cups flour
1/2 cup ground almonds
1/3 cup sugar
3/4 tsp salt
1/2 cup (1 stick) butter, cold, cut into small cubes
1 egg, beaten lightly
1/8 tsp almond extract
Directions
For filling, add rhubarb and sugar to a small saucepan. Stir to combine, then heat over medium-low heat for 15 minutes without stirring. Turn it up to medium and cook for another 15 minutes, until the rhubarb breaks down and is nice and mushy. Let cool completely. 

For cookie dough, add flour, almonds, sugar and salt to food processor. Pulse a few times to combine. Add the butter and pulse until the mixture is crumbly and the butter is the size of peas. Add the egg and almond extract and process until the mixture comes together in a ball. I had to add a couple of tablespoons of water…I felt like my dough was really dry. Dump the mixture out onto a floured counter and knead a few times until it comes together in a ball.
Divide the dough into quarters so you can roll out one at a time, to a 1/8″ thickness. Make sure your counter, dough and rolling pin are floured well to avoid sticking! Cut out circles that are 2 1/2″ – 3″ in diameter. You can re-roll the scraps many, many times. Spoon 1 tsp of rhubarb filling in the middle of each circle, then fold up three sides and pinch together tightly. (A few of mine came apart when they baked, no big deal).
Freeze the shaped cookies for 30 minutes, then preheat your oven to 375 and line two cookie sheets with parchment paper. Bake cookies for 15-17 minutes until lightly brown.