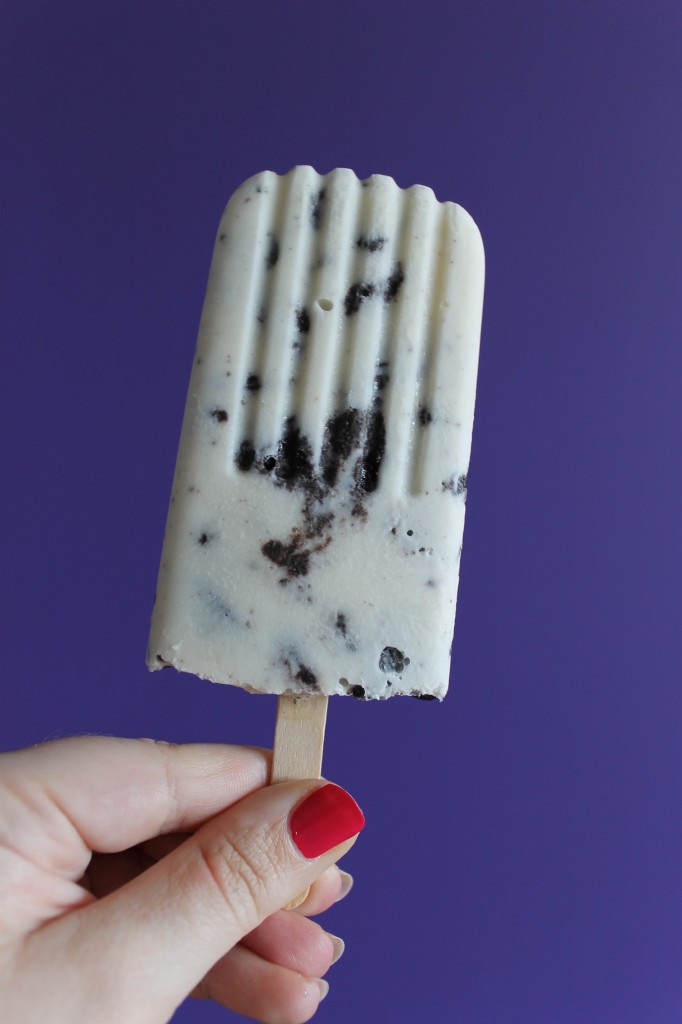 I really want to be on top of my popsicle game this summer. Many people have lofty summer goals to hike things, and bike places, etc. etc. and I basically just want to make delicious frozen treats all summer long.
I just went through Planet Byn's Frozen category, and it's looking like I've posted one popsicle recipe per summer (2010 – Mocha Fudgesicles, 2011 – Raspberry Yogurt Popsicles, 2012 – Peaches & Cream Vanilla Bean Popsicles). Here's the first (of many I hope) for 2013 – Cookies & Cream Popsicles. (Hmmm…notice a theme here? All creamy pops…I vow to make at least one ice pop before summer is through).
These Oreo Popsicles took about 5 minutes to stir together, and are absolutely dreamy. They taste like vanilla pudding/ice cream, without all the annoying custard-making steps. My only note is that the recipe calls for sour cream, and you can taste a definite tang in the finished product. I'm going to go ahead and say you could swap in yogurt (Greek or otherwise), which would probably mellow out the tang  a bit. Other than that, these are perfect.
Cookies & Cream Popsicles
Source: Just Baked
Yield: Depends on the size of your popsicle molds; I made half of the below and got three pops
Ingredients
1/4 cup sugar
1/4 cup water
1/2 cup sour cream or yogurt
1/4 cup milk
1 cup whipping cream
1 tsp vanilla extract
14 Oreos, crumbled
Directions
In a large liquid measuring cup (with a spout for easy pouring), stir together the sugar and water until the sugar is dissolved. Stir in the sour cream (or yogurt), milk, whipping cream and vanilla. Add the crumbled Oreos and stir again.

Divide into popsicle molds. Freeze for an hour, then insert popsicle sticks, and let freeze overnight.