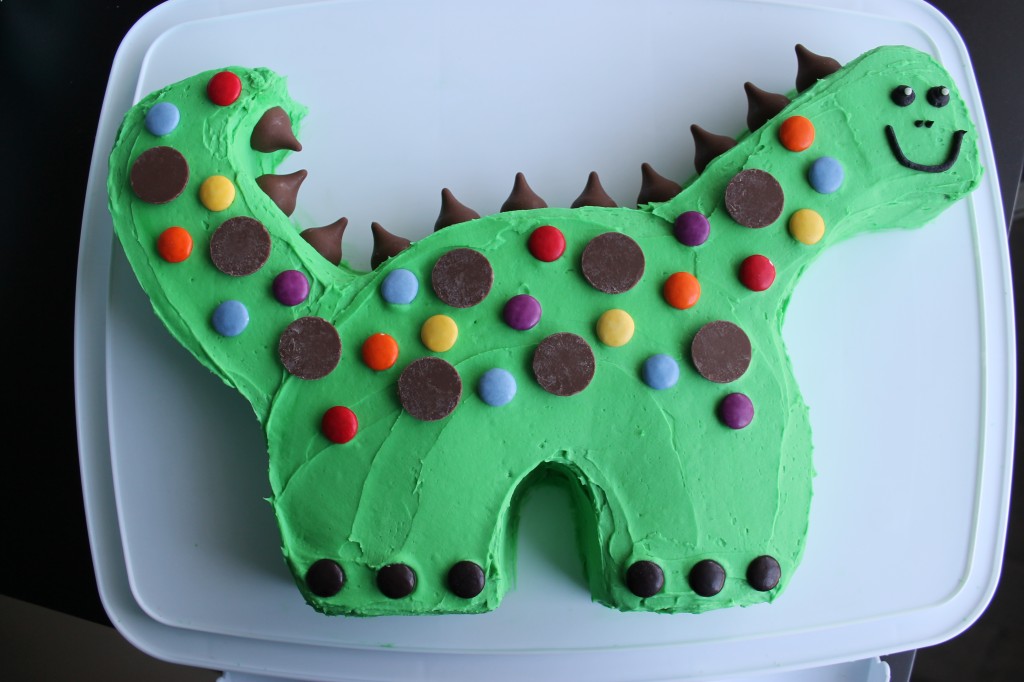 I've just passed the one-year mark at my new job, and in some ways it still feels like I just started, but in others it feels like I've been there forever. One of my new co-workers has two super cute little boys and asked me to make their birthday cakes this summer. The first one was a Rainbow Cake, which I can now crank out in about two hours, but the second request was for a Dinosaur Cake, which I've never made before. After some Google image research, I found a Betty Crocker template which I used, as well as these two pictures for inspiration. I think it turned out really cute! Here's how I did it:
I made my go-to vanilla cake, Smitten Kitchen's 1-2-3-4 cake and poured it into two 9″ cake pans. I was a little nervous there was too much batter, so I took out a little bit out of each one to make about a dozen mini cupcakes.
I cut out the dino shapes using the template linked to above, and crumb coated the whole thing in my favourite buttercream tinted green.
I used Hershey Kisses for the spikes, Smarties and chocolate candy melts for the spots, and a bit of icing tinted black for the face.
That's it!