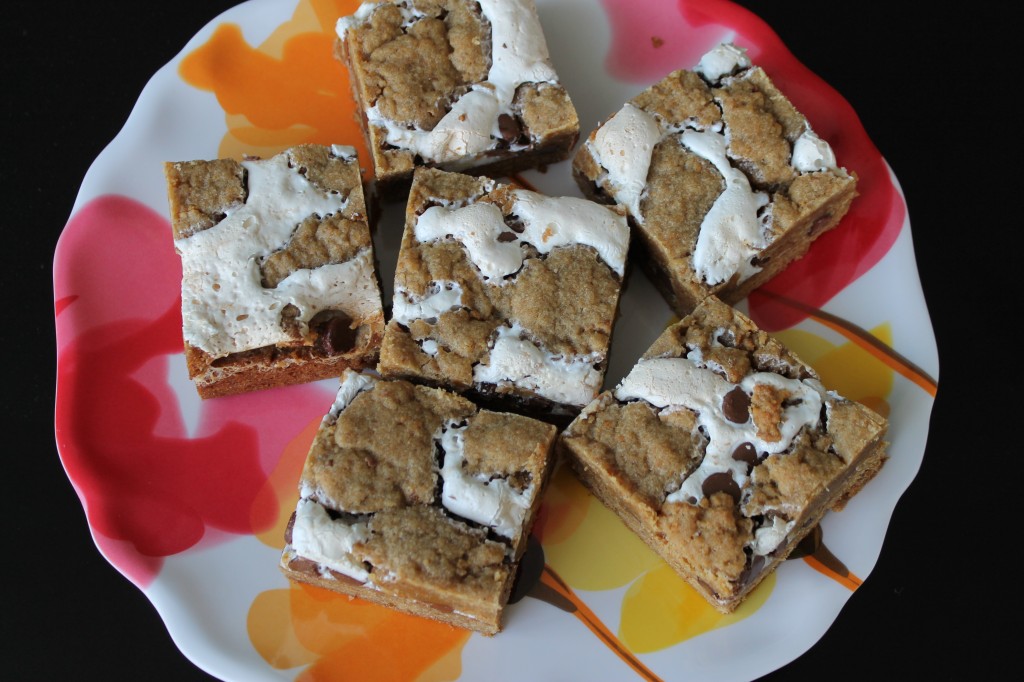 Last weekend, my new friend from work had a BBQ (yes! I was invited again!) on the rooftop terrace at her condo. It was the second day in a row of a mini-heat wave; one of those sticky, humid days that required a maxi dress and accepting that your hair will get bigger and puffier as the day progresses. I was all "here we go, here comes summer". But then we got rained on, it was cold for the rest of the weekend, and we're back to Spring.
Since the Pretzel M&M Cookies and Fluffernutter Rice Krispie Squares went over so well at our last gathering, I had to continue my winning streak. I made these Peanut Butter Pretzel Chocolate Chip Cookies, and then, of course, I had to bring something S'moresy. I'm obsessed, and I don't think you can ever have enough portable s'mores recipes. These bars are soft and chewy, almost like a graham blondie, with a layer of marshmallow fluff and milk chocolate chips for the holy trinity of s'mores perfection.
S'mores Cookie Bars
Source: Mel's Kitchen Cafe
Ingredients
1 cup (2 sticks) butter, room temperature
1 1/2 cups brown sugar
2 eggs
1 tsp vanilla
2 cups flour
2 cups graham cracker crumbs
1 tsp baking powder
1/4 tsp salt
2 cups marshmallow fluff
2 cups milk chocolate chips
Directions
Preheat oven to 350 and line a 9×13 pan with foil, then spray the foil with non-stick spray.

In a large bowl, cream together the butter and brown sugar until light and fluffy. Add the eggs and vanilla and beat again until smooth. Add the flour, graham cracker crumbs, baking powder and salt and mix together until combined well.
Press half the dough into the pan to make a nice even layer. Spoon the fluff over that layer in blobs and use an offset spatula to smooth it out (I sprayed my spatula with non-stick spray and that helped a lot).
Sprinkle with chocolate chips, and then crumble the rest of the dough over top. The marshmallow will puff up while it bakes and turn toasty golden brown. Bake for 30-35 minutes. Cool completely before slicing.