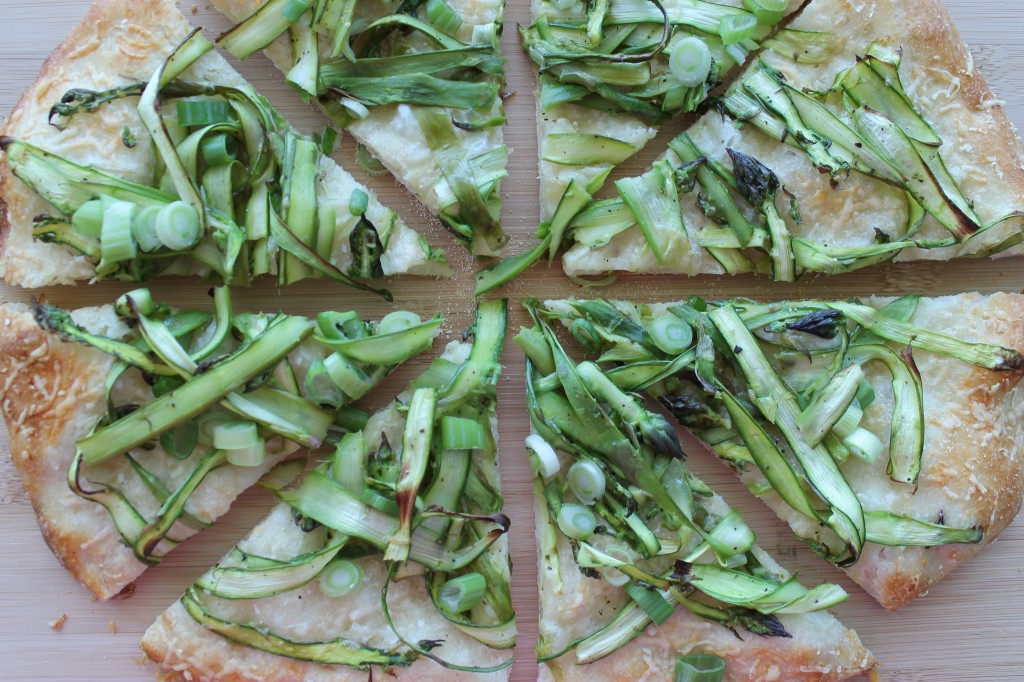 Guys, I've been a pizza making NINJA lately! I finally have my method down pat, and after so many years of being afraid of yeast, it's nice to have this under control. Also, for future reference, if you defrost frozen pizza dough, refreeze it, and defrost it again, it's totally fine.
And so, I finally got around to making Smitten Kitchen's shaved asparagus pizza, a recipe that appears both on Deb's website and in her book. Let's just say I'm not the biggest asparagus fan, but shaved raw asparagus is a revelation! For this pizza, you just pile on raw asparagus shavings dressed lightly with olive oil, salt and pepper, give it a sprinkle of parmesan cheese, bake and then top with sliced green onions. It's so nice, light and fresh for spring, and perfect fulfillment of Gastropost's asparagus mission.
Shaved Asparagus Pizza
Source: Smitten Kitchen
Ingredients
4-5 asparagus spears
1 tsp olive oil
salt & pepper
1/4 cup finely grated parmesan cheese
1 green onion, sliced
*you can also put mozzarella on this pizza but I left it off*
Directions
Preheat your oven to 500, get your pizza stone in there, and sprinkle some cornmeal on a piece of parchment paper. Press or roll out your dough on the parchment paper, and sprinkle on parmesan.

On a cutting board, lay an asparagus spear flat, holding by the end. Take your vegetable peeler and run it down the length of the spear, creating long ribbons. Sometimes the tops of the stalks got stuck in my peeler, but that's no big deal. Place all the ribbons in a bowl and toss with olive oil, salt and pepper. Pile on top of the pizza dough.
Bake for 10-12 minutes until the crust is nice and golden brown. Sprinkle with green onions.