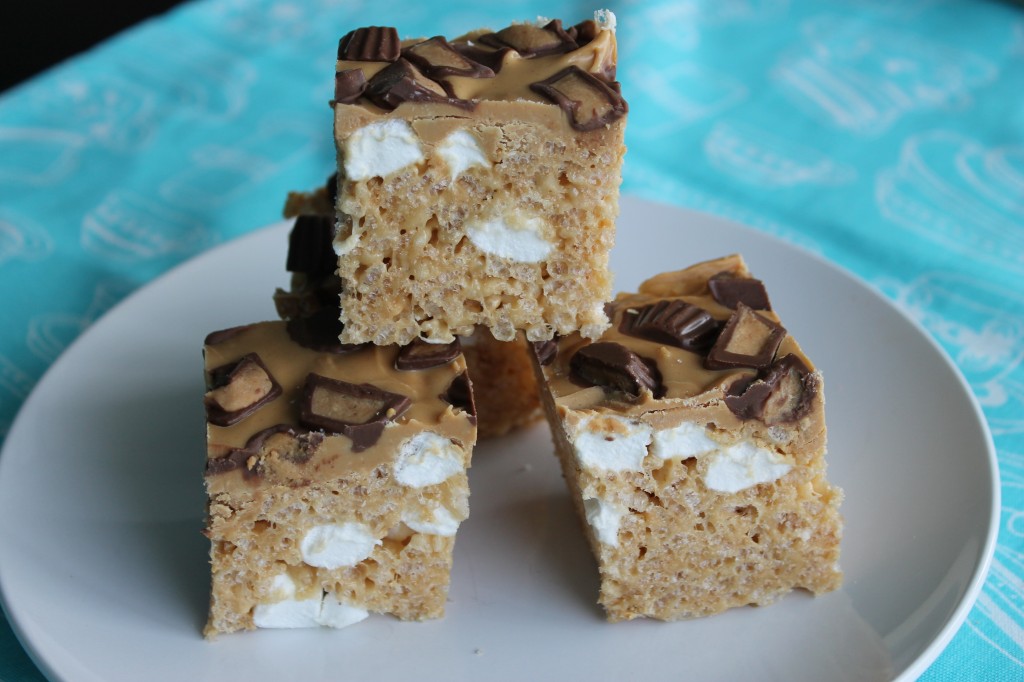 Last week one of my new friends from work threw a rager to kick off the long weekend right! Ha, not really a rager but it was a super fun night. Obviously I had to bring treats to dazzle everyone, and also to make sure I would be invited to any and all future parties. The first thing I decided to make was obviously Pretzel M&M cookies, the three years running champion of my annual Champagne & Cookies Christmas Party. Sure enough they were gone in a flash, and some party attendees did not even know what a Pretzel M&M was! I was happy to enlighten them.
For my second treat, I made these insane little gems: peanut butter rice krispie squares, topped with a layer of melted peanut butter chips, and then sprinkled with mini Reese's peanut butter cups. So good. This is a great treat to make for summer picnics and BBQs: they travel well, taste great and you don't need to turn the oven on to make them.
Fluffernutter Rice Krispie Squares
Source: Shugary Sweets
Ingredients
10 oz marshmallows
1/4 cup (1/2 stick) butter
1/2 cup creamy peanut butter
5 cups Rice Krispies
1 1/4 cup mini marshmallows
1 bag (10 oz) peanut butter chips
2 bags (8 oz each) Reese's mini peanut butter cups
Directions
Spray an 8″ glass baking dish with non-stick spray.

Get out a big microwave safe bowl, and add the marshmallows, butter and peanut butter. Heat, remove, and stir for 2 minute intervals until everything is nice and melty and smooth. Stir in the rice krispies, then fold in the mini marshmallows. Gently press into the baking dish.
In a small microwave safe bowl, melt the peanut butter chips and then spread on top of the rice krispie squares in an even layer. Wait a few minutes until the melty peanut butter layer cools, then sprinkle on all the mini peanut butter cups. Press them in a little bit to make sure they stick. Let the whole thing set for an hour or so, then cut into squares.