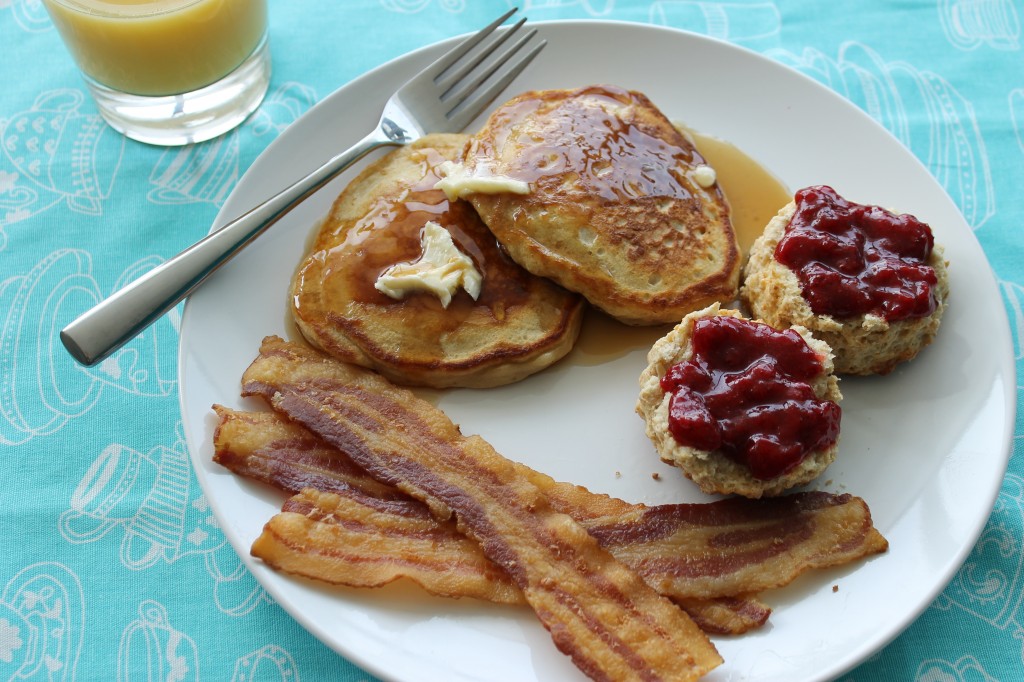 I have complicated feelings towards brunch, and I believe they date back to 1998-2002 in Waterloo, Ontario and a little joint called Mel's Diner. Mel's was the ideal place to feed your hangover on Sunday morning and for $2.99 you got a greasy plate of bacon or sausage, toast, eggs and homefries (or Mel's favourite, bacon, brown and scrambled, which was my standard order). The thing is, Mel's was about halfway between Laurier (my university) and the University of Waterloo, which were just down the street from each other, and this place was always, always jam packed on Sunday mornings. The line was out the door and the tables never turned over fast enough, and I think after a while I just stopped going because I hated waiting in that line.
Then in 2002, I discovered that pancakes didn't actually have to come out of a box, and my days of dining out for brunch were over for good.
It is so easy to whip up delicious breakfast foods at home. No waiting in line, you can eat in your PJs and there are leftovers to snack on throughout the day. On Victoria Day Monday, I fulfilled this Gastropost Mission by inviting my friend Kristine over for brunch and an overdue catch-up session, and this was our little menu:
Banana Bourbon Pancakes
Extra Crispy Bacon
Maple Oat Scones with Homemade Strawberry Jam
I'm a pancake purist, but lately I've been branching out a little bit. For these Banana Bourbon Pancakes, you saute banana slices in butter, brown sugar, bourbon and cinnamon, then add them to your pancake batter. Whoa. Salty, crispy bacon provides a nice contrast to all that sweetness, and everything is rounded out with whole-wheat scones and the best strawberry jam. And now you know why I never go out for brunch!
Banana Bourbon Pancakes
Source: A Cozy Kitchen
Ingredients
Bananas
1/2 tbsp butter
2 ripe bananas, thinly sliced
1 tbsp brown sugar
1 tbsp bourbon
1/2 tsp cinnamon
Pancakes
1 cup flour
2 tbsp brown sugar
1 tsp baking powder
1 tsp baking soda
3/4 tsp salt
3/4 cup + 2 tbsp buttermilk
1 egg
2 tbsp bourbon
1/2 tsp vanilla
Directions
In a skillet over medium heat, melt the butter, then add the bananas, brown sugar, bourbon and cinnamon. Stir to coat, being careful not to smoosh the bananas. Saute for 2-3 minutes, until the bananas cook a little bit, then remove bananas to a plate to cool. Wipe out skillet.

In a medium bowl, whisk together the flour, brown sugar, baking powder, baking soda and salt. In a large bowl, whisk together buttermilk, egg, bourbon and vanilla. Add dry ingredients to wet ingredients, and stir together gently until just combined. It's okay if there's a few lumps.
Bring the skillet back to medium heat. Spray with non-stick spray, or melt a little butter or oil in the pan. Use a 1/4 cup measuring cup as a scoop, and add batter to pan. Press in a few slices of banana, and let cook for 2-3 minutes then flip gently and cook for 2-3 minutes more on the other side. Pancakes take practice, and it's all about knowing your stove and knowing your pan. I know I have to lower the heat after the first batch.
You can keep pancakes warm in a low oven, 250, as you finish cooking.