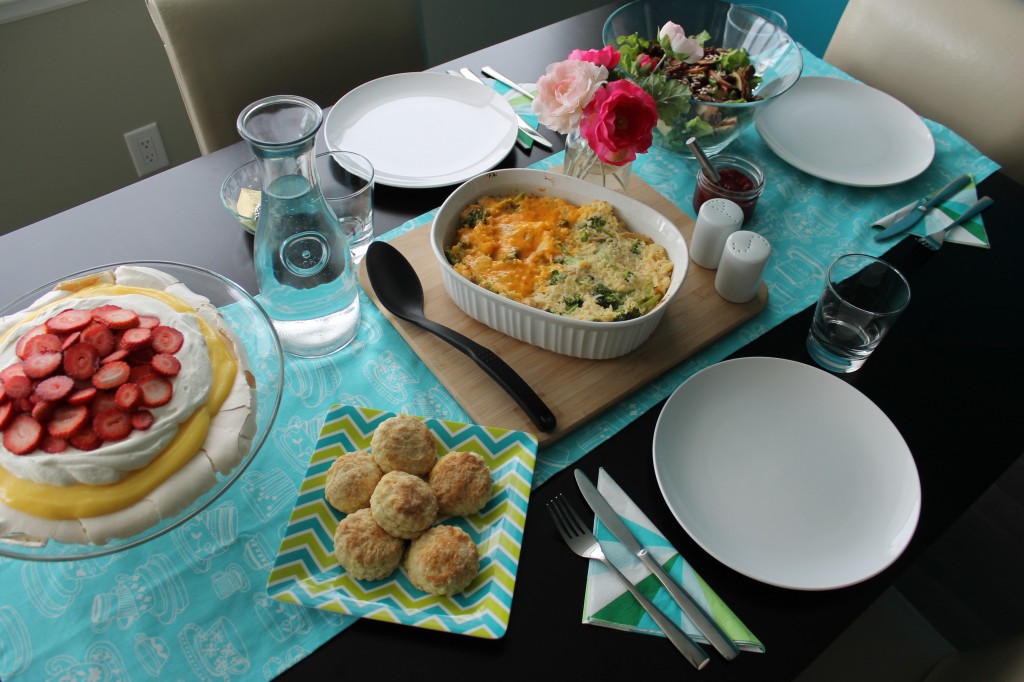 Mom's choice for her Mother's Day dinner this year was "some type of chicken casserole type thing and whatever else you think would be good". Isn't that the best, most easygoing dinner guest? Love it. I translated her request into the following menu:
Chicken, Broccoli & Rice Casserole (this recipe from Annie's Eats with white rice substituted for quinoa), extra cheddar on Mom's end
Buttermilk Biscuits & Homemade Strawberry Jam
Green Salad with Apple, Candied Pecans, Dried Cranberries, Sunflower Seeds & Balsamic Dressing
For dessert: Pavlova with Lemon Curd, Whipped Cream & Sliced Strawberries
Why have I been sleeping on Pavlova my entire eating career? I'm not really sure why it's taken me so long to make one, seeing as how it's basically a giant version of these and tastes like a marshmallow. Now, because it was Mom's day, she was allowed to pick the filling, although if it were up to me, you know there wouldn't be any citrus ever allowed near any dessert ever. In any event, this was a nice, light, fresh treat to finish up a big meal. Just a note that pavlova doesn't really keep that well, so next time I would make a smaller one; the leftovers were a kind of a mess. I would also fill it with butterscotch sauce instead of lemon curd, but I guess that'll have to wait until Daughter's Day!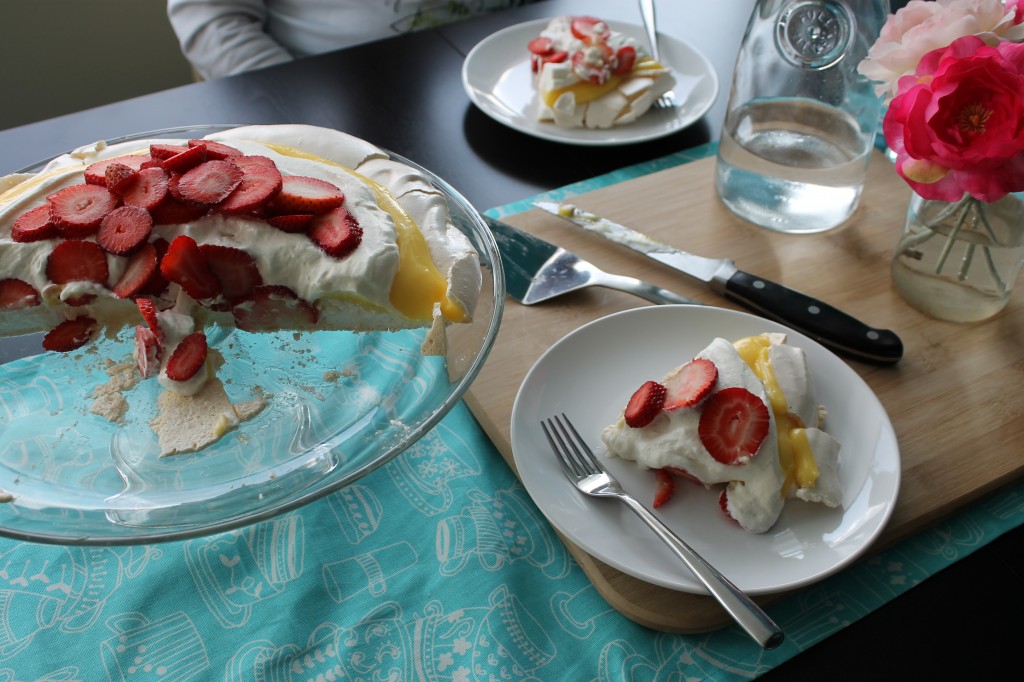 Pavlova Shell
Source: Brown Eyed Baker
Ingredients
6 egg whites, room temperatures
1 1/2 cups sugar
pinch cream of tartar
+ whatever fillings you want…we had lemon curd (use this recipe), whipped cream (1 cup whipping cream, whipped with 1 tbsp icing sugar), sliced strawberries…I feel like chocolate ganache, whipped cream and crushed Oreos would also be amazing…or butterscotch sauce, whipped cream and Skor bits…you get the idea!
Directions
Preheat the oven to 250, and line a baking sheet with parchment paper. Trace an 8″ circle on the parchment, then flip the parchment over.

In a large bowl, beat the egg whites until stiff peaks form. Sprinkle in the sugar and beat until incorporated. The meringue will be nice and glossy. Finally, add the cream of tartar and mix again for one minute.
Scoop the mixture into the circle, and use an offset spatula or back of a spoon to spread it out to fill the circle. It'll be nice and tall, which is what you want.
Bake for 1 hour, then turn the oven off, open the door, and let the pavlova cool in the oven.
Gently transfer pavlova to a cake stand or platter, and add your fillings.