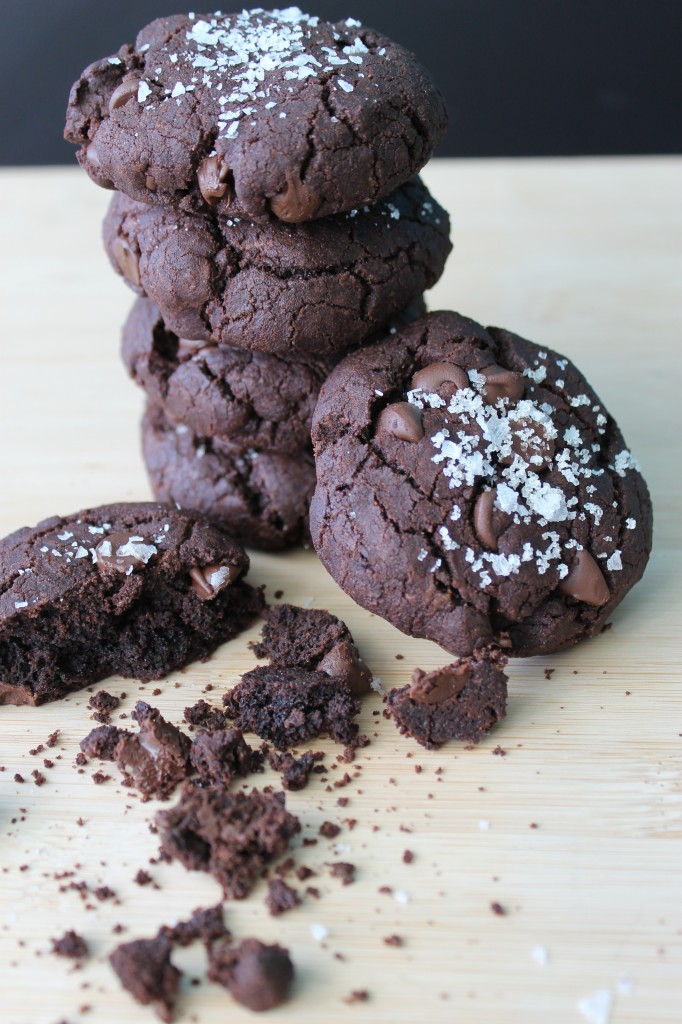 Here's the final treat I mixed up for my low-key day of Cinco De Mayo treats: a spicy chocolate chocolate chip cookie with cayenne and cinnamon. I saw this recipe in my Mom's Chatelaine and thought I would give it a try; it's from the Tacofino Food Truck, operating out of Tofino, BC. The thing is, I went ahead and added the full teaspoon of cayenne and they were SPICY! Like, my mouth was tingling after eating one. It was weird. Also the cookies use oil, instead of butter, and I'm not really on board with that.
In any event, I put my #FBC2013 photo styling workshop to good use here, and what do you know? Adele was right; everything looks good on wood! She also encouraged the use of crumbs, which I think look kind of cute here.
Chocolate Diablo Cookies
Source: Chatelaine, May 2013
Ingredients
2 eggs
1 cup brown sugar
1 cup sugar
1/2 cup canola oil
1 tbsp vanilla
1 1/2 cups flour
1 cup cocoa powder
1 tsp baking soda
1/2 – 1 tsp cayenne pepper
1 tsp cinnamon
1 cup chocolate chips
+ flaky sea salt and/or raw sugar for sprinkling
Directions
Preheat oven to 375 and line your cookie sheets with parchment paper.

In a large bowl, whisk together the eggs, sugars, oil and vanilla. Add the flour, cocoa powder, baking soda, cayenne pepper and cinnamon and whisk again until combined. Fold in the chocolate chips.
Scoop out dough onto cookie sheets, and flatten slightly with your fingers. Sprinkle with salt, sugar or a combination of both.
Bake for 11-13 minutes until the cookies start to crack.