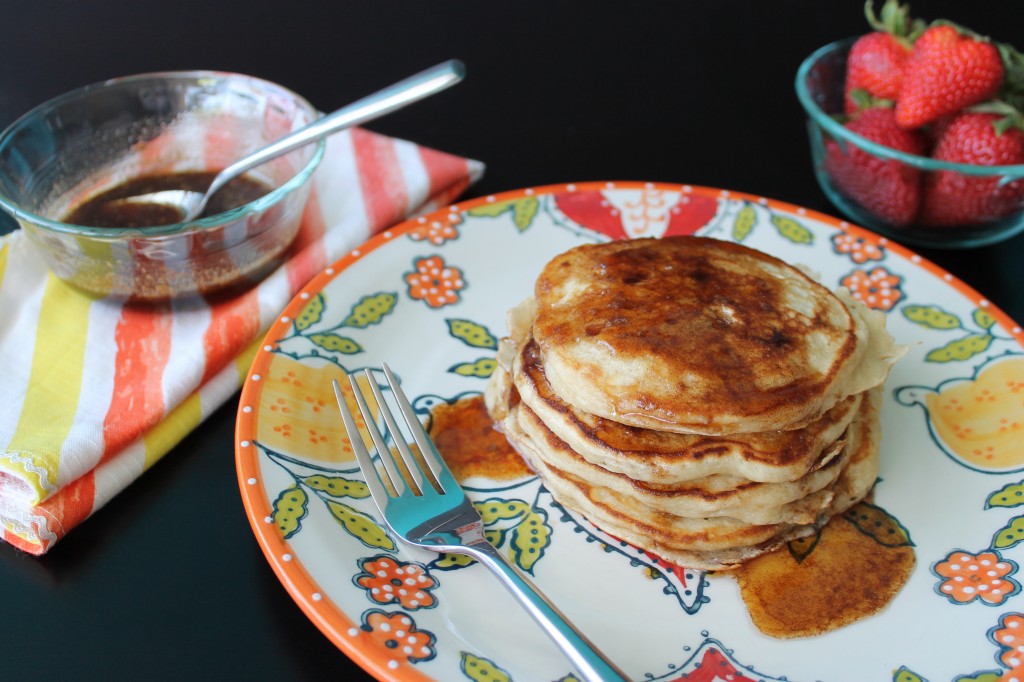 What's that you say? Cinco de Mayo was last week? I know, I know. I just didn't really have time and/or energy to plan a feast like last year, so instead I just made myself a few little Mexican-inspired snacks throughout the day as I worked on some spring cleaning projects around the house last Sunday afternoon.
First up are these pancakes, which were an automatic re-pin when I saw them on Pinterest. If cinnamon-spiked buttermilk pancakes don't get you amped up, the recipe also includes a brown butter cinnamon maple syrup to pour over top. Whoa. I also used my special Vietnamese Saigon Cassia Cinnamon that I ordered back at Christmastime from The Spice House. It's a super intense cinnamon that smells and tastes a little different from regular old cinnamon you can get at the grocery store or Bulk Barn; if you close your eyes and inhale, it smells like cinnamon hearts. I'm currently hoarding the jar in an attempt to make it last until Fall (for all my baking with pumpkin, natch), but I happily used it in this recipe and didn't regret it.
Mexican Pancakes with Brown Butter Cinnamon Maple Syrup
Source: Love + Cupcakes
Yield: Recipe below is half of the original, and I still got 13 pancakes. You can freeze leftovers wrapped in plastic wrap, and then just pop them in the toaster when you want to eat them.
Ingredients
Pancakes
1 1/2 cups buttermilk
1/4 cup milk
2 eggs
2 1/2 tbsp butter, melted
1 1/2 cups flour
2 tbsp sugar
1/2 tbsp cinnamon
1 1/2 tsp baking powder
3/4 tsp baking soda
1/4 + 1/8 tsp salt
Syrup
4 tbsp (1/2 stick) butter
1/2 cup maple sizzurp
1 tsp cinnamon
Directions
In a small bowl, whisk together the buttermilk, milk, eggs and melted butter. In a medium bowl, whisk together the flour, sugar, cinnamon, baking powder, baking soda and salt. Pour the wet mixture into the dry, and stir gently, just until the ingredients are combined. If you have lumps, it's totally fine.
Heat your preferred skillet or griddle and go to town making your pancakes. Keep them warm in a low oven.
For the sizzurp, melt the butter in a small saucepan over medium heat until it starts to hiss, bubble and foam, and keep an eye on it closely until it turns brown in colour and smells nutty and delicious. Add the maple syrup and cinnamon and whisk well to combine. Pour into a little oven-proof bowl, and keep warm in the oven with the pancakes until ready to serve.