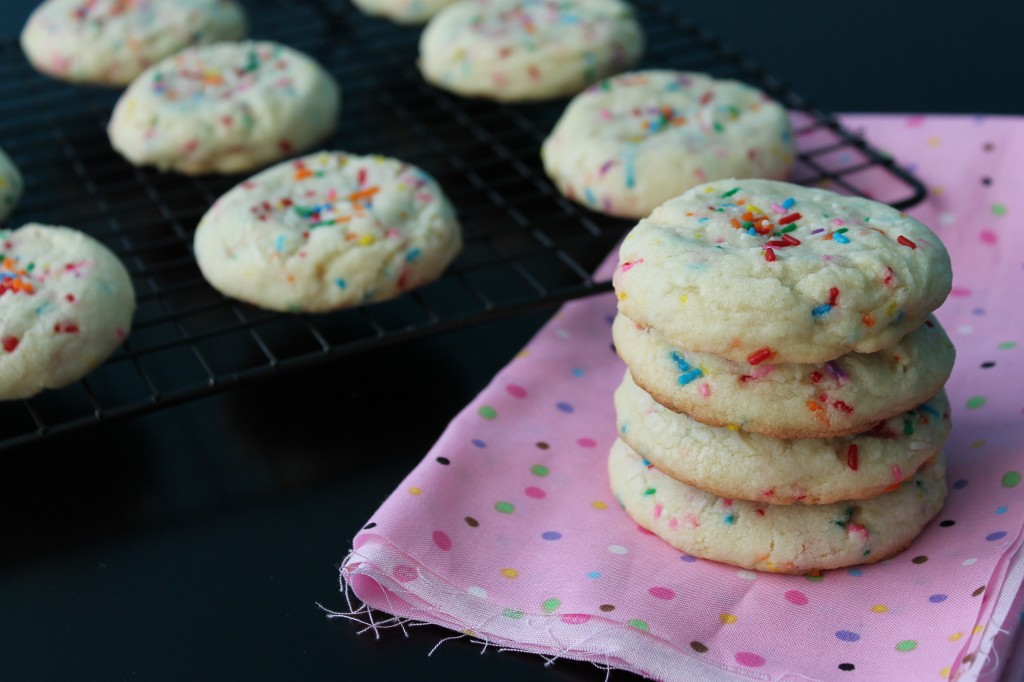 It's Spring! Yay! I'm currently waiting for rhubarb to show up at the farmer's market near my house, and rejoicing in the knowledge that fresh, local, delicious strawberries are only about a month away. I also busted out a neon coral blazer at work last week, wore open-toed shoes this week, and completed my annual spring challenge of applying just enough self-tanner to my legs so as not to blind the public, but not so much that I look like an oompa-loompa.
I don't think there's a better cookie out there to celebrate these new sunny days than a soft, chewy sugar cookie packed with rainbow sprinkles. I made these for my friend Alexis' daughter's 2nd birthday, even though I had to miss her party back in March because I was sick. I then made them for my friend and hairstylist Kim a couple of weeks ago for helping me out with a certain, shall we say, situation (coughlicecough) that also went down in March. That's all we'll say about that!
I love the almond extract in these cookies, it makes them taste like this, but you can swap in more vanilla extract if you like.
Funfetti Cookies
Source: Take a Megabite
Yield: this is half the recipe, it makes 12 big cookies
Ingredients
1/2 cup (1 stick) butter, room temperature
1/2 cup + 2 tbsp sugar
1 tsp vanilla
1/4 tsp almond extract (it's quite potent)
1 egg
1 1/4 cups + 2 tbsp flour
1/4 tsp + 1/8 tsp baking soda
1/4 tsp salt
1/4 cup rainbow sprinkles
Directions
Preheat the oven to 375 and line your cookie sheets with parchment paper.

In a big bowl, mix together the butter and sugar until light and fluffy. Add the vanilla and almond extract and the egg and mix again.
Stir in the flour, baking soda and salt and mix until just combined. Stir in the sprinkles.
Scoop out onto the cookie sheets. I flattened the cookies slightly with my hand and added a few more sprinkles on the top.
Bake for 12-14 minutes until just starting to brown on the bottom. The time will depend on the size of your cookies, so keep an eye on 'em!