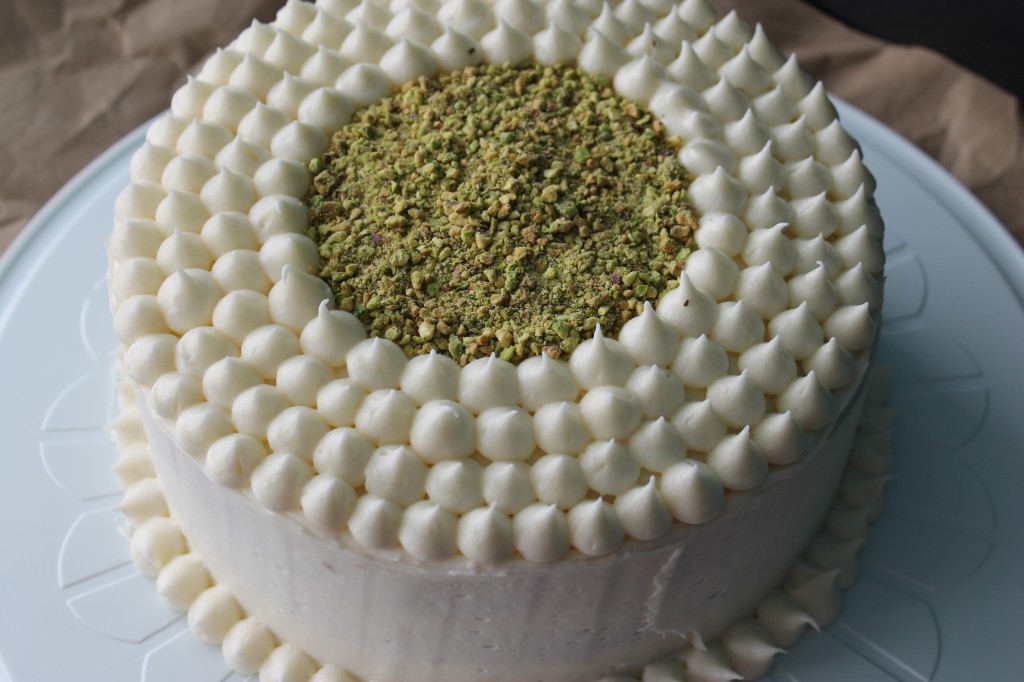 Who is Aunt Sassy, you ask? And what does she have to do with a triple-layer pistachio cake with honey-vanilla frosting? I have no idea, as the Baked Boys don't divulge the answer to this mystery in the book.
This is a time-consuming baking project, which made it perfect for the long Easter weekend last week. First of all, I couldn't find shelled pistachios anywhere (do they exist?), so on Friday I shelled two packages of pistachios while watching Sons of Anarchy. On Saturday I made the three cake layers, which involves a final step of folding in egg whites (I saved the egg yolks to make Maple Syrup Ice Cream, which went perfect with this cake). On Sunday morning, after Easter waffles, I made the icing. Since I haven't had luck with Baked's cooked icings in the past, and because I was bringing this to an Easter Dinner for 10 people, I decided to just go with my own favourite buttercream, adding in 3 tbsp of honey. To decorate the cake, I used a piping bag with a big round tip, and piped it on in little bursts, filling the centre with my remaining chopped pistachios.
It was a huge hit, and I thought it was a perfect cake for Spring!
You can find the recipe here!