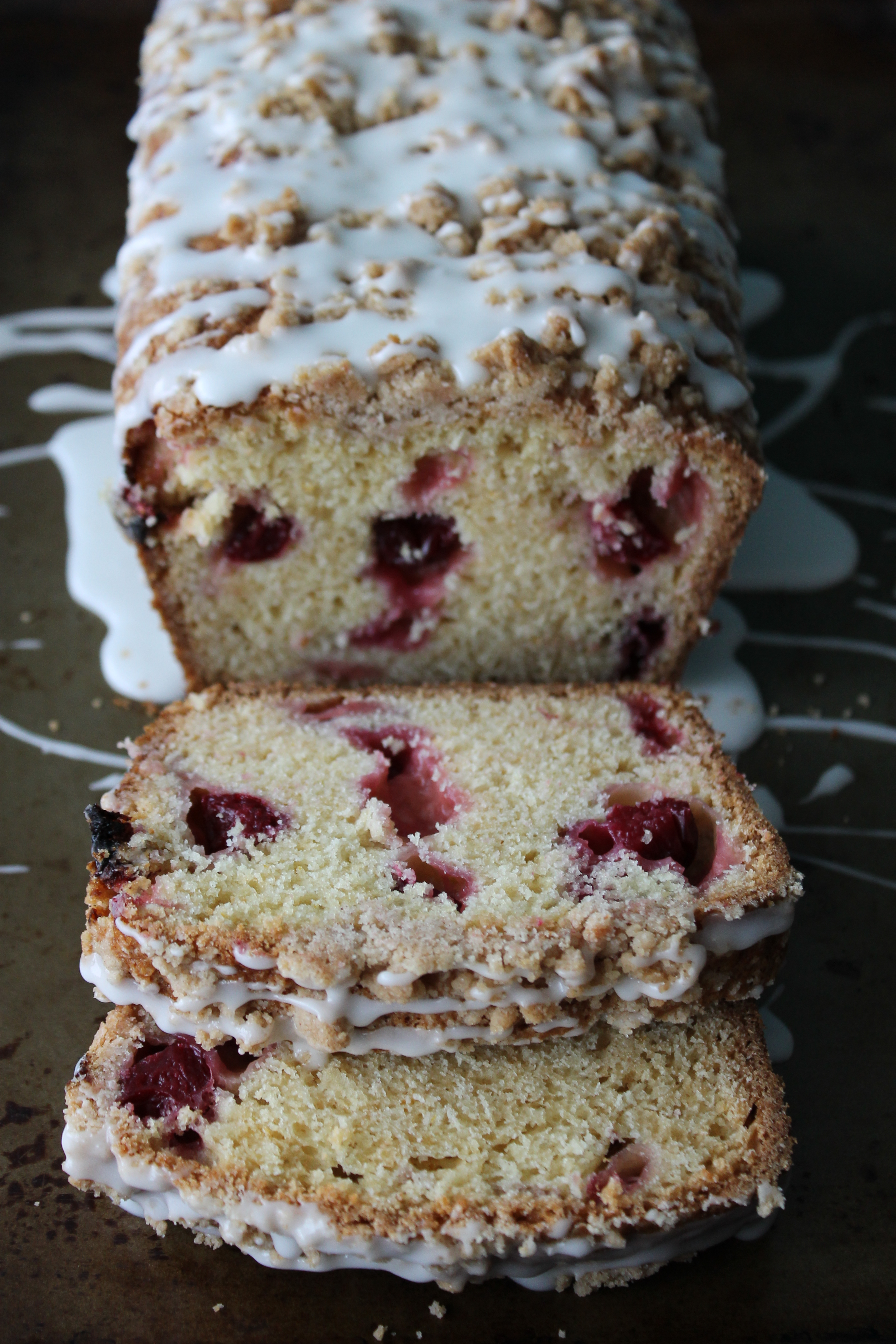 I think battle missions are my favourite Gastropost missions! Strawberry vs. Cherry, Basil vs. Mint, Coffee vs. Tea, and now an epic battle of winter fruit: Pomegranate vs. Cranberry. It's a easy choice for me:
Sorry pomegranate, but no matter how many Gastroposters tell me you're easy to open – you're still just so high maintenance. Cranberry is the winter fruit for me! It pairs so well with citrus, and I love it in this Cranberry Orange Loaf with a sweet crumble topping.
Can you really bake with pomegranate seeds anyway? If I had more time, I would have tried it out, but I wasn't really that interested. I love the burst of juice you get when biting into a cranberry. Not to mention there's no prep involved besides opening a package. Pomegrante just can't beat that!
Cranberry Orange Loaf with Crumble Topping
Source: Joy the Baker
Ingredients
Loaf
2 cups flour
1 cup sugar
1 1/2 tsp baking powder
1/2 tsp baking soda
1/2 tsp salt
1/4 cup (1/2 stick) butter, cut into cubes, at room temperature
1 egg
3/4 cup freshly squeezed orange juice
1 tbsp orange zest
1/2 tbsp vanilla
1 cup cranberries (fresh or frozen)
Crumble
2 tbsp butter, room temperature
1/4 cup flour
1 1/2 tbsp sugar
1/4 tsp cinnamon
1/8 tsp salt
Directions
Preheat oven to 350 and spray a loaf pan with non-stick spray. In a large bowl, whisk together the flour, sugar, baking powder, baking soda and salt. Add the butter and with clean hands, work the butter into the flour mixture (I find this oddly therapeutic).

In a medium bowl, whisk together the egg, orange juice, orange zest and vanilla. Add to the dry ingredients and stir together to combine. Fold in the cranberries and pour the batter into the loaf pan.
To make the crumble, combine all ingredients in a small bowl and with a fork or your fingers, combine ingredients together until crumbly. Sprinkle on top of the loaf.
Bake for about an hour, maybe a little more, until a skewer inserted comes out clean.
When cool, make a glaze by mixing a cup or so of icing sugar with a splash or two of milk until nice and smooth. Drizzle over top!