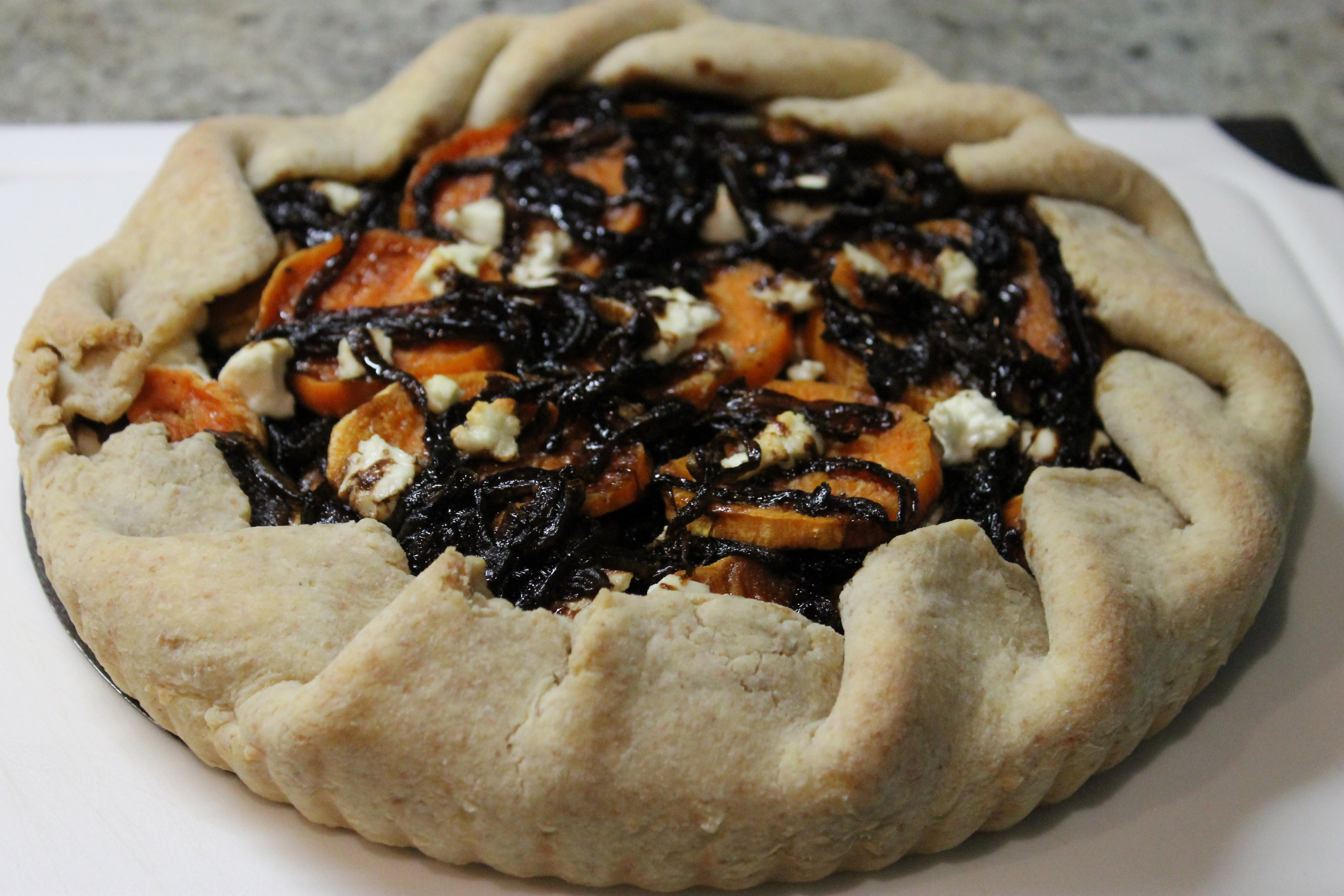 The #1 galette in my life will always be this Butternut Squash & Caramelized Onion Galette from (where else?) Smitten Kitchen. I told Deb when I met her that it was my favourite thing I've made from her site. I'm not really one to mess with perfection, so I never really thought about ways to adapt it, or switch it up. But then I *finally* grabbed lunch at Cafe Plenty one day before Christmas (when I ran away from the office on my lunch hour), and had the most amazing Sweet Potato Galette with goat cheese on puff pastry. Then I was looking through Mardi's blog and came across this new version, which basically does this:
Butternut Squash -> Sweet Potato
Asiago -> Goat Cheese
Caramelized Onions -> Balsamic Caramelized Onions
Regular Pastry (all white flour) -> Whole Wheat Pastry
I pinned this automatically and made it over the last few days of Christmas holidays. It is so, so, so good. The balsamic caramelized onions are out of control, and pair so well with the sweet potato and goat cheese. I've decided there's room in my heart for two galettes.
Sweet Potato, Balsamic Caramelized Onion & Goat Cheese Galette
Source: Eat, Live, Travel, Write
Ingredients
Crust
1 1/2 cups whole wheat flour
4 tbsp cornmeal
pinch salt
1/2 cup (1 stick) butter, cold, cut into cubes
1 egg, lightly beaten
6-8 tbsp ice water
Sweet Potatoes
2 sweet potatoes, peeled and cut into 1/4″ rounds
+ olive oil, salt, pepper
Balsamic Caramelized Onions
1 large onion, cut in half, and thinly sliced
2 tbsp butter
4 tbsp brown sugar (I might cut this down next time)
6 tbsp balsamic vinegar
+ small log of goat cheese, sliced into rounds
Directions
First make the pastry. Add the flour, cornmeal and salt to the bowl of the food processor. Pulse to combine. Add the cold cubes of butter and pulse until the butter is the size of peas. Add the egg, and pulse again until mixed in. Slowly drizzle in a few tablespoons of water and process until the dough comes together. Pat dough into a ball, wrap in plastic wrap, and chill for at least half an hour. You can also make the dough a day ahead and just keep in the fridge.

For sweet potatoes, toss slices with olive oil, salt and pepper, and roast on a baking sheet at 400 until cooked through and brown. I turned mine halfway through cooking. Set aside to cool. You can also do this in advance.
For balsamic caramelized onions, melt the butter in a skillet over medium heat, and add the onions. Saute until soft, 3-5 minutes. Lower the heat to medium-low, add the brown sugar, and toss to coat. When the sugar has melted, add the balsamic vinegar, and cook for 10-15 minutes until the vinegar has reduced and is nice and syrupy. Set aside to cool. You could do this step in advance as well.
When ready to assemble, preheat the oven to 350. Roll out the dough onto a lightly floured surface, to about 13-14″. (Mardi puts her galette in a tart pan, which I did also, but I would just free form it next time). Cover the bottom of the dough with sweet potato slices, leaving a 2″ (ish) border. Add most of the goat cheese, then the onions (reserving a small amount of each) over the sweet potatoes. Then add another layer of sweet potatoes, and the rest of the goat cheese and onions. (You'll have some sweet potatoes left over. Just eat them as a snack).
Fold up the sides of the pastry over the filling, pleating as you go. Bake for 45 minutes and serve warm or at room temperature. SO GOOD!