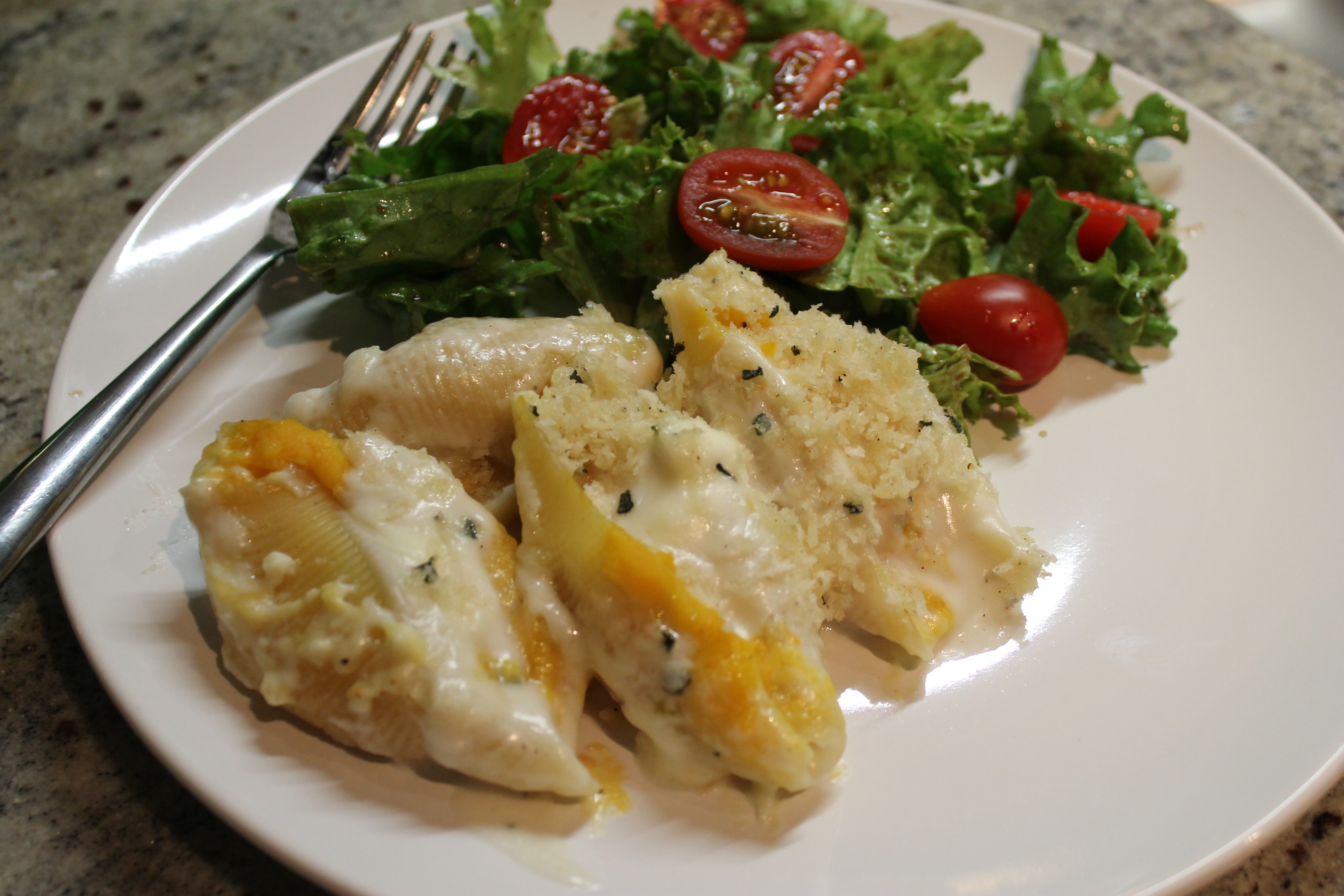 Even though I've been preaching the virtues of quick meals this week, when it comes to the weekend, there's usually time to take on something a bit more complicated. Since my Dad was busy watching football last Sunday, my Mom came over to hang out, and her only request for dinner was to make something with lots of cheese.
This is the most decadent, delicious dish to come out of my kitchen in a while. It's definitely not something I would make often, but for a special treat it was totally amazing: pasta shells stuffed with a butternut squash, sage and roasted garlic filling, all covered with a goat cheese sauce and topped with crispy, buttery breadcrumbs. Yes, you will make mess. Yes, you will use many of the saucepans and bowls in your kitchen. But the outcome is so worth it: the filling is smooth and creamy and the breadcrumbs are such a nice crispy contrast. The goat cheese sauce is just insane.
In other important news, Oscar nominations were announced this morning, and awards show season kicks off on Sunday with the Superbowl Golden Globes. Super excited for those and lots of movies to see before February 24th. Maybe I'll make this again for Oscar night! Can't wait!
Butternut Squash & Goat Cheese Stuffed Shells
Source: Pink Parsley

Ingredients
Butternut Squash Filling
1 butternut squash, halved lengthwise, seeds scooped out
4 garlic cloves, peeled
+ olive oil, salt, pepper
1/2 cup parmesan cheese
1 tsp sage
Goat Cheese Sauce
4 tbsp (1/2 stick) butter
2 leaves fresh sage
1/4 cup flour
3 cups milk (I used 2%)
4 oz crumbled goat cheese
1/2 cup finely grated parmesan cheese
pinch fresh nutmeg
Breadcrumb Topping
2 tbsp butter
1/2 cup breadcrumbs
1/2 cup finely grated parmesan cheese
1 tsp finely chopped fresh sage
+ a box of jumbo shells
Directions
For the butternut squash filling: preheat the oven to 425. Line a baking sheet with foil, and spray with nonstick spray. Place the butternut squash on the sheet, brush with olive oil and sprinkle with salt and pepper. Place two garlic cloves in each of the cavities of the squash. Roast for about an hour or until cooked through and a fork easily pokes through the squash. Let cool completely. 

Scoop squash into a food processor along with the roasted garlic cloves. Puree until smooth and add to a medium bowl. Stir in the parmesan cheese and sage. Season with additional salt and pepper if needed. You can make this in advance and store it in the fridge.
For the goat cheese sauce: melt butter in a medium saucepan over medium heat along with the whole sage leaves. When bubbly, add the flour and whisk together, and cook for a few minutes. Slowly pour in the milk, whisking constantly, then whisk until sauce bubbles and thickens, which may take up to 10 minutes. Remove the sage leaves, and stir in the goat cheese, parmesan cheese, nutmeg, and add some salt and pepper to taste. Stir until cheeses are melted.
Add 3/4 cup of the sauce to the butternut squash filling mixture, and stir to combine.
Now that your filling is ready and your sauce is ready, boil your jumbo shells for two minutes less than the time indicated on the package. When done, rinse well with cold water.
While the pasta is cooking, make the breadcrumb topping by melting the butter in a microwave in a medium microwave safe bowl, then adding the breadcrumbs, parmesan, sage, and a pinch of salt and pepper. Stir together with a fork until well combined.
Get out a 9×13 glass baking dish and spray with non-stick spray. Spread 1/2 cup of goat cheese sauce on the bottom of the dish. Start stuffing the shells with the filling and arrange in a single layer. Pour the cheese sauce over the shells, then sprinkle with the breadcrumbs. Cover the dish with foil.
Bake at 350 for 30 mins, then uncover and bake for 15 more minutes until brown and bubbly.