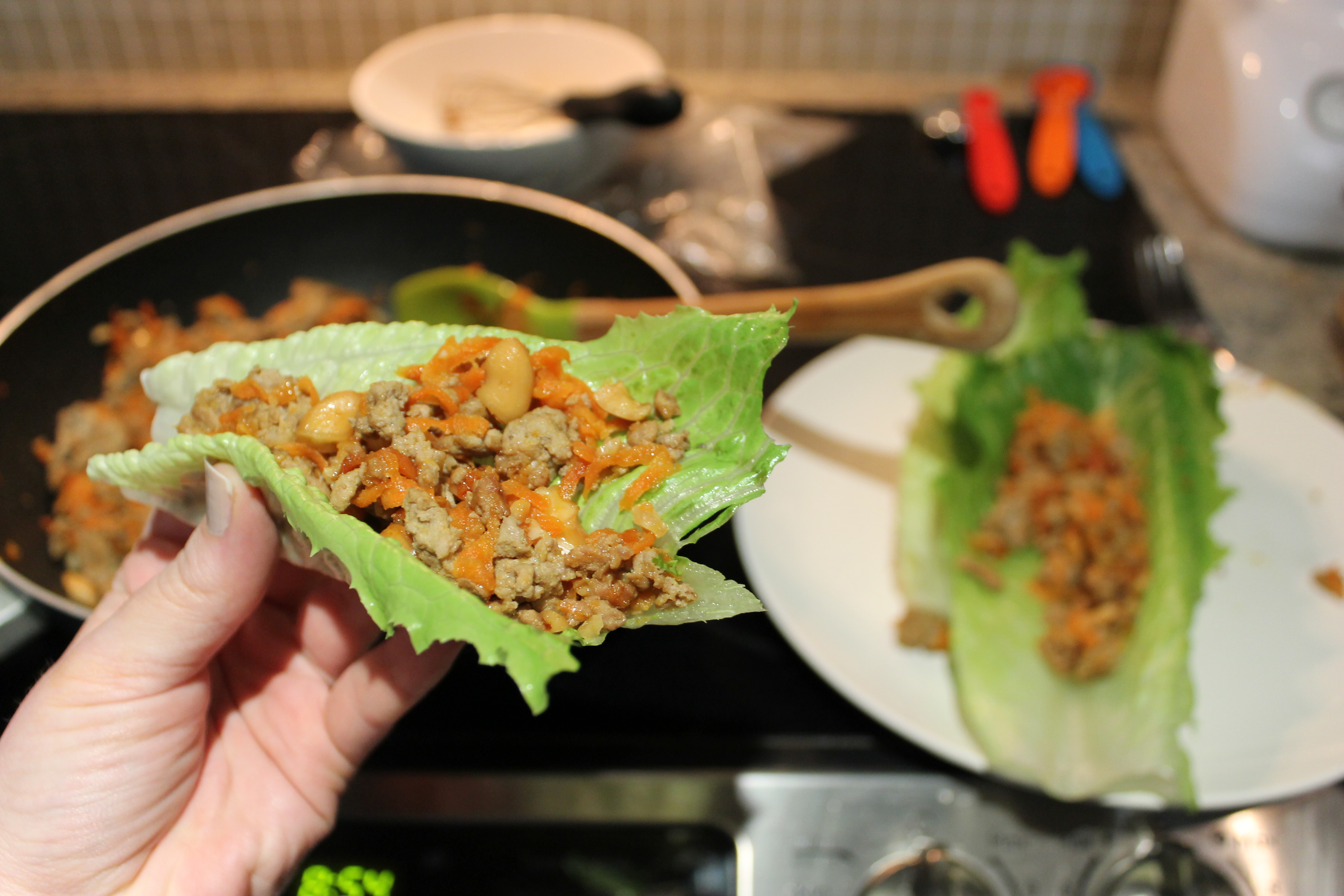 You may have already guessed this, but it's pretty rare that I cook the same thing twice, especially when it comes to weeknight dinners. I wouldn't say I have anything even close to a regular rotation of recipes, since I'm constantly bookmarking and pinning new things to try. But every once and a while, I'll make something that I become obsessed with, and those are the recipes that show up here. This is the latest one: ginger cashew lettuce wraps.
Ever since my friend Erin had me over for dinner and made a version of these, I've been fixated on lettuce wraps. I had them again at a Thai restaurant, and it became more important to me to be able to recreate them at home. This recipe on Simply Scratch is pretty perfect. I edited a few things, including eliminating the oil entirely (1/2 cup oil is just unnecessary , and doubling the sauce recipe. I love that it uses romaine lettuce leaves, which just naturally come in a taco shape, instead of iceburg lettuce, which can be hard to tear into big enough pieces.
I made these three times over the last two months, which is unprecedented for me. The best news is that it probably takes less than half an hour to have this whole thing ready. It's also pretty easy to pack up the leftovers (filling + lettuce leaves) for work the next day, which I love. I'm totally having these again next week!
Ginger Cashew Lettuce Wraps
Source: Simply Scratch
Yield: I would say 2-3 servings, but this is easily doubled
Ingredients
Sauce
2-3 cloves garlic, minced or grated with a microplane
2 tbsp fresh ginger, minced or grated with a microplane
1/4 cup rice vinegar
1/4 cup soy sauce
2 tbsp honey
1 tsp sesame oil
pinch red pepper flakes
Filling
1 lb ground turkey
1 carrot, grated
1/3 cup cashews, coarsely chopped
+ 1 head romaine lettuce, ends trimmed
Directions
For the sauce, whisk everything together in a bowl.

For filling, heat a wok or non-stick pan over medium heat and spray with non-stick spray. Add turkey and cook, breaking up with a spoon, until brown and cooked through. Add the carrots and cashews and cook for about 5 more minutes.
Add sauce, and simmer until bubbly and hot, maybe about 10 minutes.
Add filling to lettuce leaves and eat like a taco!