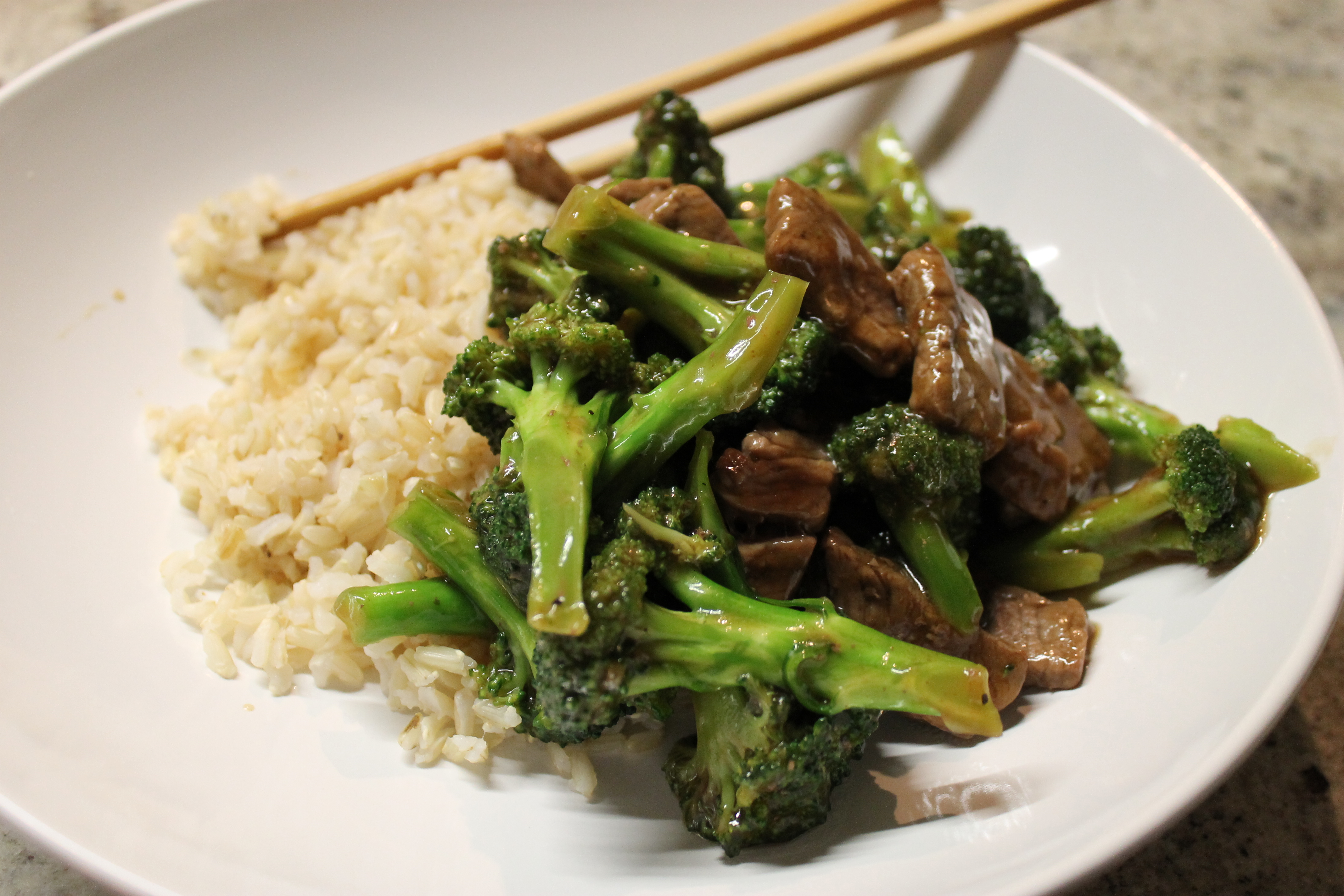 I'm currently on a mission to clear out my drafts folder, which features a lot of tasty dinners that I just never got around to posting in the past year. Seeing as how this is the time of year where I feel I'll get slapped if I show up at work with baked goods, it's the perfect chance to share these recipes.
Here are my three favourite things about this beef and broccoli stir-fry: 1) It probably only takes 30 minutes, chopping included, to make this, which is key on a weeknight 2) It tastes awesome, and the leftovers reheat well 3) I can never find the piece of paper I have the recipe written down on and inevitably have to search for it on marthastewart.com. So here it is, recorded safely in one place, mostly so I can find it, but maybe so you can try it too.
I usually treat myself to one little beef tenderloin when I make this. You can use a cheaper cut of beef if you want more, but beef tenderloin is so lean, there's no chance it'll get tough, and I love it in a stir-fry. I use a whole head of broccoli to make up for it, and the full sauce recipe. My adjustments are recorded below, but you can click the link to the original recipe.
Bonus! Turns out I'd been cooking brown rice wrong my entire brown-rice-making career. I used to always make it in my rice-cooker, and it either turned out kind of crunchy/chewy or all watery/soggy. Then Elly linked to this article on Saveur and it changed everything; turns out if you boil brown rice like pasta and steam it a little at the end, it cooks perfectly.
Sesame Beef & Broccoli 
Source: Martha
Yield: I would say 2-3 servings
Ingredients 
1 little beef tenderloin, cut into strips
1 head broccoli, cut all the florets off and slice the stalks if you like them
1 cup beef broth
3 tbsp soy sauce
1 tbsp + 2 tsp cornstarch
2-4 garlic cloves, minced or grated with a microplane (I like to ramp up the garlic this time of year, it's good for your immune system)
1 tsp sesame oil
+ cooked rice (see below)
+ sesame seeds
Directions
1. Heat a non-stick skillet over medium heat, and spray with non-stick spray (just in case). Add beef and sprinkle with coarse salt, then cook until browned, about 3-4 minutes. When it's done, transfer it to a plate.
2. While beef is cooking, mix beef broth, soy sauce, cornstarch and garlic together.
3. Add broccoli to skillet with 1/2 cup water. Let cook, stirring occasionally, until the water has evaporated, then add the sauce and let cook for two more minutes.
4. Return beef to skillet and mix everything together, let cook for 1-2 more minutes until everything is hot.
5. Remove from heat and stir in sesame oil. Serve over rice and sprinkle with sesame seeds if you're feeling fancy.
How to Cook Brown Rice
Source: Saveur
Bring a medium pot of water to a boil. Rinse your desired amount of rice in a fine-mesh strainer under cold water for 30 seconds. Add rice to boiling water, stir once, and boil uncovered for 30 minutes.
Pour the rice into a strainer over the sink. Let drain for 10 seconds, then return to the pot, off the heat, and cover. Set aside for 10 minutes to allow rice to steam. Uncover, fluff with a fork and season with salt if you want (I don't).