Welcome to The 3rd Annual Champagne & Cookies Christmas Party recap! This year was basically an even split between treats I've made before that I know are delicious, and some risks that didn't really work out as expected. Nevertheless, it was great night of food and friends, and a reminder to slow down and chill out a bit before Christmas. I feel like my holiday stress was on another level this year due to work obligations (not to mention a department bake-off I lost by ONE VOTE) and I didn't really start prepping enough in advance, but judging from the happy faces, empty plates and sugar hangovers, I think my friends still had a good time 😉 Here we go: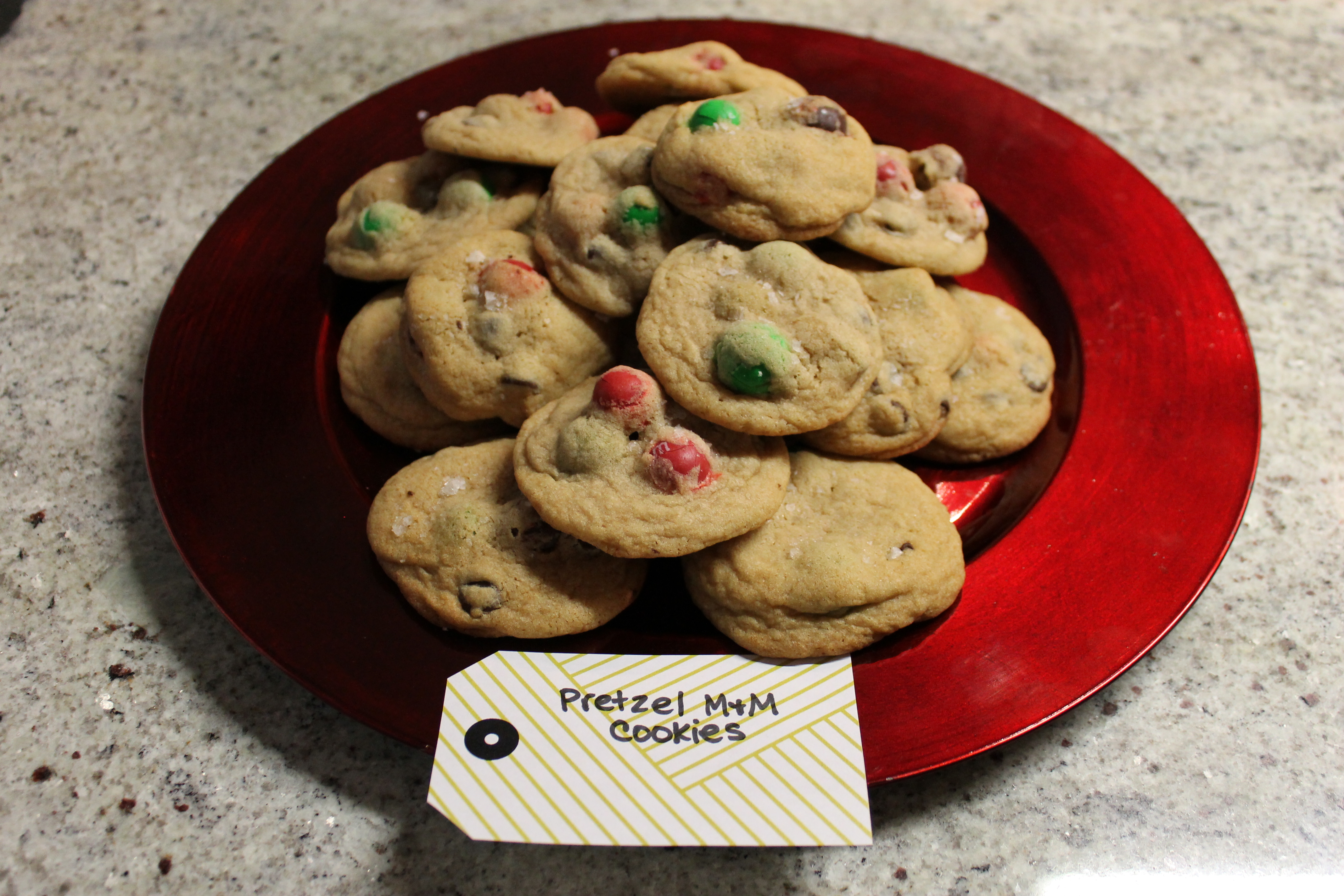 So I'm pretty sure certain people would stage a walkout if they showed up at Champagne & Cookies and there were no Pretzel M&M cookies. They're the winner and still undefeated champion cookie of the night. There are never any leftovers. I think they'll remain in this top slot for as long as this tradition continues.
#2-4:  Gingerbread Sandwich Cookies with Cinnamon Cream Cheese Filling, Soft Frosted Sugar Cookies, Peanut Butter Blossoms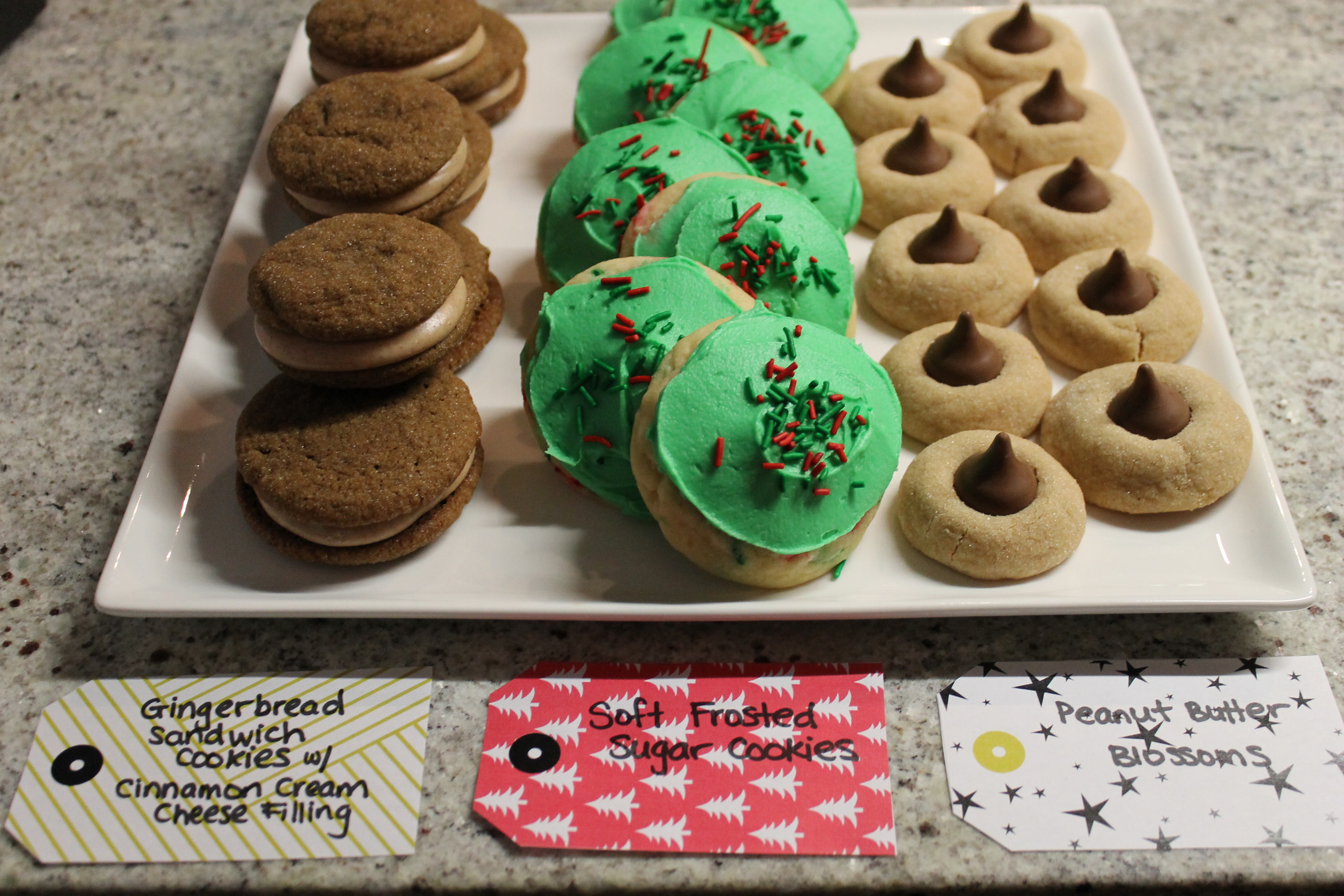 These Gingerbread Sandwich Cookies have affectionately been dubbed "crack cookies" by my friend Weedy because they're so addictive. I'm obsessed with them too, they're so soft and chewy and the cinnamon cream cheese filling is just like next level. (Note to self for next year: split each scoop of dough in half and DO NOT press down before baking). I'm also pretty obsessed with these Soft Frosted Sugar Cookies; I love having something red and green in the mix. (Note to self for next year: make a half batch of Annie's recipe and split each scoop of dough in half). Peanut Butter Blossoms are an old favourite from my pre-blogging days. They look really cute, but I think I'll go with this Peanut Butter Cookie recipe next year.
#5: Chocolate Mint Chip Cookies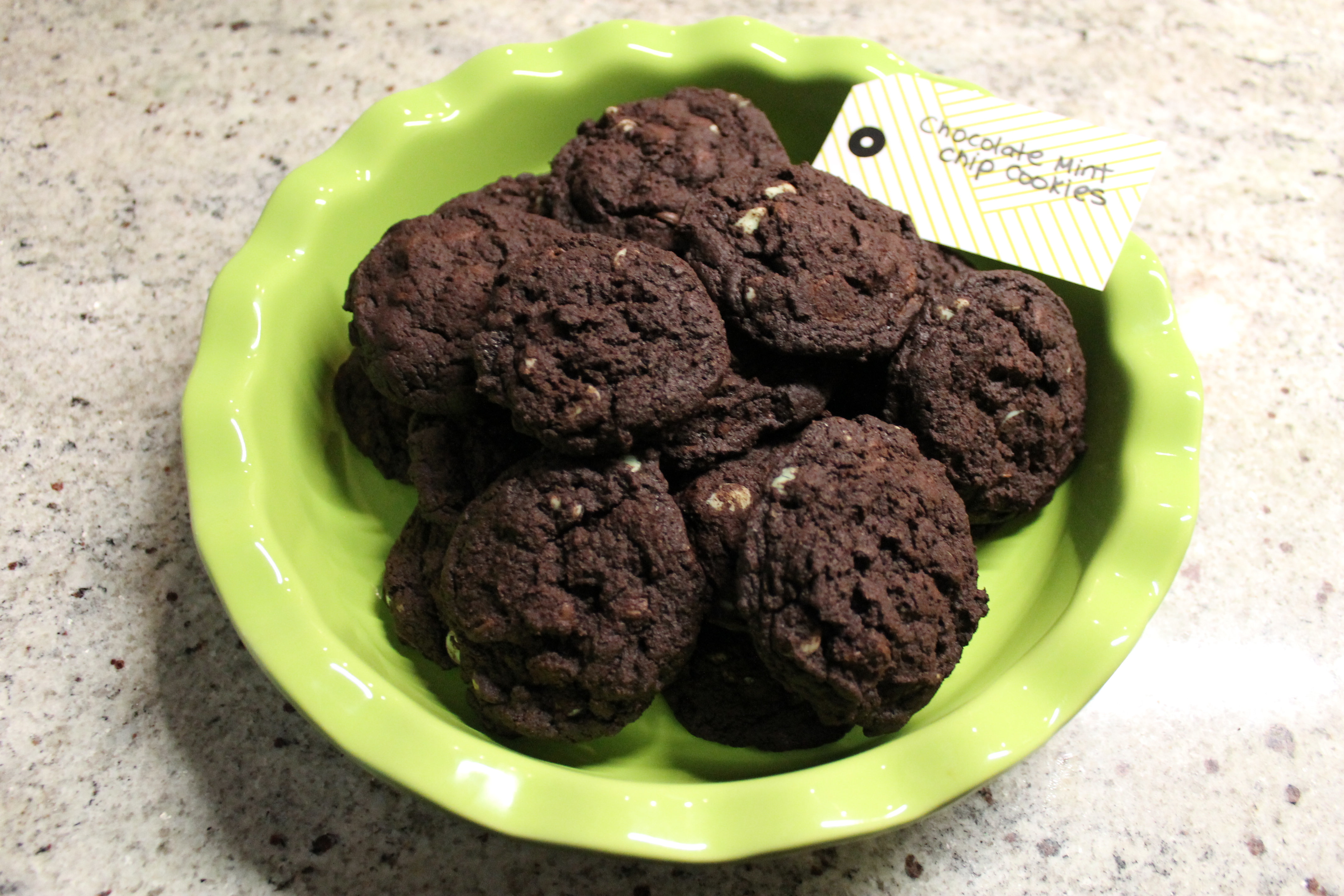 These cookies aren't much to look at, but what they lack in looks, they make up for in personality: super fudgey and intensely minty. I don't think any Christmas cookie spread is complete without something in the chocolate mint arena, and I made these last year and have been waiting until now until make them again. Just a note that mint seems to really transfer to other treats around it, so package your minty treats separately from everything else.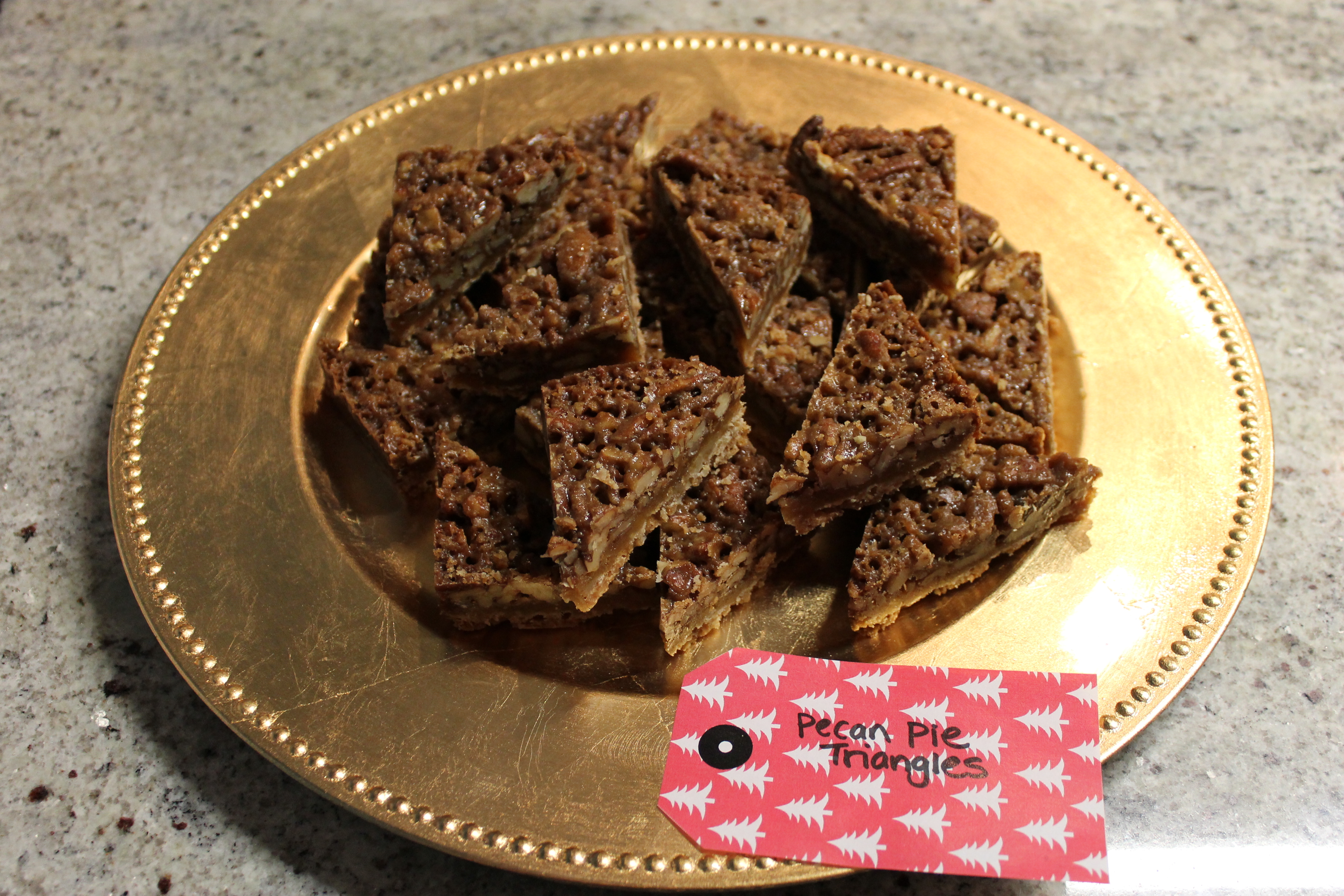 I had these Pecan Pie Triangles on my list for most of December, until I saw these game-changers the week before the party. I ultimately decided against them, because I was feeling the time crunch, and these squares are so much quicker to execute than another cookie that needs to be rolled, stamped, filled and drizzled. BUT Danielle made them and said they're amazing, so I may try them next year. But for 2012, these triangles did just fine. I forgot how good they are and they got a lot of attention.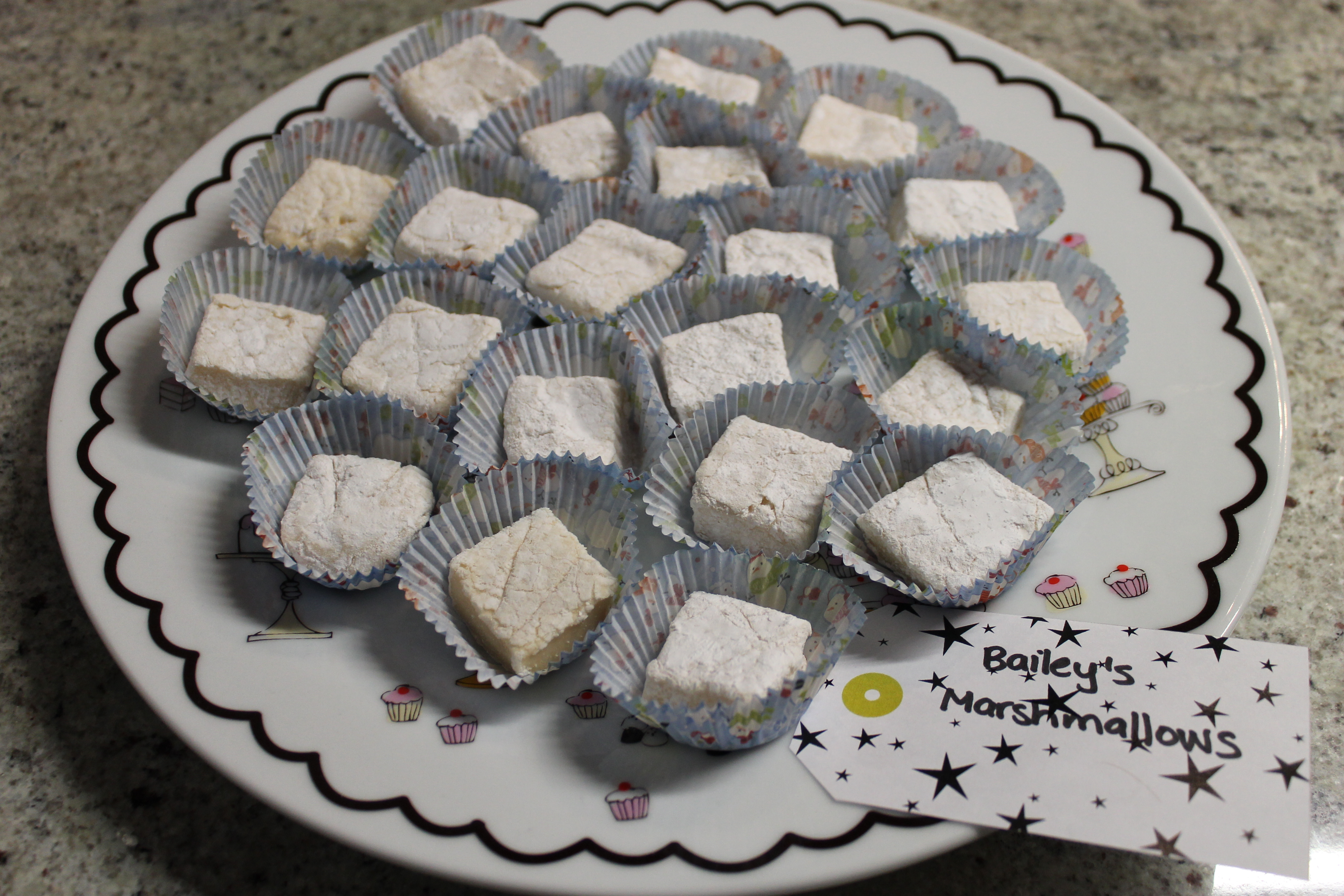 Okay, this is where we get into new territory. I was feeling pretty confident with my marshmallow skills after my birthday, so I decided to go ahead and make these Bailey's Marshmallows for the first time the night before the party. Not really sure what the problem was, but I think it's that by using Bailey's instead of water, the mallow doesn't really get as light and fluffy. These were pretty dense and chewy and I just wasn't a fan.
#8: Chocolate Peanut Butter Crispy Squares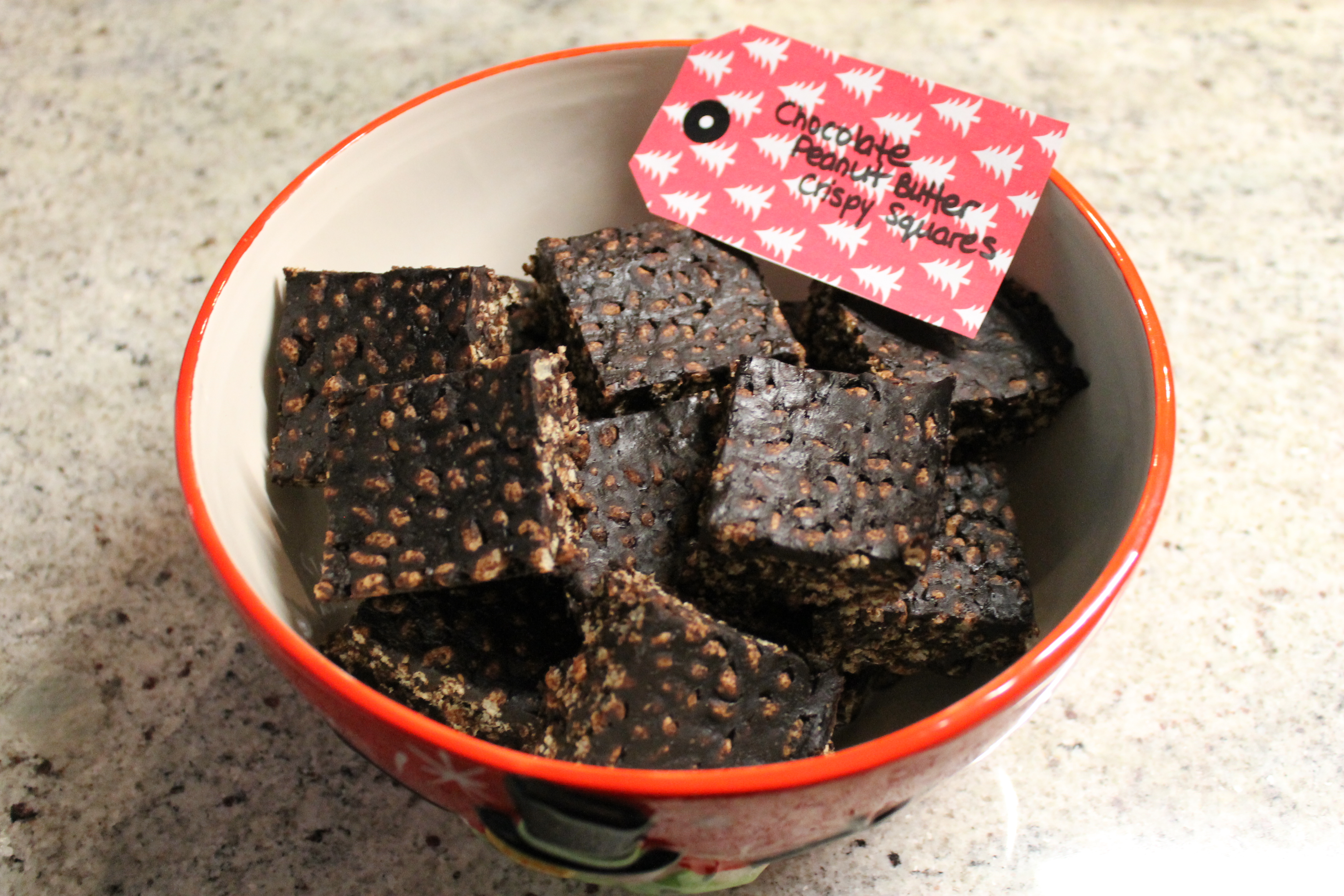 I've never found it a big deal to include gluten-free treats at Champagne & Cookies, but in the last year, my GF BFF has also eliminated dairy and eggs from her diet. She is so sweet and offered to bring her own treat, but of course I just said: Challenge Accepted. I turned to Oh She Glows and found these super simple Chocolate Peanut Butter Crispy Squares. I made them the night before the party, but found they lost a little of their crunch overnight. Next time I would make them just a few hours before serving, and cover them with the chocolate peanut butter fudge in the recipe.
#9: Brie Pops with Cherry Vanilla Jam
These next two entries were my biggest risks of the night, because I made them *during* the party, which I knew might be a stupid move, but I decided to commit to anyway. I thought a savory snack would be a fun idea, and I've had my eye on these Brie Pops for a while. They seem simple enough – puff pastry filled with brie and cherry jam on sticks – but they didn't turn out as cute as I had hoped and I made them a bit too big. My friends said they were really good, but I wouldn't make them again, at least not for a party like this. I would also use a cookie cutter to get even shapes, instead of just eyeballing it with a knife.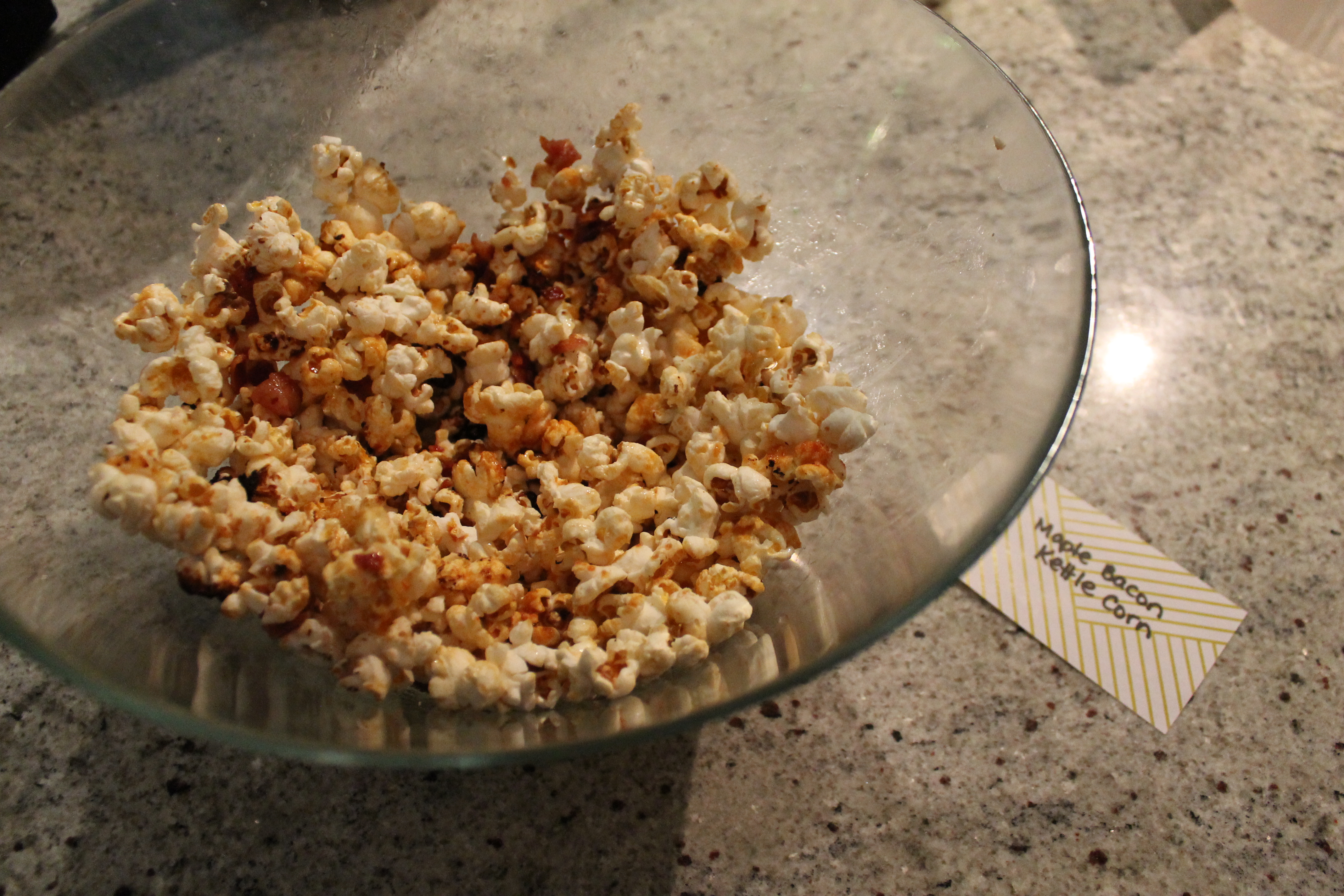 My greatest brainstorm came a few days before the party when I realized popcorn would be a great addition to the spread, and is another great GF/DF/EF option (of course, popping the corn in bacon fat basically negates all that, haha). I made the maple bacon in the afternoon, but I made the kettle corn in the middle of the party. It was kind of fun because everyone was watching and I felt like I was on a cooking show, but it also made me sweat, and I didn't shake the pot enough and burned the pieces on the bottom a bit.  I think the popcorn would hold up if made earlier in the day, so I would go that route if I made this again. Having said ALL THAT, I loved the way this tasted, and I felt like it was definitely an unexpected addition to the party.

Once again, this holiday jam was BYOT(upperware), and everyone got to take home some treats to hoard or share as they saw fit!
The next day I went for a pedicure and while my toes were drying, I ripped even more Christmas Cookie recipes out of a magazine: Salted Caramel Shortbread Thumbprints, Reverse Nanaimo Squares and Peanut Pretzel Dollies – you'll have to wait until 2013!
Hope everyone had a great holiday!
Previous Champagne & Cookies recaps here: