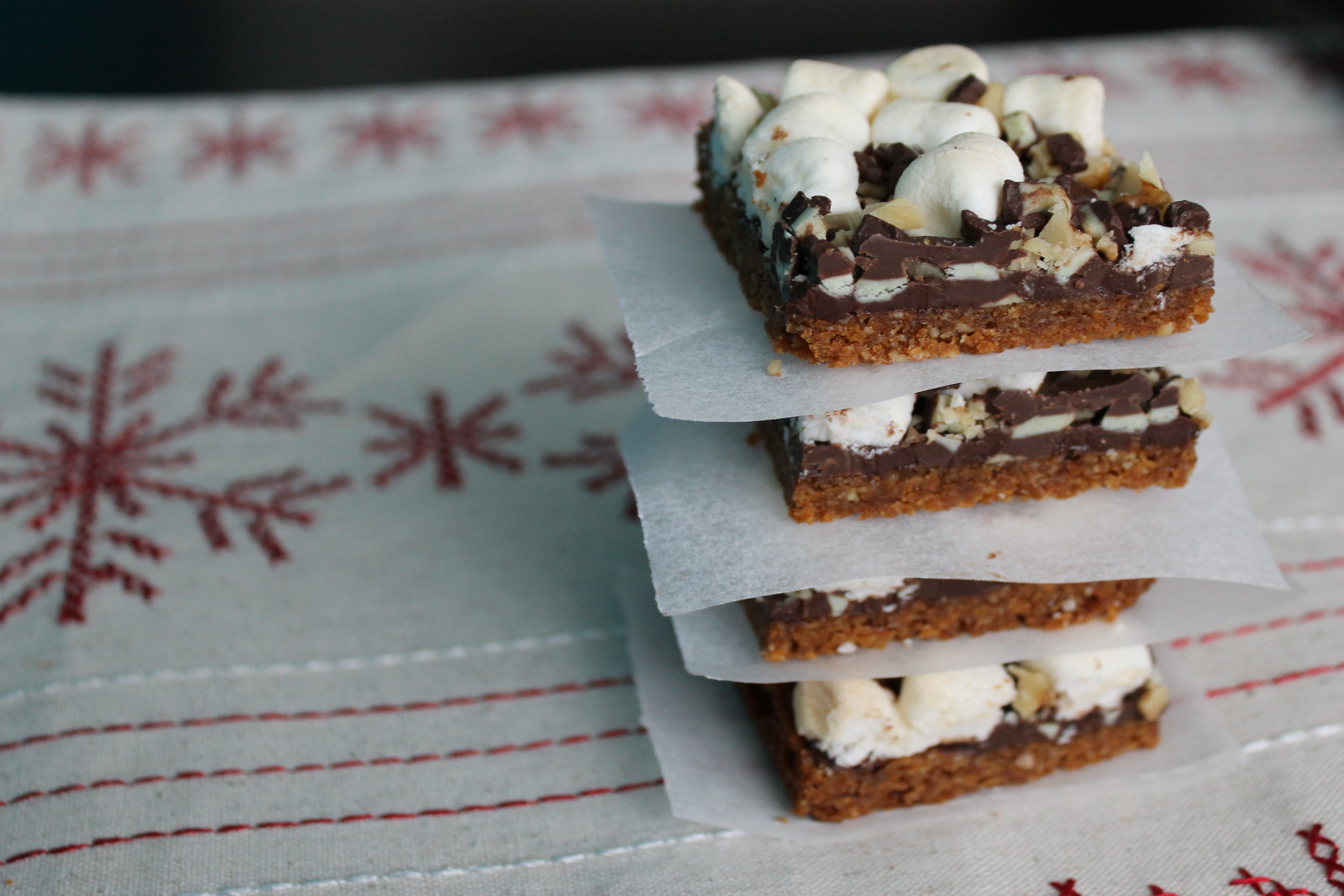 Although I'm obsessed with the S'mores flavour profile (marshmallows + chocolate + graham), the same can't be said about the whole Rocky Road thing (marshmallows + chocolate + nuts). No logical explanation for that really; I've just never really been drawn to Rocky Road recipes. Until this one!
I've had these squares bookmarked (and now Pinned) forever, and seeing as how I only seem to bake with mint in December, this was the perfect time to make it happen. This is another quick and easy treat to pull together; I think I had the crust in the oven about 8 minutes after I decided to make them.
They're reminiscent of my most favourite treat of all time (that would be Hello Dollies!) because of the graham crust, and the marshmallows get that whole S'moresy thing happening. The chocolate mint combo just pushes it over the top into Christmas territory, and I basically could have eaten the entire pan.
Mint Chocolate Chip Rocky Road Squares
Source: Baker's Royale
Yield: 1 8×8 pan, I cut mine into 16 squares
Ingredients
Crust
3/4 cup walnut pieces
1 cup graham cracker crumbs
1/4 cup brown sugar
2 tsp honey
6 tbsp (3/4 stick) butter, melted
Topping
3/4 cup mini marshmallows
1/2 cup mini chocolate chips
1/2 cup chopped Andes Chocolate Mints
1/2 cup chopped walnuts
Directions
Preheat the oven to 350, and line an 8×8 pan with foil. Spray the foil with non-stick spray.
In the food processor, pulse the walnuts until finely ground. Add the graham cracker crumbs, sugar, honey and butter and process until well combined. Pour into prepared pan and press evenly to make the crust. Bake for 12 minutes and remove from oven.
Sprinkle marshmallows, chocolate chips, mints and walnuts over the top of the crust, and bake for 12 more minutes. Let cool completely before cutting. It'll be a little messy with the marshmallows, but just wipe your knife to get clean slices. You can reheat the squares in the microwave for about 10 seconds if you want to serve them all oozy.