Are you Team Coffee or Team Tea? That was the question posed to Gastroposters last week, in the ultimate battle of warm beverages. It took me a minute to choose a side, and here's what I had to say:
My hot beverage of choice is Vanilla Rooibos Tea, but if I have to choose, I'm Team Coffee all the way. Here's the thing Gastroposters: I'm that weirdo in your life that doesn't drink coffee, but loves coffee flavoured things. Once in a while I'll get a latte at Starbucks on the way to work, but it's not something I require to function. But put it in a baked good, and I'll snatch it up over almost anything else. Since I enjoy using our missions as inspirations for baking, here we have Vanilla Bean Latte Cupcakes & Peppermint Mocha Cookies. Yummy.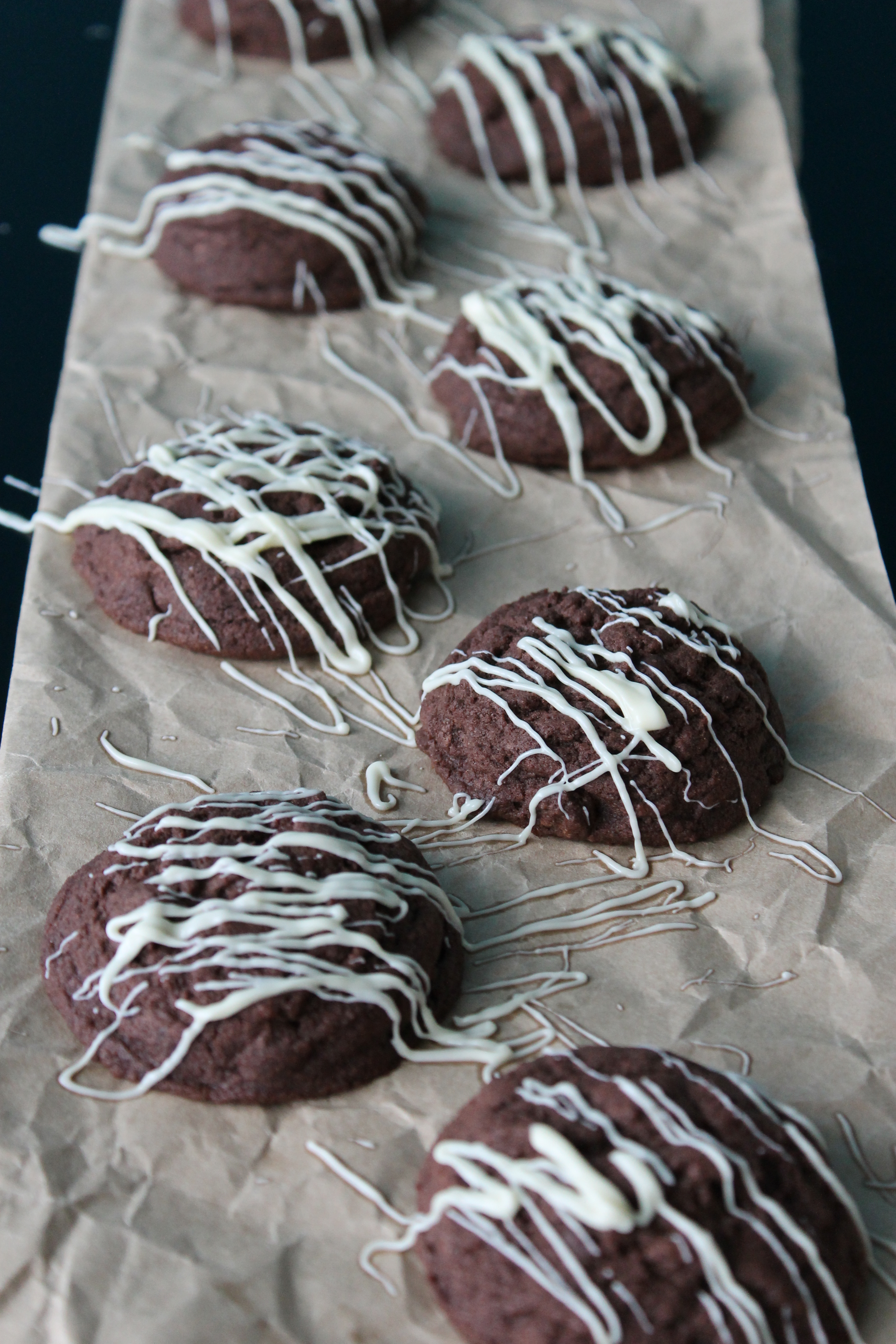 These cupcakes have a few components, but came together pretty quickly for me. I adored the coffee flavoured filling, it was my most favourite part! As for the cookies, I think the mint overwhelmed the coffee, but as coffee also enhances chocolate, there was just a lot of fudgey action happening.
Vanilla Bean Latte Cupcakes
Source: Cupcakes – Joy the Baker Cookbook, Filling – Dessarts, Icing – my fave
Ingredients
Cupcakes
*I'll fill this in later!*
Filling
1 cup whipping cream
2 egg yolks
3 tbsp sugar
1 1/2 tsp espresso powder (I used Starbucks Via)
Icing
1/2 cup butter, room temperature
2 1/2 cups icing sugar
1/4 cup whipping cream
1 tsp vanilla
1 tsp espresso powder disolved in 1 tbsp boiling water
Directions
For cupcakes (I'll fill this in soon!)…
For filling, heat 1/2 cup cream, 2 tbsp sugar and espresso in a small saucepan, until simmering. In a separate bowl, whisk together the egg yolks and the remaining tbsp of sugar. Add a splash of the hot cream mixture to the egg yolks, and whisk to combine. Repeat a couple more times, then pour the entire egg mixture back into the saucepan, whisk again, and bring to a boil. Let boil for a few minutes until thick, then strain into a clean bowl. In another clean bowl (I know, it's annoying), whip the remaining 1/2 cup cream to medium peaks, then fold into the filling.
For icing, whip butter until fluffy, then add everything else and whip again. If it's too thick, thin with more cream, and if it's too thin, add more icing sugar.
To assemble, use a paring knife to cut the middle out of the cupcakes. Do not use as a snack to dunk into the filling or you'll run out of filling (not that I would know!) – do this at the end. Fill the cupcakes with the coffee cream, then pipe the icing over top.
Peppermint Mocha Cookies
Source: Eat, Live, Run
Ingredients
1 cup (2 sticks) butter, room temperature
1 1/3 cups sugar
2 eggs
1 tsp peppermint extract
2 1/4 cups flour
1/2 cup cocoa
1 tbsp instant coffee (I used Starbucks Via, which I have in my cupboard for coffee drinking friends and fam)
1 tsp baking powder
1/2 tsp salt
1 1/2 cups chocolate chips
+ 2 oz white chocolate for drizzling
Directions
Line cookie sheets with parchment paper and preheat the oven to 350. In a large bowl, cream together the butter and sugar until light and fluffy. Add the eggs, and beat again until combined and smooth. Add the peppermint extract and blend again.
Add the flour, cocoa powder, instant coffee, baking powder and salt. Mix until everything is combined. Stir in chocolate chips.
Use a cookie scoop to scoop tablespoons of dough onto prepared sheets. Bake for 12 minutes, then cool completely.
Melt chocolate in a heatproof bowl placed over a saucepan of simmering water. Use a fork to drizzle over cookies.