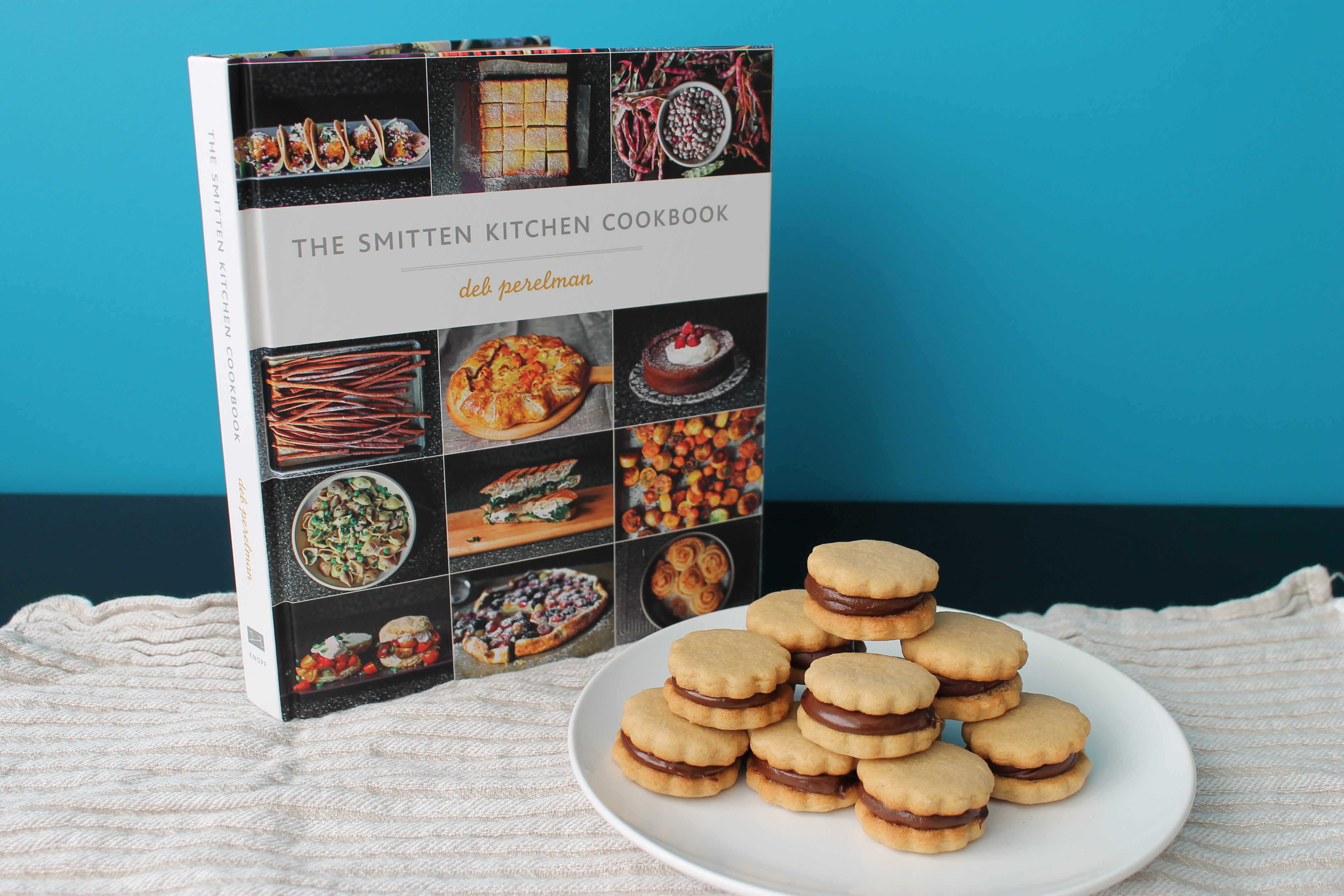 *Deep breath*
Here we go.
It goes without saying that Smitten Kitchen is my favourite food blog. It's one of the first ones I found back in 2008 when Danielle introduced me to the whole world of food blogging, and it was love at first bite. I can't really remember what the first recipe I made from the site was, but I do know that 115 other recipes have followed, many of which you've seen on my own little blog. There's been Smitten Kitchen Christmas, a big, bold delicious birthday cake, and so many dinners, both simple and complex that I've loved.
I feel like I've learned so much from reading Smitten Kitchen. It's made me a better cook, opened me up to new ingredients, and taught me to unapologetically embrace my love of baking. I can't help but feel like Deb is my friend, after spending so much time in her kitchen, reading about her life, and baking right along with her.
When she announced her book tour would be stopping in Toronto, I was on the phone in a heartbeat reserving my spot at The Cookbook Store. The overall response was so enthusiastic that the event was moved to the chef school at George Brown College. I showed up right after work last Friday, so I could be first in line, in the front row, and not have to wait for hours to have Deb sign my cookbook. I knew I would be far too excited/anxious for that. Nicole and I got our seats and looked through the cookbook while brainstorming questions.
Deb arrived and was visibly overwhelmed when she stepped into the auditorium filled with about 200 people. She was so cute and stylish and had on a hot pink/purple wrap dress with a black cardigan and black boots. She was interviewed by Tara from Seven Spoons  and talked a lot about the process for writing her book and her overall food philosophy.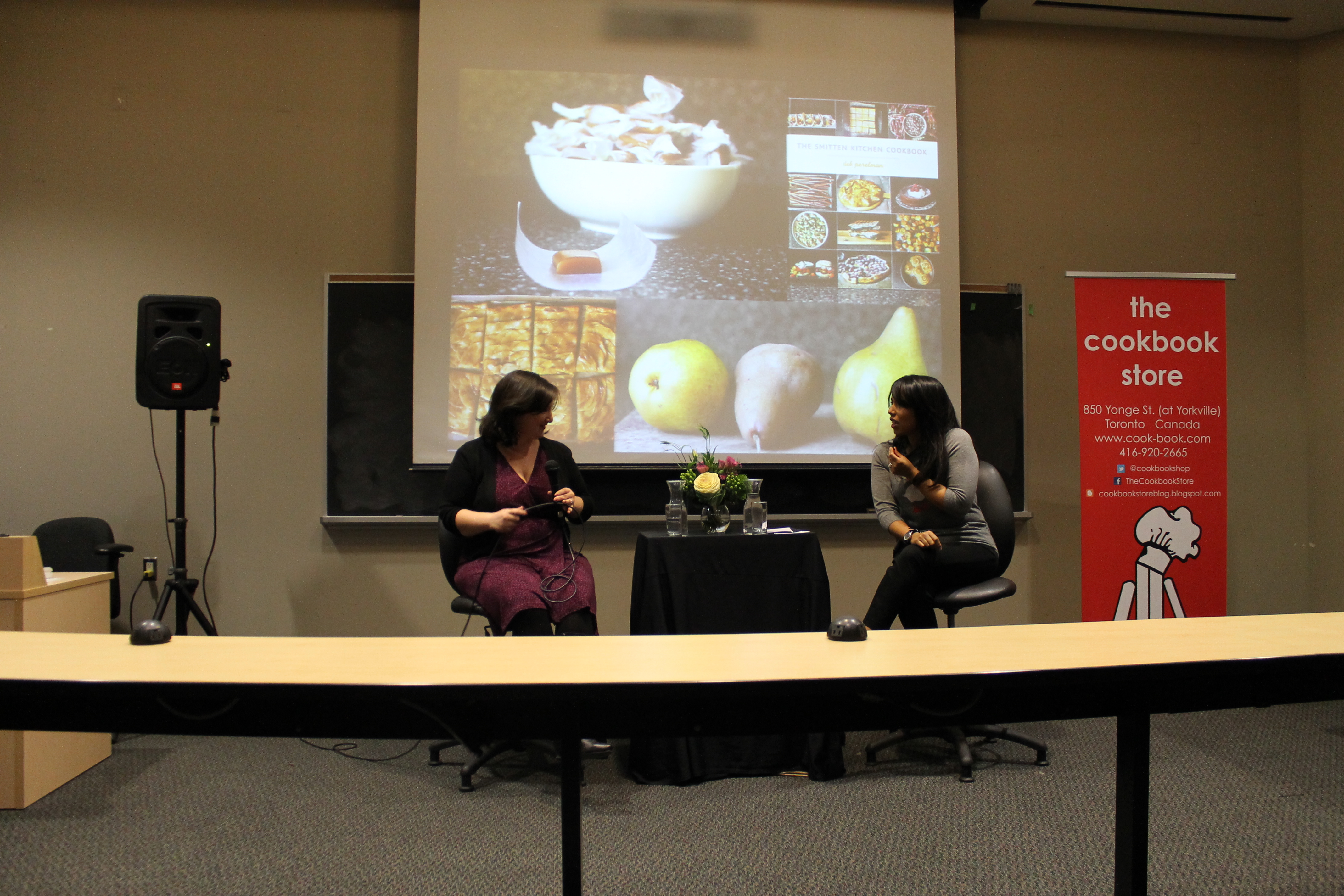 Then came the Q&A, where my question got asked. It went like so: From the beginning, your blog has always focused on the food. There are very few giveaways and no sponsored posts. Was this a conscious effort on your part? Basically how did you avoid selling out? (A little more added explanation from me – I often get annoyed with other food blogs where every other post is sponsored and the blogger is compensated to write a post using a specific product). Her response was basically that yes, it is a conscious effort to separate the advertising from the content. She said she's lucky that she doesn't have to rely on sponsored posts (to generate revenue), but she doesn't judge others who need to in order to keep their blogs going. (I felt bad when she said that because I do judge those bloggers). But she did conclude by saying that she does get disappointed when she sees sponsored posts as well.
My other favourite question was regarding what she prefers: cooking or baking? Deb said that savoury cooking gets dinner on the table, and everyone loves a homecooked meal, BUT that baking gets you favours because people will do things for you when you bring them baked goods! Love that.
When it was time for signing, I was so excited/nervous and told Deb about my excel spreadsheet of Smitten Kitchen recipes and how I've made 116 things from her blog. I told her I didn't know if she would be flattered or freaked out, but she loved it and asked which one was my favourite (Butternut Squash & Caramelized Onion Galette!). I also gave her a little present of Canadian chocolate bars (h/t Libby!) – Kit Kat, Coffee Crisp, Aero, Smarties – and she was excited to share them with her husband. Then we posed for our picture, and I told her I was just so excited to meet her and gave her a big hug. I got a little overwhelmed at that point and a little choked up! It was just such an awesome experience!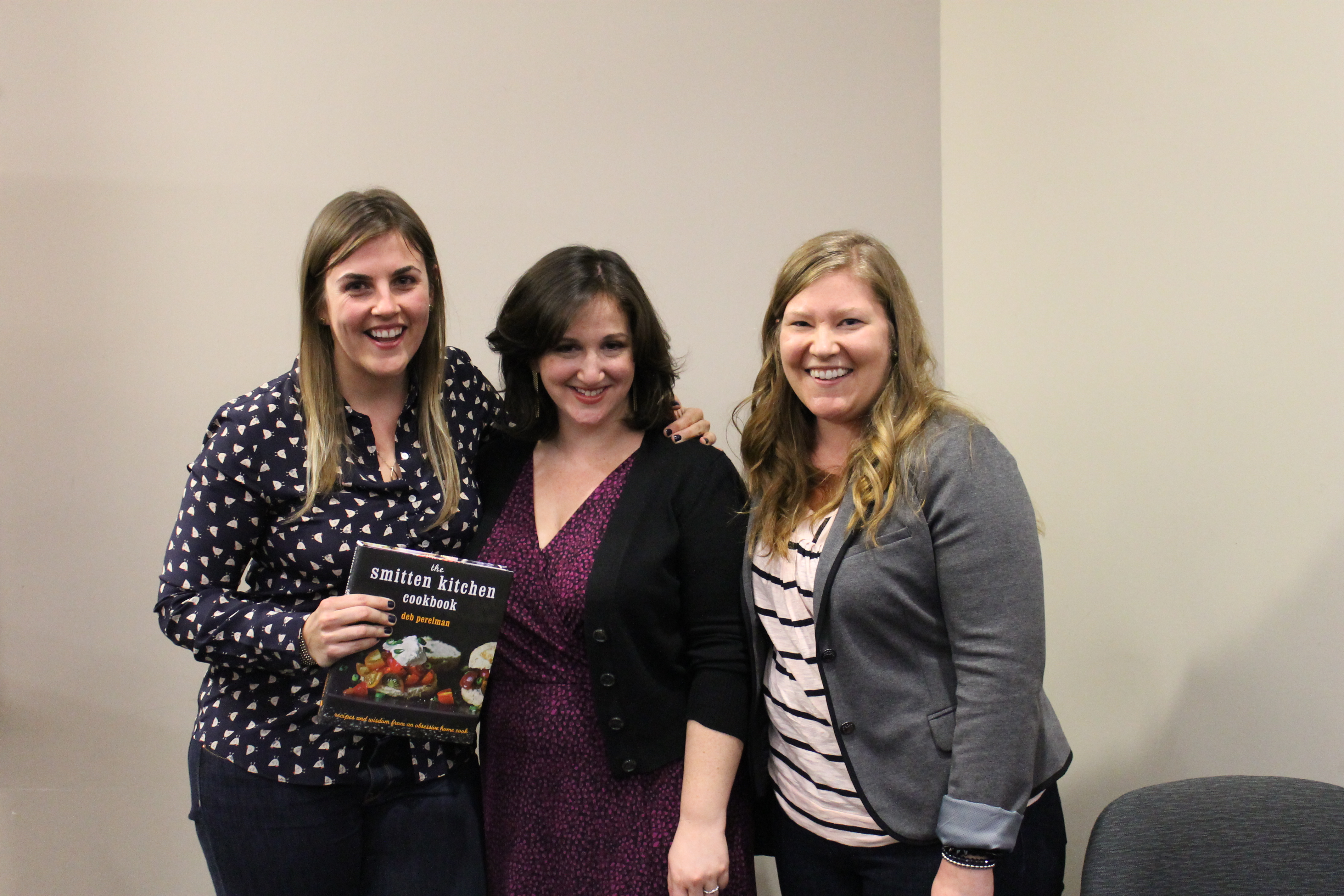 The book is gorgeous and I read through the entire thing on the weekend. There are so many things I want to make, but the first thing that really jumped out at me was these Chocolate Peanut Butter Cookies. I've never seen a roll-out peanut butter cookie before! Sugar cookies, sure, gingerbread, brownie roll-outs (those are in the book too), but never peanut butter! So I made these on the weekend and they have the honour of being the first of many things I make from this book. I am so excited to make so many more.
Chocolate Peanut Butter Cookies
Source: The Smitten Kitchen Cookbook
Yield: I made half the recipe and got 25 little sandwich cookies.
Ingredients
Cookies
1/4 cup (1/2 stick) butter, room temperature
1/2 cup peanut butter
1/4 cup sugar
1/4 cup brown sugar
1/2 egg (my trick for this is to lightly beat an egg in a liquid measuring cup and then pour half into the recipe)
1 cup flour
1/8 tsp baking soda
1/8 tsp salt
Filling
4 oz semisweet chocolate, chopped
1 1/2 tbsp peanut butter
1 tbsp butter
pinch salt
*Note, if you like a lot of filling in between the cookies, you might want to double this
Directions
For cookies, beat together the butter and peanut butter until light and fluffy, then add the sugars and beat until combined. Add the egg and beat again until smooth.
Add the flour, baking soda and salt and blend until everything is incorporated. Shape the dough into a disc, wrap in plastic wrap and chill for an hour.
Preheat oven to 350 and line your cookie sheets with parchment paper.
On a lightly floured surface, roll out the dough to a 1/4″ thickness. Use a tiny cookie cutter (Deb suggests 1 1/3″) and cut out the cookies and transfer them to the cookie sheet. I re-rolled the scraps about 3 times to no ill effect.
Bake for 10-12 minutes until puffy. Cool completely before filling.
For filling, melt everything together in the microwave and stir until smooth. Stick in the fridge for an hour or so to firm up. Keep checking to see how it's doing and stir so it cools evenly. Spread between cookies. (You can use a piping bag for this, but I made a huge mess, so I would just say to use a knife).