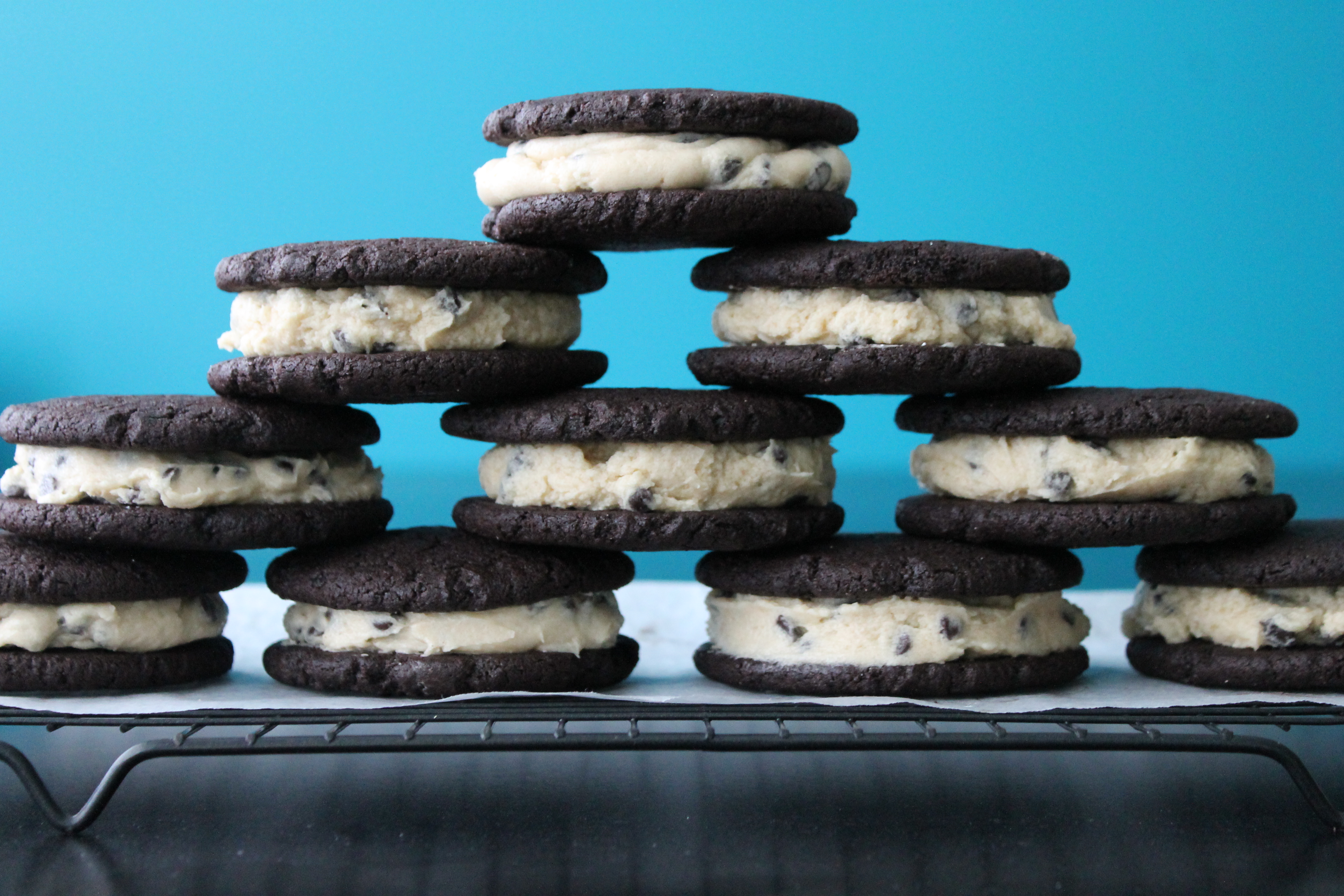 When the Gastropost Mission was released last week, I kind of thought something was up. Cookies in November? I thought maybe they just didn't know that on Planet Byn and most other places, it's all cookie everything, all day, everyday, but not until December!
Things became a little more clear later in the week when they announced a giveaway for tickets to the Chef's Challenge Cookie Battle fundraiser in support of Mount Sinai Hospital, judged by our old pal Chuck Hughes.
This led to a few days of cookie soul-searching and trying to decide what to make for Chuck. I got home from the airport at 11:30pm on Sunday, pulled my butter out to soften and went to bed with my final decision floating around in my brain. It's a challenge, right? This was no time for a regular old chocolate chip cookie (not that I don't love them, but like, go big or go home, right?). So Monday was spent pulling together the following: soft chewy dark chocolate brownie cookies, sandwiched together with an egg-free chocolate chip cookie dough. I thought I had this battle on lock!
Sadly, this turned out not to be the case. Instead of Chuck trying all the cookies (about 25 in total) and selecting his fave, the event organizers picked him a Top 10, and he chose the winner from there. Yours truly was NOT in that Top 10. Womp womp. But shout out to the winning cookie that was a Caramel Macchiato Shortbread that looked amazing!
After the Battle, I was hanging with my fellow Gastroposters when Chuck came over and I said to him something along the lines of  – as if I made you a Brownie Cookie Dough Cookie and you didn't even get to try it! He then proceeded to take a huge bite out of the one Libby was currently holding. Amazing!
So even though this cookie is a big fat LOSER, it is a delicious one at that!
Brownie Cookie Dough Sandwich Cookies
Source: Cookies from Tracey's Culinary Adventures, Filling from The Cookie Dough Lover's Cookbook (yes, there is such a thing, and yes, I own it) by Lindsay Landis
Ingredients
Cookies
1 cup (2 sticks) butter, room temperature
1 cup sugar
3/4 cup brown sugar
2 eggs
1 tsp vanilla
1 3/4 cups flour
1 /4 cups cocoa powder
1 tsp baking powder
1 tsp baking soda
1/2 tsp salt
Filling
1/2 cup (1 stick) butter, room temperature
1/2 cup brown sugar
1/4 cup flour
1/2 cup icing sugar
1/4 tsp salt
1/4 cup whipping cream
1 tsp vanilla
1/2 cup mini chocolate chips
Directions
For cookies, line two cookie sheets with parchment paper, and heat oven to 350.
In a large bowl, cream butter and sugars together until light and fluffy. Add eggs and vanilla and beat again.
Add flour, cocoa, baking powder, baking soda and salt and mix until everything is combined.
Roll dough into 1 1/2 tbsp balls, place on cookie sheets and flatten slightly with your hands or the bottom of a glass. (My cookies were gigantic, so maybe use less dough if you want a normal sized cookie).
Bake for 8-10 minutes until the cookies are puffy and still soft. Cool completely.
For filling, cream butter and sugar together until light and fluffy. Add flour, icing sugar and salt and mix again. Mix in cream and vanilla and blend until smooth. Stir in mini chocolate chips.
Sandwich those suckers together with your desired amount of cookie dough.