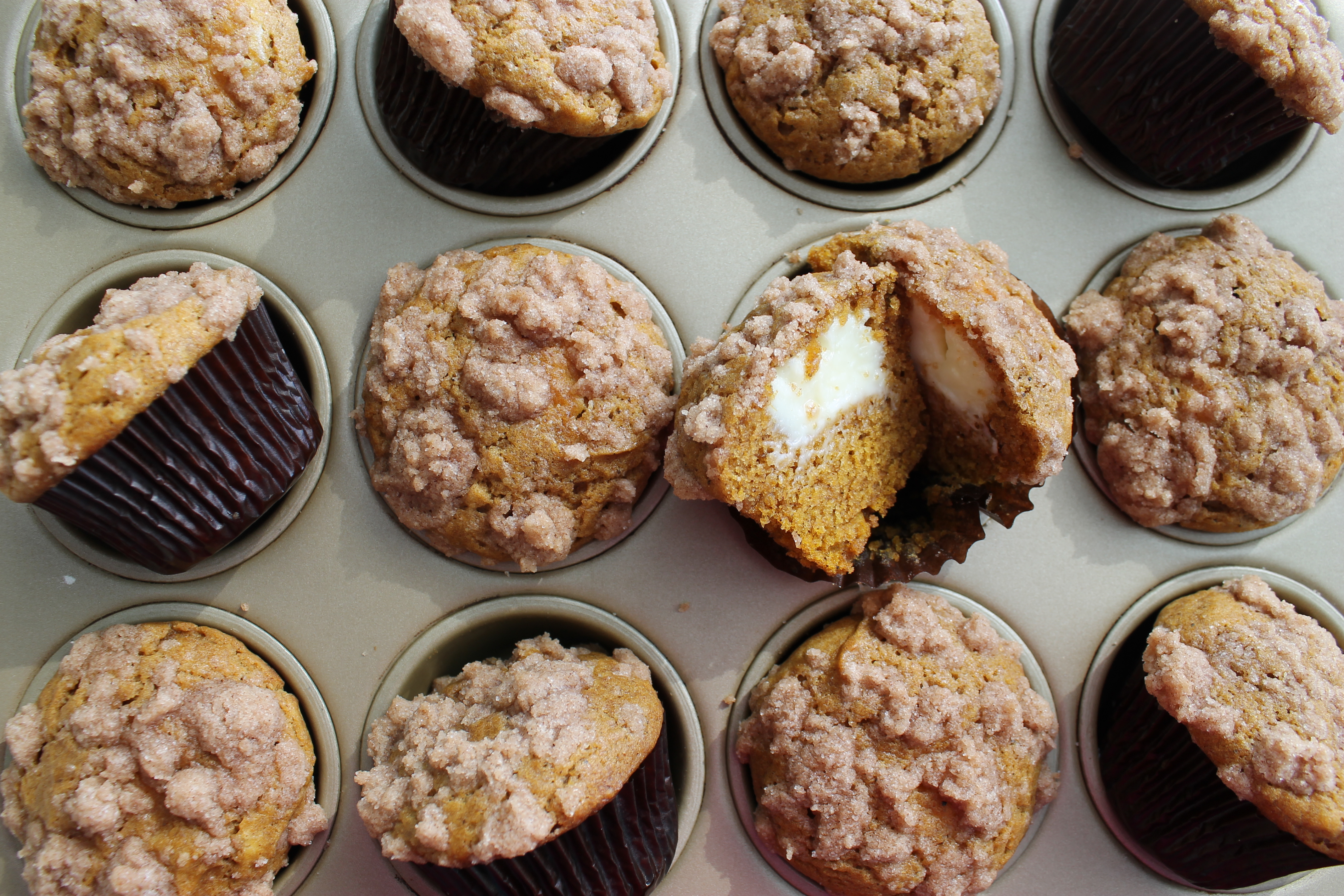 Okay! I lied! I am already thinking about Christmas cookies! I can't help it! Yesterday I sent out a Save the Date email for Champagne & Cookies III! And Kristine just emailed me that the holiday drinks are back at Starbucks!
Speaking of Starbucks (smooth transition), remember way back when I ripped off their Pumpkin Scones? Well someone figured out how to make the Pumpkin Cream Cheese Muffins, and they are just as good. This is a nicely hydrated pumpkin muffin with a sweet cream cheese surprise filling and a cinnamon streusel topping.
I brought these to work on Tuesday and would you believe my cubicle neighbour HATES STREUSEL. She will not eat any treat with a crumble or streusel situation. This is just so fascinating to me! Who hates streusel? Of all things! My friend in another department also told me this week that there is a woman in his office who keeps her Diet Coke in a toolbox with a combination lock in the fridge. What! How many Diet Cokes do you think she had stolen to drive her to take such measures?
P.S. Tomorrow I'm going to Florida to be retired for a week with my parents! I truly can't wait, as it's been raining for eight days straight in Toronto. I know we're lucky to not have any Sandy-like devastation, but seriously, I need to stockpile some Vitamin D. Will I write three separate Target posts like last year? LOVE IT.
Pumpkin Cream Cheese Muffins
Source: Annie's Eats
Yield: 12 muffins (original recipe is for 24, so just double this if you need to)
Ingredients
Cream Cheese Filling
4 oz cream cheese, room temperature
1/2 cup icing sugar
Streusel Topping
1/4 cup sugar
2 1/2 tbsp flour
3/4 tsp cinnamon
2 tbsp cold butter, cut into cubes
Muffins
2 eggs
1 cup sugar
1 cup pumpkin puree
1/2 cup + 2 tbsp grapeseed oil
1 1/2 cups flour
1/2 tsp EACH cinnamon, nutmeg, cloves
1 tbsp pumpkin pie spice
1/2 tsp baking soda
1/2 tsp salt
Directions
For the filling, mix the cream cheese and icing sugar together with an electric mixer until combined and smooth. Spoon it onto a piece of plastic wrap in a long stripe, you're aiming to make a log situation. Roll it up into the plastic wrap and stick it in the freezer for at least two hours.
Make the streusel next. In a small bowl, whisk together the sugar, flour and cinnamon. Cut in the butter with a pastry blender or a fork until crumbly. Stick it in the fridge until you're ready to use it.
When you're ready to bake, preheat the oven to 350 and line a muffin tin with paper liners. In a big bowl, whisk together the eggs, sugar, pumpkin and oil. Add the flour, spices, baking soda and salt, and whisk again, just until no flour bits remain.
To assemble, get that cream cheese log out of the freezer and cut it into 12 equal pieces. Add a small scoop of muffin batter to each liner, then pop a cream cheese piece on top. Add another scoop of muffin batter on top, and make sure to cover the cream cheese. Sprinkle streusel over each muffin.
Bake for 20-25 minutes until done.