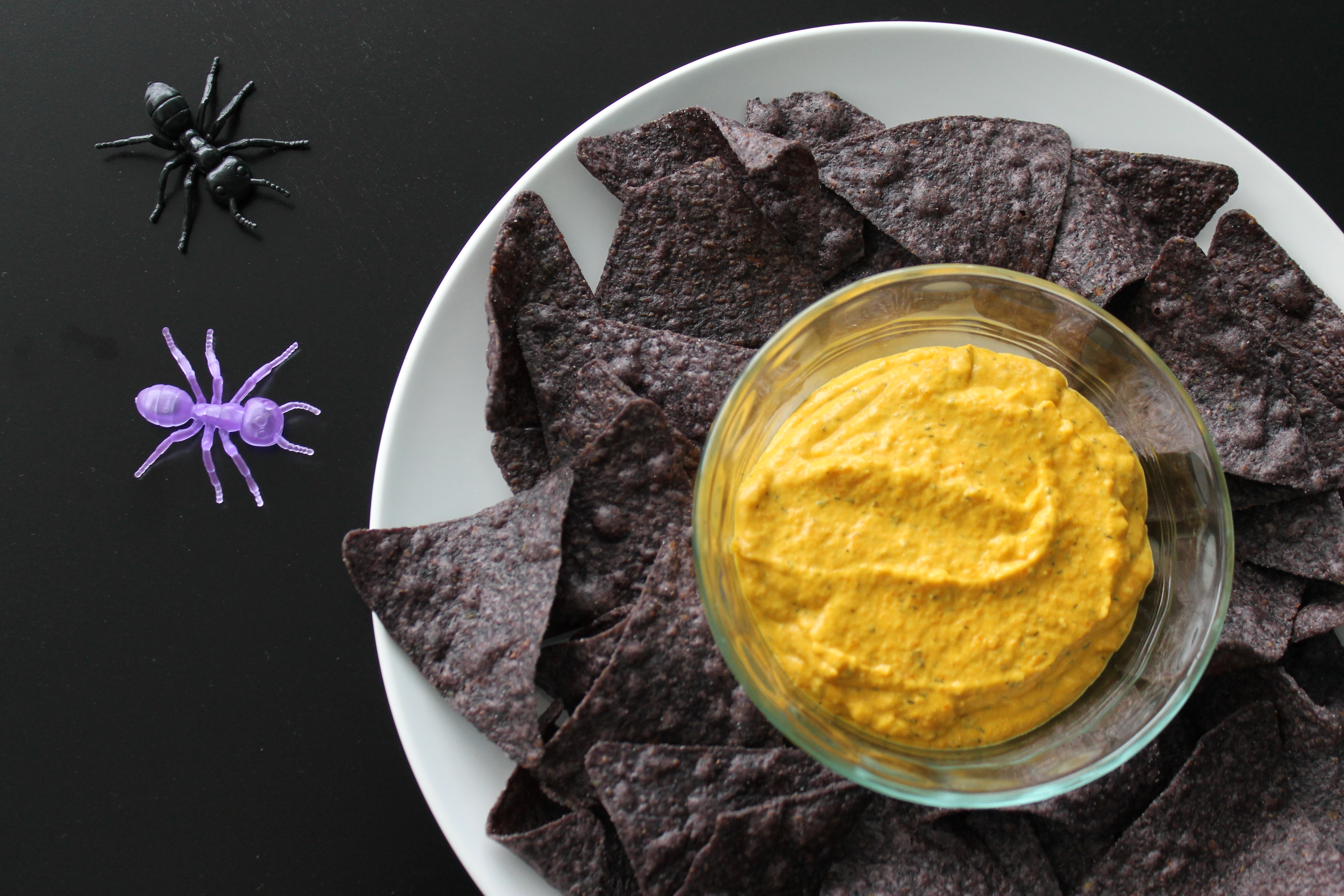 Yesterday I saw a Christmas commercial for Pot of Gold. Attention Hershey Canada: Please let us all enjoy our Halloween candy in peace before you bombard us with holiday propaganda. And Pot of Gold is so gross you guys! At least it could have been a commercial for the Festive Special or something!
Anyway, I'm not really one to talk, as I plan on putting up my Christmas tree on November 12th this year, but let's talk about Halloween first! I saw a feature in Everyday Food last year for black and orange food combos to serve at Halloween. I thought this was such a cute idea, and I pulled out this recipe for roasted pepper and goat cheese dip I had in my RECIPE BINDER. A simple sub of orange peppers for yellow, and blue corn tortillas for pita and there you have it!
Have a great Halloween! And I promise not to start talking about Christmas cookies for at least another two weeks 😉
Roasted Pepper & Goat Cheese Dip
Source: Christine Cushing Live
Yield: about 1 1/2 cups of dip
Ingredients
2 orange peppers, halved and seeded
2 jalapeno peppers, halved and seeded
1 tbsp olive oil
8 oz goat cheese, room temperature
1 tbsp lime juice
+ coarse salt & freshly cracked black pepper
Note: If you want more control over the spice level, leave out the jalapenos and use a pinch or two of cayenne pepper.
Directions
Preheat oven to 400 and line a baking sheet with foil. Spray foil with non-stick spray.
Brush peppers with oil and place them cut-side down on the baking sheet. Roast for 30 minutes, turning halfway through.
Place roasted peppers in a bowl and cover right away with plastic wrap. Let peppers cool, then peel off the skin.
Add the peppers, goat cheese, lime juice, and a sprinkle of salt and pepper to a food processor and process until pureed and smooth. Serve with pita or tortilla chips or crackers.