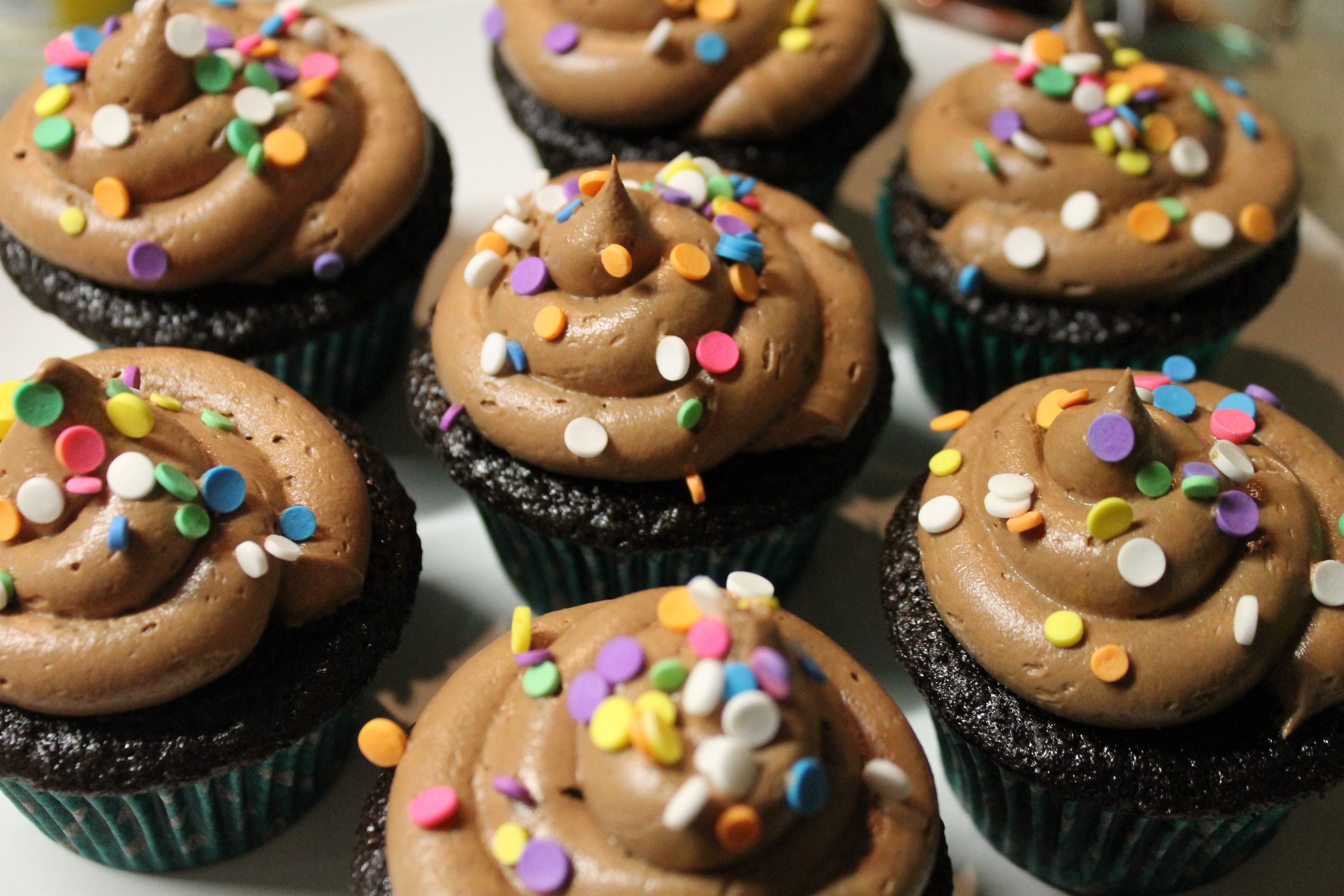 I'm still trying to figure out my new co-workers. I've definitely been easing them into what life is like when you have me in the office. So far, the treats I've brought in have been pretty traditional, nothing too crazy (i.e. Trail Mix Cookies, Zucchini Cake, Pumpkin Streusel Bundt Cake). No cookie dough concoctions or s'mores adventures; nothing too rich or too sweet or too weird.
For my office birthday treats it was time to really see what I was dealing with. Enter these Nutella Cloud Cupcakes. I set them out in my designated treat spot, alongside a loaf of Banana Bread and had a look every time I walked by to see what the status was.  Let's just note that in my old office, both treats would have been snapped up in about 15 minutes. In this case, the final piece of banana bread was eaten around 11am, and there were still a few cupcakes around AFTER LUNCH. And I only brought in nine of them! Blasphemy!
Anyway, these cupcakes are incredible. The cupcake itself is a one-bowl wonder. I was skeptical because the batter is so thin, but they bake up to be super hydrated and soft. The icing is some next level shhhhh. I wouldn't really call myself a Nutella addict, but ever since I had to buy a small jar for the Coffee S'mores Tarts, I couldn't really get it out of my mind. The frosting is just like a cloud, light and fluffy and dreamy. Wouldn't you be so happy if your co-worker showed up with these?
Nutella Cloud Cupcakes
Source: Sweetapolita
Yield: recipe says 12, I got 10, and I had lots of frosting leftover
Ingredients
Cupcakes
3/4 cup flour
3/4 cup sugar
1/4 cup cocoa powder (the darker, the better)
3/4 tsp baking powder
3/4 tsp baking soda
3/4 tsp cornstarch
1/2 tsp salt
1/3 cup buttermilk
1/4 cup coffee or espresso, hot (I used Starbucks Via)
3 tbsp grapeseed oil
1 egg
1 1/2 tsp vanilla
Frosting
1 cup butter, room temperature
1 1/2 cups icing sugar
2 tsp vanilla
4 oz bittersweet or semisweet chocolate, melted and cooled slightly
1/3 cup Nutella
1 tbsp milk or cream
Directions
For the cupcakes, preheat the oven to 350 and line your cupcake pan with liners.
In a big bowl, whisk together the flour, sugar, cocoa powder, baking powder, baking soda, cornstarch and salt.
Whisk in the buttermilk, coffee, oil, egg and vanilla. Voila! Done.
Batter is really thin, so I poured it into a liquid measuring cup and then used that to fill the cupcake liners.
Bake for 15-17 minutes or until a toothpick inserted in the centre of a cupcake comes out clean.
For icing, whip butter and sugar together until smooth and fluffy, about 2-3 minutes. Add the vanilla and chocolate and whip again for another 2-3 minutes. Finally, add the Nutella and milk/cream and whip again until fluffy and combined.