It's birthday treat week on Planet Byn! Technically my birthday was last week, but the treats actually started on Thanksgiving. Sometimes I like to make myself a birthday cake for our Thanksgiving dessert, especially now that all my nieces and nephews like to sing the birthday song, blow out the candles, and stick their fingers in the cake.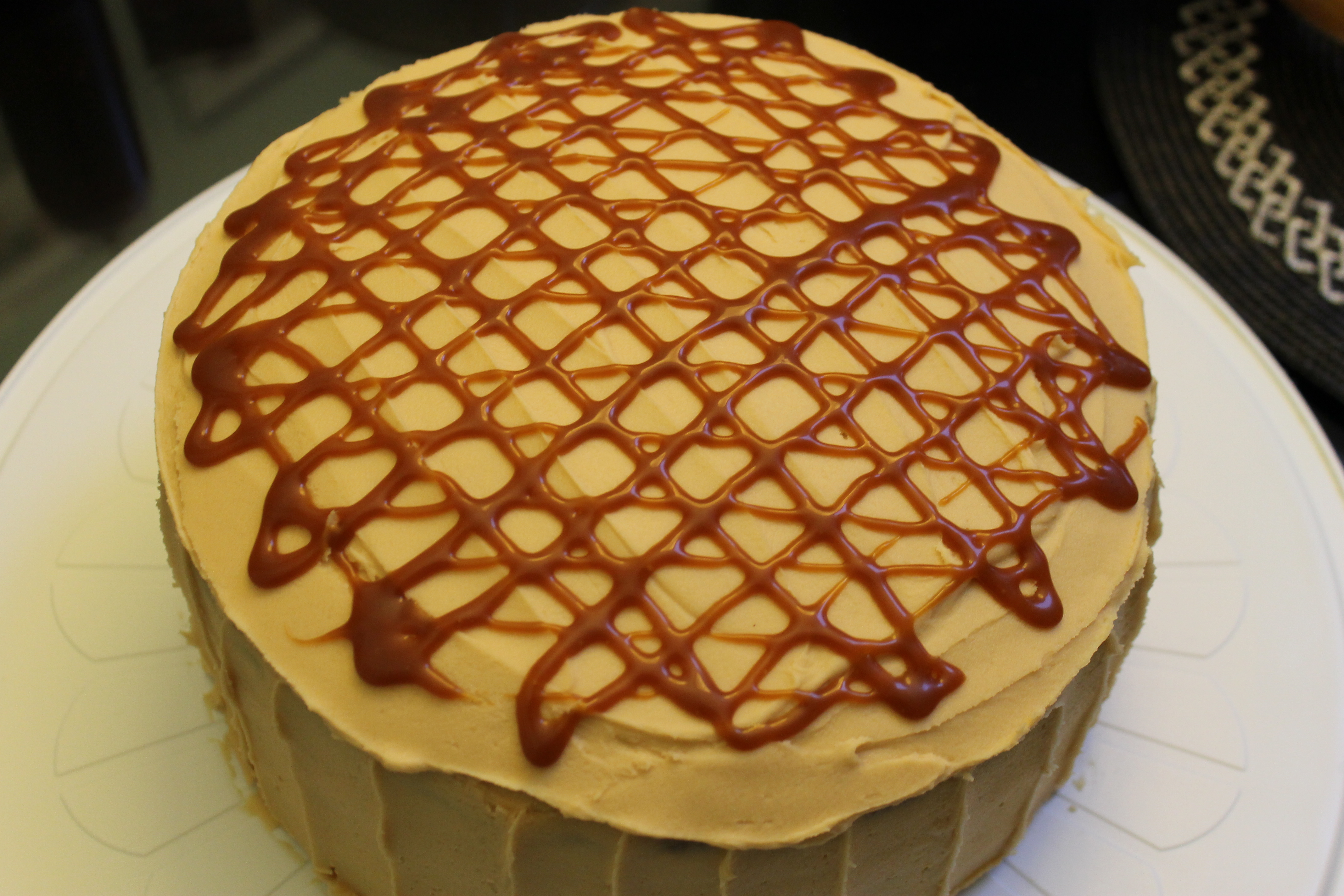 This year I went with a Fall-inspired birthday cake, which is this Caramel Apple Cake from Baked Explorations that I've had my eye on for a while. The cake layers are really dense, but very hydrated because of all the apple sauce and it's heavily spiced with cinnamon, allspice and cloves.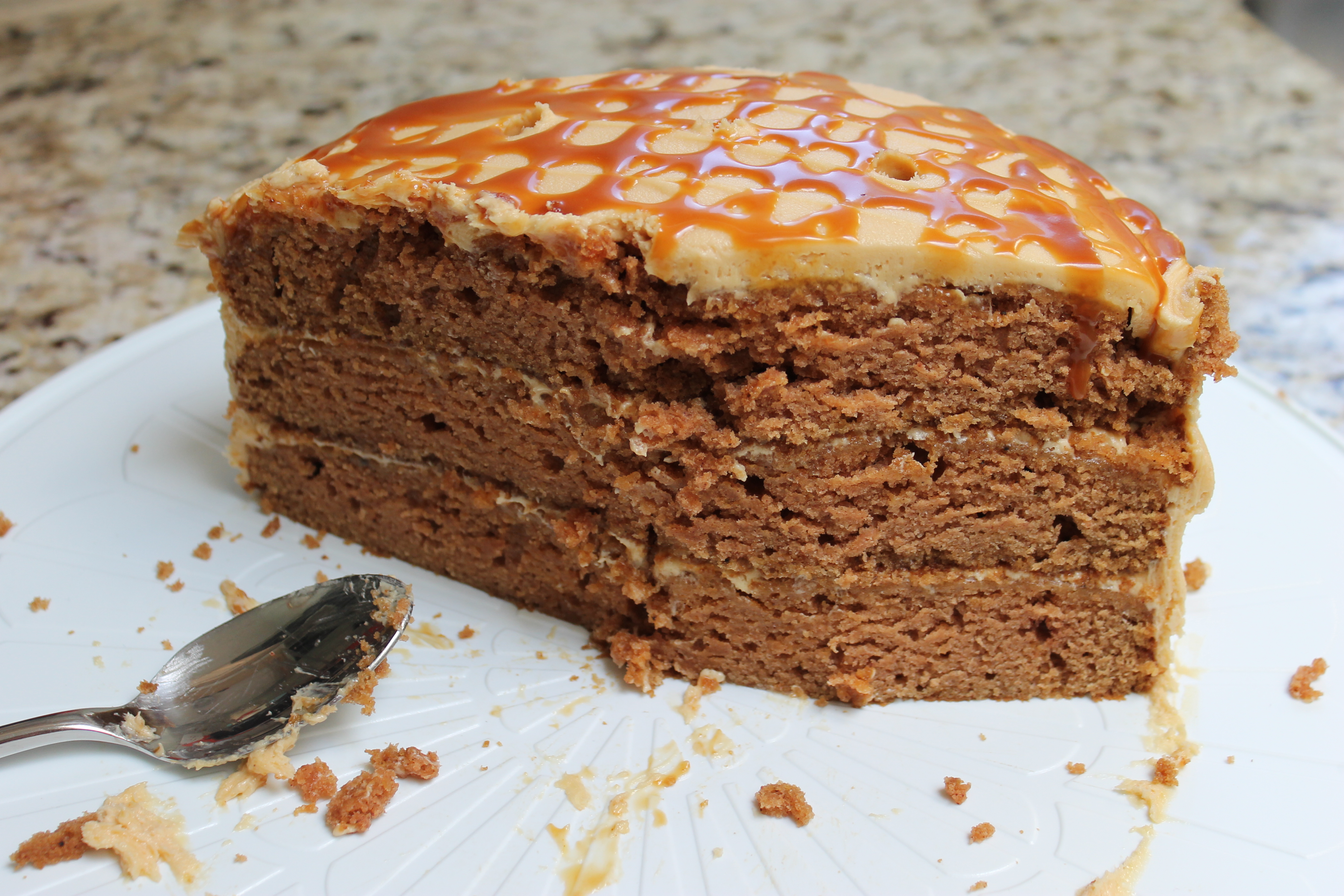 I've had bad luck in the past with Baked's cooked buttercream icings, so I concocted my own Salted Caramel Frosting based on my favourite vanilla buttercream with salted caramel added instead of cream. I also passed a little bottle of leftover salted caramel sauce around the table for my family to drizzle over their cake and ice cream. That was a big hit let me tell you!
Caramel Apple Cake
Source: Cake from Baked Explorations, Salted Caramel from Two Peas & Their Pod, Icing is my old fave
Cake
4 cups flour
2 tsp baking soda
1 tsp baking powder
1 tsp salt
2 tsp cinnamon
1 tsp allspice
1 tsp cloves
1 1/2 cups (3 sticks) butter, room temperature
2 1/2 cups sugar
2 eggs
4 cups unsweetened applesauce
Salted Caramel
2 cups sugar
3/4 cup (1 1/2 sticks) butter, cut into cubes
1 cup whipping cream
1 tbsp flaky sea salt, like Maldon
Frosting
1 cup (2 sticks) butter, room temperature
5 cups icing sugar
1/2 cup salted caramel, room temperature
2 tbsp whipping cream
Directions
For cake, first get your cake pans ready. Line the bottoms of three 8″ or 9″ cake pans with parchment paper, and spray with non-stick spray. Preheat oven to 325.
In a medium bowl whisk together the flour, baking soda, baking powder, salt, cinnamon, allspice and cloves.
In a large bowl, cream together the butter and sugar until light and fluffy. Add the eggs and mix again until combined.
Add the flour mixture in three parts, alternating with two additions of applesauce, beginning and ending with flour. Scrape down the bowl between additions to make sure everything is incorporated.
Divide cake batter equally among the three pans, and bake for 35-40 minutes or until a toothpick inserted into the middle of the cake comes out clean. Cool in pans for 20 minutes, then turn out onto a wire rack so they can cool completely. (I actually made my cake layers a week in advance and froze them individually. Two layers of plastic wrap, one layer of foil and you're good to go.
For salted caramel, get a medium saucepan ready and get out your candy thermometer. Add the sugar to the saucepan and place over medium-high heat. Just let it melt, and it will turn a light brown caramelly colour. You can stir it a bit if you want, but I just ended up with a clump of hot sugar stuck to a spoon. Add the candy thermometer and when it hits 350, take it off the heat and add the butter. Stir until butter is melted, then add the whipping cream and salt and stir until combined. Let cool  in the pan until it's room temperature. You can store it in a jar and stick it in the fridge if you want to make it in advance. This makes way more than you need, but you can dip apples and stuff in it, so don't fret.
For frosting, whip the butter in a large bowl until light and fluffy. Add half the icing sugar and half the caramel and mix until nice and smooth, then repeat with the other halves. I found it a little thick at this point, so I added two tbsp of cream.
Frost the cake and use leftover salted caramel to pour over top.