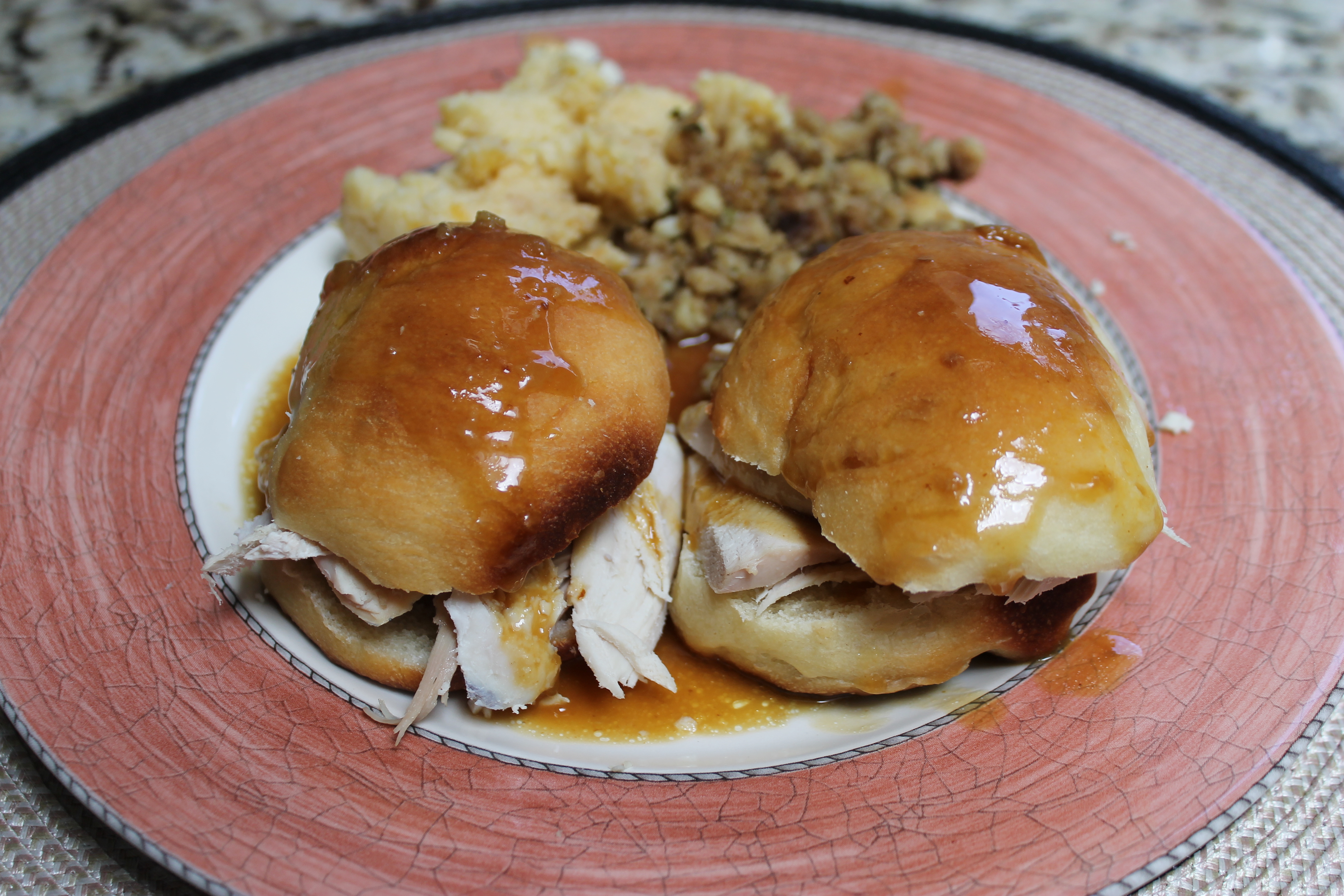 The theme for our Gastropost Mission this week was FEAST which was timed to coincide with Thanksgiving weekend. This couldn't be more perfect for me, as my Mom's turkey dinner is my #1 favourite feast and my desert island/death row meal. I LOVE IT. It always includes the following: turkey, stuffing, gravy, mashed potatoes, and turnip puff. Those are the staples, and then the sides sometimes change. This year my brother made some roasted carrots and parsnips with cardamom, and I brought roasted brussels sprouts with bacon and caramelized onions.
In a new twist for 2012, my brother and I also made dinner rolls from scratch. We both told our Mom that we were going to do this, but she didn't tell either of us, setting us up for a CARB-off the likes of which have never been seen around our dining room table. It was amazing. My brother's rolls were made with whole wheat flour, so they were a little heartier, and had a chewier crust which I loved. He also put the dough balls in muffin tins, so they had a nice shape, and he put a little X in the top, which made them even better.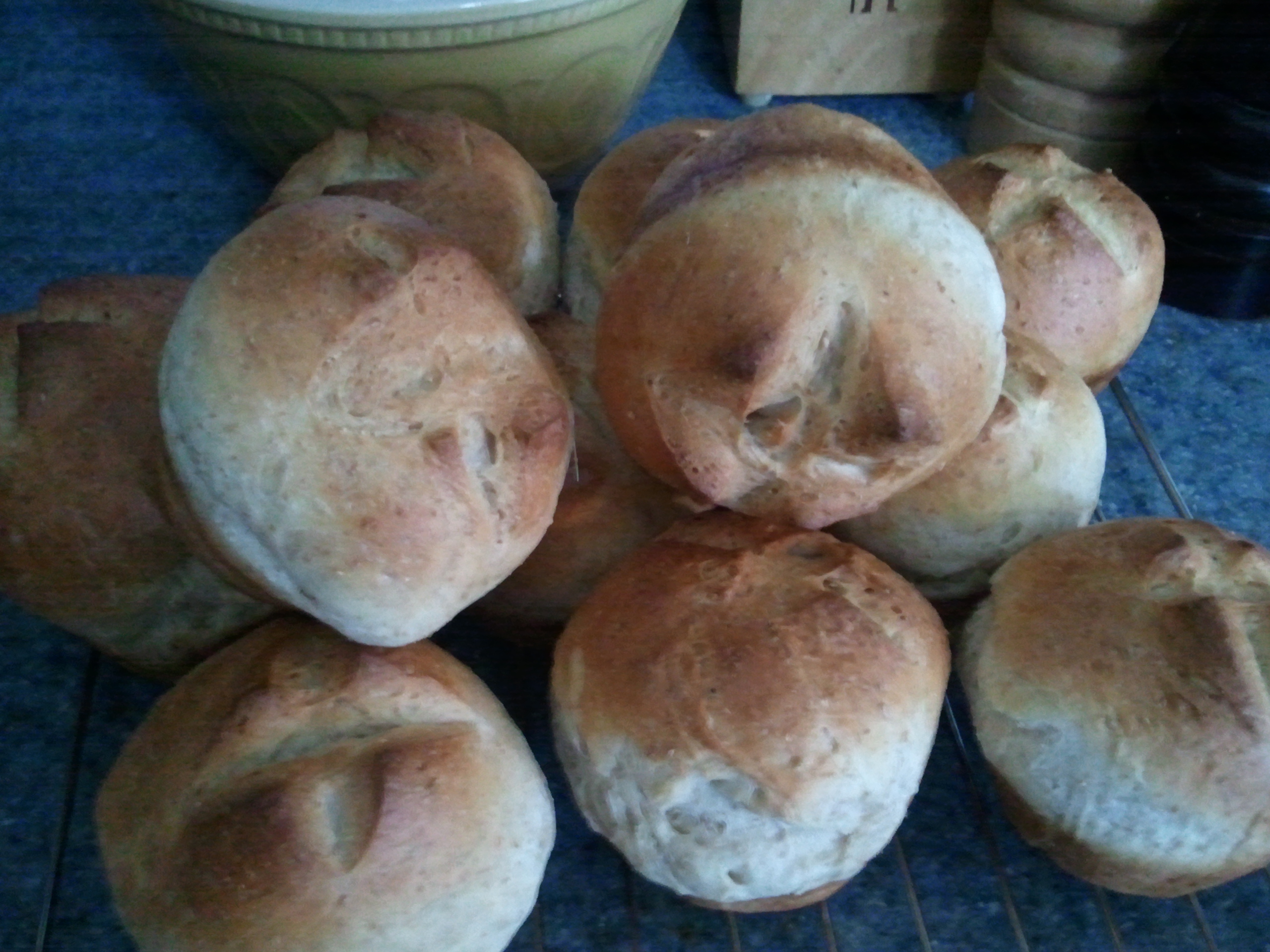 Mine were made with all white flour, so they were softer, and sweeter because of the honey in the dough. My brother's had honey too, but for some reason you could taste it more in mine. Anyway, there's just no loser when it comes to a baking battle of carbs…except maybe your jeans when you try to put them on the next day.
Bonus! The secret mission this week was to show your fellow Gastroposters how you use your leftovers. This certainly isn't the most creative use, but it's my favourite, and was special this year as it was the first time I used homemade rolls. Little turkey sliders doused with hot gravy. I eat this three times a year, after Thanksgiving, Christmas and Easter, and it's a joyful moment in my life.
Honey Yeast Rolls
Source: Annie's Eats
Yield: I got a dozen, it depends on how big or small you shape them
Ingredients
2 1/4 tsp active dry yeast
1 cup warm water (105-115)
1/4 cup honey
3 tbsp canola or grapeseed oil
1 1/4 tsp salt
1 egg, lightly beaten
4 cups (1 lb, 1 oz) bread flour
+ 2 tbsp melted butter mixed with 2 tbsp honey
Directions
Mix yeast and water in a large bowl, and let sit for 5-10 minutes until foamy. Mix in the honey, oil, salt and egg until combined. Stir in the flour until the mixture comes together.
Turn out dough onto a lightly floured surface and knead for about 5-8 minutes until the dough is smooth. Put the dough in a lightly oiled bowl, cover with a tea towel, and let sit in a warm spot for two hours.
Put the dough back on a lightly floured surface and knead for 30 seconds (my dough was quite sticky at this point, I added just a little more flour). Cover with a towel and let sit for 10 minutes.
Shape the dough into little balls (I made 12), and place them in a baking dish that you sprayed with non-stick spray. (I used two 9″ cake pans, but you could also just use muffin tins or a glass baking dish, whatever you have). Cover with that same towel and let sit for 20-30 minutes. Preheat the oven to 400.
Brush the butter/honey mixture on top of the rolls, and put in the oven for 15-20 minutes until golden brown and your kitchen smells amazing.