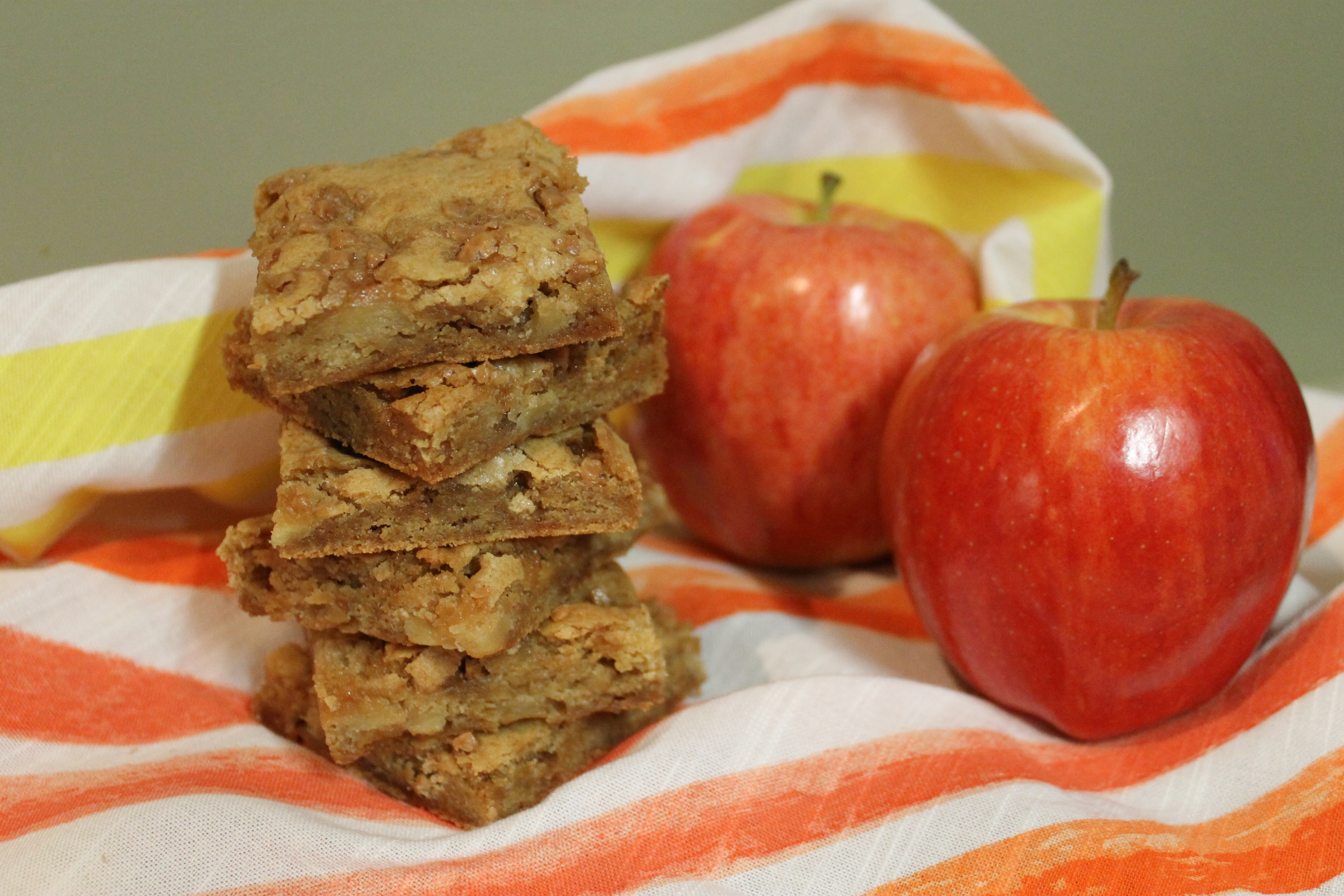 This week's Gastropost mission (it's been a minute since I've participated) was like a shock to my system: apples! APPLES! How did I go through all of September without making anything with them?
I'm a huge, huge apple snob, and I'm sure you're not surprised. I don't buy them in the off season, because I hate soft, mealy apples from the grocery store (Golden Delicious, I'm looking at you). I demand crisp, juicy, bright red tart/sweet hybrids. Honeycrisp is my fave, but Jonagold is a close second. Did you hear about the apple shortage this year? I read about this troublesome news on the Chudleigh's website a few weeks ago, and I was so upset.
I just love eating apples plain, or sliced with some peanut butter or almond butter. When it comes to baking with apples, I like these muffins, or this breakfast apple granola crisp. I wanted to try something new for this mission, so I made these Apple Toffee Blondies I've had bookmarked for ages.
I made them last weekend with the icing, and it was way too sweet (and that's saying something if I think something is too sweet!), so when I made them this time, I just left them plain. They're soft and chewy, with lots of brown sugar, a hint of cinnamon, juicy apples and little toffee bits. We all know blondies will never be the cutest baked good, but what they lack in beauty they make up for in personality!
Apple Toffee Blondies
Source: Sweet Pea's Kitchen (without the icing)
Ingredients
2/3 cup butter, room temperature
2 cups brown sugar
2 eggs
2 tsp vanilla
2 cups flour
2 tsp baking powder
1/2 tsp salt
1 tsp cinnamon
1 cup diced apple (peeled)
1/2 cup toffee bits
Directions
Preheat oven to 350 and line a 9×13 pan with foil, and spray the foil with non stick spray.
In a big bowl, cream the butter and brown sugar together until light and fluffy. Add the eggs, one at a time, beating well after each one, then mix in the vanilla.
Add the flour, baking powder and salt, and mix until combined.
Fold in the chopped apple and toffee bits
Spread batter in the pan and bake for 30-35 minutes until golden brown. Cool before slicing into squares.