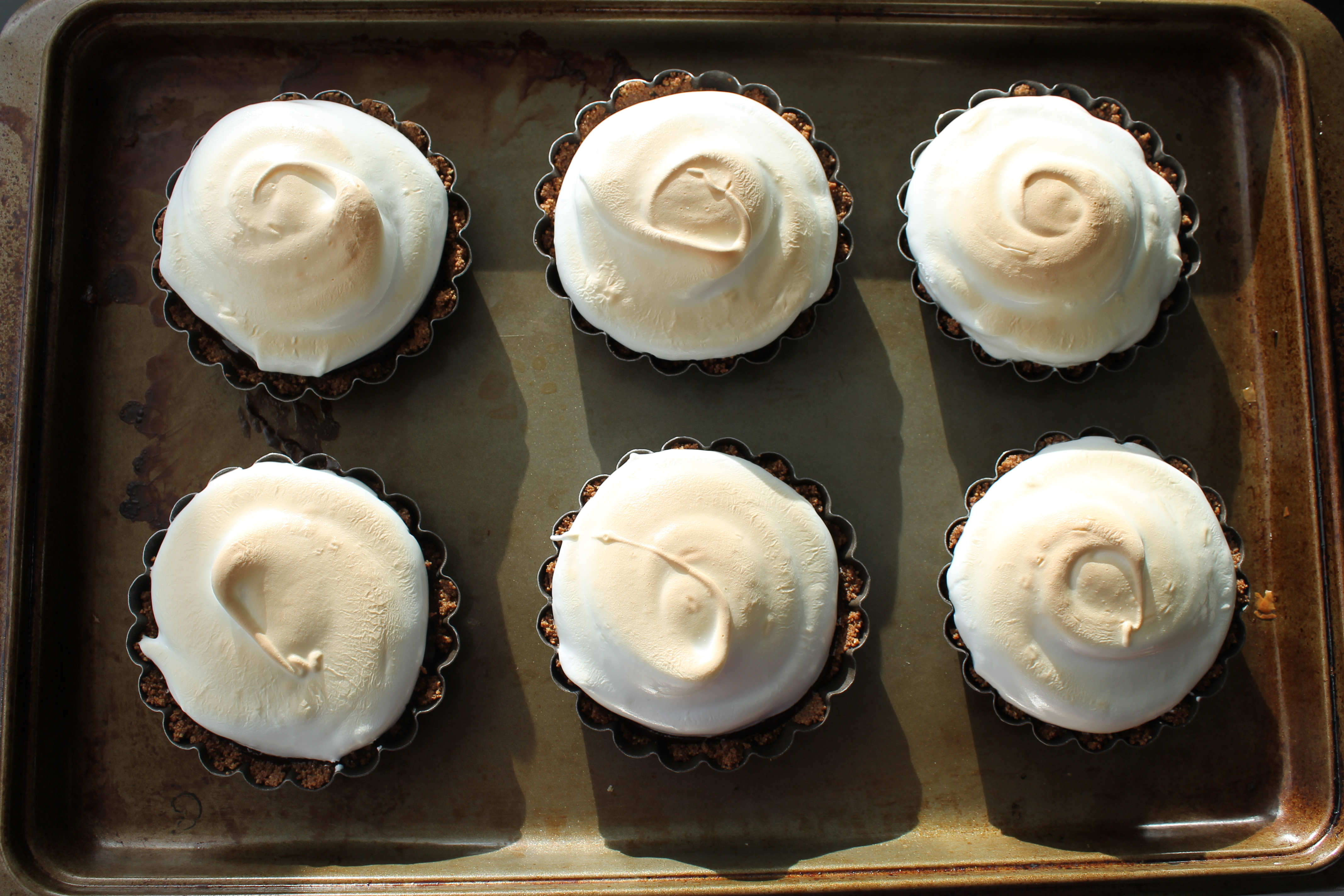 Just because it's fall, it doesn't mean I have s'mores fully out of my system. Although I'm not quite sure my s'mores fixation ever really goes away in the winter, I think it just transfers over to mug formation (i.e. hot chocolate and marshmallows!). I also realized as I was writing this that I totally made s'mores crème brûlée for my Oscar gathering back in February, and this is what I made for our Emmy dessert last weekend. So we all just need to accept this as a year round thing. 
I saw this coffee s'mores pie in Bon Appétit a few months ago, then again when Megabite turned it into cute little mini pies. I knew these would be good because this is the coffee chocolate ganache that I put in and on Kristine's birthday cake! In this case it's layered between a Nutella graham crust and topped with meringue. Added bonus: the whole thing is No-Bake. I guess that's more of a big deal in the summer, but it's pretty neat even in the fall.
Mini Coffee S'mores Tarts
Source: Take a Megabite
Ingredients
Crust
22 graham crackers
2 tbsp whipping cream
2 tbsp Nutella
1 oz chocolate chips, melted
1 tbsp butter, melted
Chocolate Ganache Filling
6 oz semisweet or dark chocolate, finely chopped
1 tbsp butter
1/2 cup + 2 tbsp whipping cream
2 tbsp finely ground coffee
Meringue Topping
2 egg whites
1/2 cup sugar
Directions
For crust, grind the graham crackers in a food processor until they are teeny crumbs. Add the whipping cream, Nutella, melted chocolate and melted butter. Process until the mixture is combined. Spoon into six mini tart pans and press in with the back of a spoon. Chill for half an hour.
For filling, add the chocolate and butter to a medium bowl. Whisk together the cream and coffee in a glass measuring cup until hot. Let sit for 5 minutes, so the coffee infuses the cream, then pour the mixture through a fine mesh sieve over over the chocolate and butter. Whisk until smooth. (I need to stick mine in the microwave for about 20 seconds to help it along). Pour the ganache over each little crust, and chill until set, about an hour.
For the meringue, beat the egg whites until light and frothy, then add the sugar in four additions, beating for a minute after each addition. Beat until until stiff peaks form, then spoon over the tarts.
Heat the broiler and place the little tarts on a baking sheet. Slide the sheet under the broiler and watch it VERY CAREFULLY until it browns a little bit. Chill the tarts until it's time to eat!
*If you want to make one big tart, you'll need to double the ganache filling*