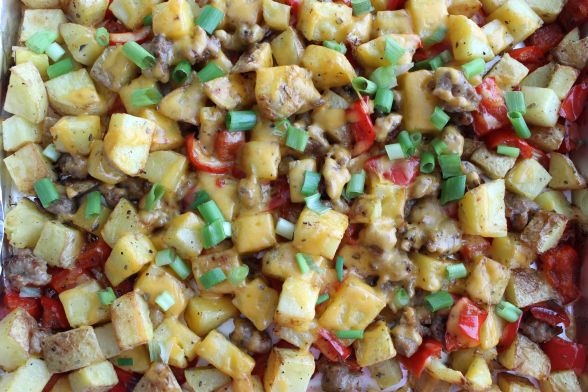 Updated with a new picture June 29, 2015
My friend Kathleen is a pretty amazing person overall, but especially in the kitchen. She works a full-time job and still manages to make wholesome nutritious meals for her family (husband and almost 2 year old daughter) every night. On Sundays she kicks it old school and will make roast beef or chicken with all the delicious sides: mashed potatoes, gravy, and probably a green vegetable thrown in for good measure.  In contrast, sometimes I can barely be bothered to move off the couch on Sunday nights to make a grilled cheese.
When I stayed at Katy's back in July, she made this amazing concoction for brunch on Sunday, and I ate about 3 servings. She roasted potatoes and peppers in the oven, at the same time browning sausage on the stove top. Everything gets tossed together, covered in cheddar, and put back in the oven until the cheese is bubbly. Out of the oven, she sprinkled green onions overtop, and served it with hot toast with butter. It's incredible, like Fries Supreme but better, because you eat it for breakfast!
Katy flew into town from Ottawa on Sunday morning for a big presentation on Monday, so we got to spend the day together, which was pretty special. She's doesn't use Facebook or Twitter or BBM or any of these little programs that keep you in constant contact, so when we get together, it's intense catch-up time. We went out for lunch, did a bit of shopping, and then stopped at Whole Foods to pick up something for dinner. Obviously I wanted to make this! We prepped it as we watched Revenge (best new Fall show, btw) and chowed down while watching Emily and her red sharpie of destruction bring down their next victim. My special additions were a spoonful of sour cream and a few shakes of hot sauce over top. This morning I re-heated the leftovers and topped them with a fried egg. Heavenly.
This goes into the category of things you shouldn't make every week, but I feel like can be a special treat every now and then! P.S. Sometimes Katy and her co-workers look at this blog in their lunchroom while they eat, so what's up guys!!! Thanks for reading

Katy's Breakfast Sausage & Potato Hash
Source: Katy! (inspired by this recipe she saw in Chatelaine)
Ingredients
4 yukon gold potatoes
2 peppers (we used red and orange)
dash of whatever random dried herbs/spices you have (we used oregano, paprika, and garlic salt. Katy uses an Italian seasoning mixture at home)
drizzle of olive oil
salt & pepper
2 Italian pork sausages (Katy always uses 1 spicy and 1 mild)
handful of grated cheddar
2-3 green onions chopped
+ sour cream
+ hot sauce
Directions
1. Line a baking sheet with foil, and spray generously with non-stick spray.
2. Peel potatoes, and cut into bite size pieces. Cut peppers into bit size pieces. Place in a large bowl, and toss with herbs, spices, olive oil, and salt & pepper. Roast at 400 for 20 minutes.
3. In the meantime, heat a skillet over medium heat. Remove casing from sausages, and crumble sausage into pan. Saute until golden brown, breaking up into small pieces. Drain on a plate lined with paper towels.
4. Remove the baking sheet from the oven, and toss vegetables. Add sausage and toss together. Put back in the oven for another 20 minutes. When it's done, sprinkle cheddar all over the sausage/potato mixture and slide back into the oven for about 5 minutes, until the cheese is melted and bubbly. At this point, you can get your toast going. We had a baguette, but I think thick slices of sourdough would be amazing here.
5. Take the sheet out of the oven and sprinkle with green onions. Let everyone scoop the hash onto their plates, and top with sour cream and hot sauce, if they want. Note that this reheated beautifully for me, so I think you could make this in advance, up until the cheese part, so if you were having guests over for brunch, you could even make this in advance. Probably serves four people…but maybe less, because everyone will want more.