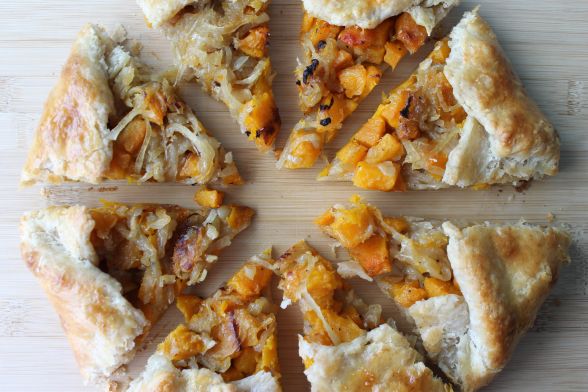 Updated with a new picture February 2, 2014
Yesterday I brought some leftover shortbread cookies into work, as they were taking up valuable real estate in my freezer. Seriously, most people just groaned and walked right by. Happy New Year! Time to detox! I feel like we're bombarded with this message as soon as the ball drops on December 31st.
Since no one, including me, wants to see another cookie recipe all up in here, I have a few dinner recipes worth sharing that I've been saving since the Fall. I'm on a bit of baking hiatus at the moment, but don't fret, for Barry's birthday is at the end of January, so we'll be back into butter, sugar and chocolate in no time!
This galette is a work of art, and worth every minute spent preparing it.  There are a lot of steps to complete, including making the pastry dough, roasting the butternut squash and caramelizing the onions, but you can spread these out over the course of a few days if you don't feel like investing in such a lengthy project in one night. The filling combination sounds kind of strange, but the contrast of the sweet squash and onions with the sharp, salty asiago, and the little kick of cayenne just work. I've wrapped the filling up in phyllo triangles (like this), and Nicole and I made it into little tartlettes for appetizers, for her dad's birthday party last year. Time consuming yes, but every bite is worth it.
Butternut Squash & Caramelized Onion Galette
Source: Smitten Kitchen
Ingredients
Crust
1 1/4 cups flour
1/4 tsp salt
1/2 cup (1 stick) butter, cold, and cut into cubes
1/4 cup sour cream
2 tsp lemon juice
1/4 ice water (to start, you might need a little more)
Filling
1 lb butternut squash, peeled and cut into 1″ (ish) cubes
2 tbsp olive oil
1 tbsp butter
1 large onion, halved and cut into thin slices
1 tsp salt
pinch of sugar
1/4 tsp cayenne (just gives it a teeny tiny kick, you can leave it out)
3/4 cup (2 1/2 oz) asiago cheese, grated (the original recipe uses fontina, but I like asiago, you could also use any other sharp, salty, hard cheese)
1 1/2 tsp chopped fresh sage leaves (I have made it with and without this)
Directions
For pastry, combine flour and salt in a large bowl. Add the butter, and cut into the flour using a fork or a pastry cutter, until it's the size of peas.  In a small bowl, whisk together the sour cream, lemon juice and water.  Pour over the dry ingredients and mix together, and pat the dough together into a ball (you might need more water), but don't overwork it. Wrap in plastic wrap and chill for 1 hour (or up to 2 days).
Place the butternut squash on a baking sheet, and toss with the olive oil and 1/2 tsp salt. Roast in the oven at 375 for 30 minutes, turning once halfway through cooking. Set aside to cool slightly (or put in a storage container in the fridge until you're ready to make your filling).
Melt butter in a skillet, and cook onions over medium-low heat, with the remaining 1/2 tsp of salt, and pinch of sugar. Cook for about 30 minutes until golden brown and caramelized. Stir in cayenne. (You can store this in the fridge for a few days as well if making ahead).
To finish the filling, combine the roasted squash, caramelized onions, cheese and sage (if using).
Pull that dough out of the fridge, and roll out on a lightly floured surface, to a 12″ round (little bigger than a dinner plate). Transfer to a baking sheet (rimmed if possible, and lined with parchment paper or tin foil, in case of any leaks). Spread the filling over the dough, leaving a 1 1/2″ border. Fold the dough over the boarder, pleating the edge to make it look fancy.
Bake at 400 for 30-40 minutes until golden brown. Remove from oven and let stand for 5 minutes before cutting into wedges and serving. I'm drooling just typing this. Must make again.