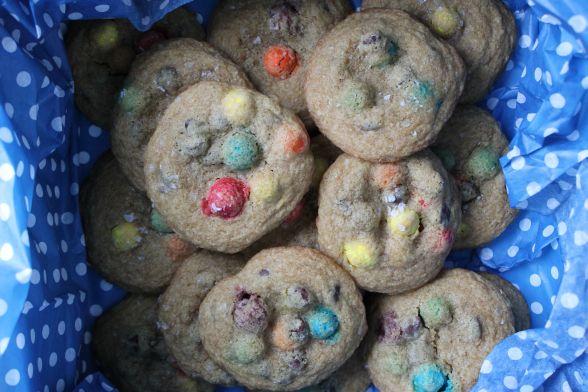 Updated with a new picture August 25, 2016
2010 will probably go down as the summer of the Pretzel M&M. I am absolutely obsessed with them. A tiny, crunchy, salty sphere of pretzel covered in chocolate and a candy shell. Amazing. I first saw an ad for them in a magazine, but thought they would take a while to get to stores in Toronto.  So when Alexis, Kristine and I took a little trip to Target at the end of July, I picked up a ginormous bag of them, as recipes for Pretzel M&M blondies and cookies had already started to turn up online.
Well, I ate most of that bag, but Kristine soon spotted them at Wal-Mart and got me a couple more. Note that they come in really small bags here, unlike the Family Size version I evidently bought in the States.  One bag only has about 1 cup of M&Ms, so if you're baking with them, you should probably buy at least two bags, because you know you're going to snack while you bake. I even sent a bunch to Danielle out in St. John's, because she wanted to experience the madness too.
Anyway, I made the cookies for the girls when they came over for a little Bachelorette Finale cocktail party, and they were incredible – especially with that little sprinkle of sea salt on top. These pictures suck, but I'll definitely be making these again, so I'll replace them next time. Oh and this one shows my cookie jar that Alexis made for me.
Pretzel M&M Cookies
Source: Two Peas and Their Pod
Yield: 2 1/2 dozen cookies
Ingredients:
1 cup butter (2 sticks), room temperature
1 cup brown sugar
1/2 cup sugar
2 eggs
1 tbsp vanilla extract
2 1/2 cups all-purpose flour
3/4 tsp baking soda
1/4 tsp baking powder
3/4 tsp salt
1 cup semi-sweet chocolate chips
1 1/2 cups Pretzel M&Ms
sea salt, for sprinkling on cookies (*NOT coarse, kosher or table salt* sea salt is light and flaky and dissolves in your mouth – I have Maldon)
Directions:
Preheat oven to 375 and line two baking sheets with parchment paper.
In a large bowl, cream butter and sugars together until smooth. Add eggs and vanilla and and beat again until smooth.
Add flour, baking powder, baking soda and salt and mix until combined. Stir in chocolate chips and Pretzel M&Ms.
Drop heaping tablespoonfuls of dough on prepared baking sheets two inches apart. Sprinkle with sea salt. Bake 12-15 minutes until slightly golden around the edges (in my oven, 14 minutes is perfect, rotating the cookie sheets halfway through baking).