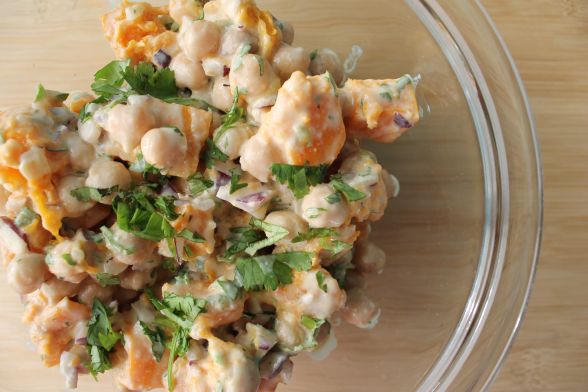 Updated with a new picture November 2, 2014
Here's my first Elimination Challenge Dinner! I have wanted to try this for the longest time, after Nicole made it and raved about it last year. I was able to make the recipe as is, without any substitutions, and it was absolutely amazing. You roast diced butternut squash in the oven with some garlic, olive oil, salt and pepper, and then toss it with chickpeas, red onion, cilantro and a lemony tahini dressing. I brought leftovers to work for lunch today (explaining the bad tupperware pic above – I forgot to take a picture last night) and it was just as delicious reheated. A successful wheat/dairy/egg free day and I didn't feel like I was missing out on anything…but I probably shouldn't get too cocky after only one day :o)
Warm Butternut Squash & Chickpea Salad
Source: Slightly adapted from Smitten Kitchen via Orangette
Ingredients:
Salad
1 medium butternut squash, peeled, seeded and cut into 1 1/2 inch pieces
2 garlic cloves, minced
1 tbsp olive oil
1 can chickpeas (garbanzo beans), drained and rinsed
1/2 red onion, finely chopped
1/2 cup chopped cilantro
Dressing
1 garlic clove, minced with a pinch of salt
1/4 cup lemon juice
3 tbsp tahini (sesame seed paste)
2 tbsp water
2 tbsp olive oil
Directions:
Preheat oven to 425.
In a large bowl, toss the squash, garlic, olive oil and a few pinches of salt until evenly coated.
Spread in a single layer on a baking sheet and roast for 25 minutes, until soft. Remove from oven and let cool slightly.
To make the dressing, whisk the garlic and lemon juice together in a small bowl. Add the tahini, whisk to blend, then add the water and olive oil and whisk well.
Assemble the salad by gently tossing the squash with the chickpeas, onion, cilantro and dressing.
Serves 4